Looking for some fun activities for your kids to do while they are at home during the Easter break this year? We've got five creative suggestions to help keep them busy without breaking the bank.
1. Do some egg painting
Kids just love to get stuck into arts and crafts, so the traditional Easter activity of painting and decorating hard-boiled eggs is sure to spark their interest. This is a simple and fun way for kids to express their creativity and the end products will also add a colourful touch to your home. As well as hard-boiled eggs, basic supplies you'll need include kids' glue, food colouring, glitter, masking tape and colouring pencils.
2. Have an Easter Egg Hunt at home
It wouldn't be Easter without an Easter Egg Hunt! This is a good opportunity to invite relatives, neighbours and your kids' friends around to your home for an afternoon Easter Egg Hunt party. Hide a selection of mini chocolate eggs around the garden and get the children to seek them out with their individual baskets.
You could add a playful twist to the afternoon by reading a fun, Easter-themed story to the children. This will be sure to get them super excited before the hunt begins!
3. Create some tasty treats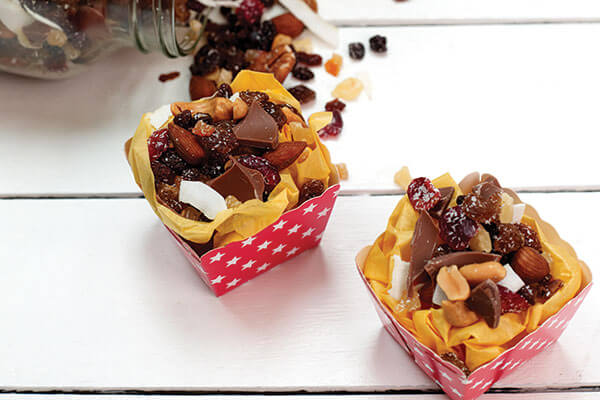 A spot of child-friendly baking in the kitchen is a great way of entertaining kids for a few hours. Here's a recipe for a trail mix that's easy to make and uses up leftover chocolate.
Trail Mix
300g dried mixed fruit, chopped
275g mixed nuts
250g leftover Easter egg chocolate, chopped
200g raisins
150g desiccated coconut
1. Place the dried mixed fruit, mixed nuts, leftover Easter egg chocolate, raisins and desiccated coconut into a bowl. Stir together until well mixed.
2. Serve the ingredients in a bowl as nibbles or in individual bags for kids. Store in an airtight container or plastic bag for up to two weeks.
4. Host a Teddy Bears' Picnic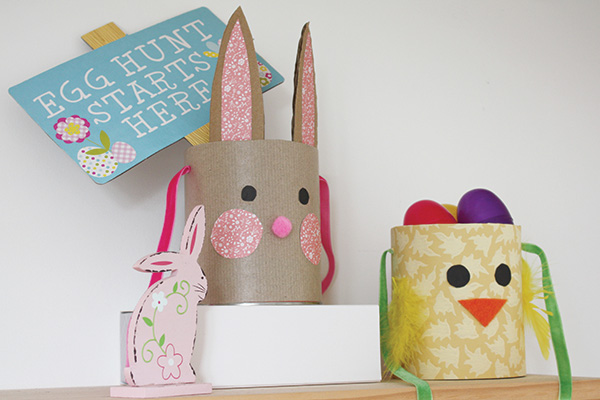 Organise a picnic in your garden or local park. Kids can bring their favourite teddy bear and they'll enjoy helping you prepare some snacks beforehand. Healthy options for nibbles include sliced fruit, hummus and vegetables and a pasta salad.
For the teddy bears, children can prepare some pretend food by cutting out pictures of food from magazines and sticking them to onto cardboard.
Bring some lemonade and the children will love serving it using a plastic tea set.
5. Make Easter decorations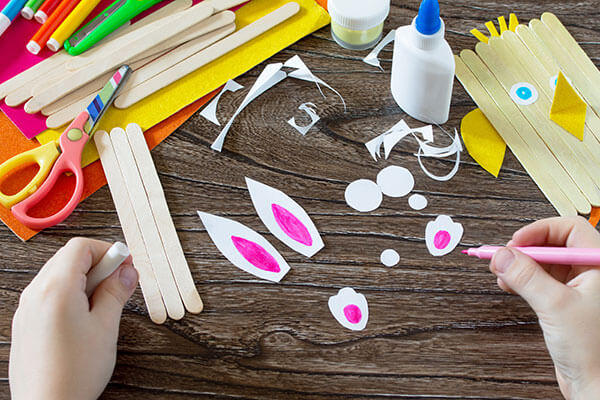 Younger kids will especially enjoy making decorations such as Easter Bunnies and Easter Egg Hunt Baskets. These activities will likely involve a trip to your local arts and crafts shop beforehand to stock up on supplies.
Easter Bunnies
You will need:
Toilet paper rolls
Buttons for the eyes
Lollipop sticks for the ears
Cotton wool or pom-poms for the nose and tail
Paint/glitter paint
Coloured pipe cleaners for whiskers
Ribbon to decorate
Kids glue
Method:
Glue two lollipop sticks to the inside of an empty toilet paper roll.
Paint the roll and the lollipop sticks with two coats of paint. Use glitter paint to add some shimmer to the bunny.
Glue the buttons in place for the eyes. Add some cotton wool or a pom-pom for the nose.
For the whiskers, glue on some pipe cleaners.
Stick on another pom-pom/cotton wool for the tail.
Decorate the Easter bunny with a ribbon.
Easter Egg Hunt Baskets
You will need:
An empty porridge oat tube
Assorted coloured and patterned paper
Cardboard scraps
Pink pom-pom
Glue stick
Scissors
Hole punch
Ribbon/string
Method:
Cut your tube down to the size you require.

Cover the tube with coloured paper using a glue stick to secure it. (Tip: brown paper looks rustic and natural.)
Cut out two bunny-ear shapes from the cardboard. Add some 'inner ear' detail with coloured paper and glue them to the inside of the container.
Create the bunny's face by cutting features from coloured paper and gluing them in position. Add the pink pom-pom nose.
Punch a hole in each side of the tube and thread the ribbon through to make a handle for your basket. 
These craft ideas are a fun and interactive way to keep little ones busy for a morning or afternoon. Remember that they will need your help, especially when using glue and scissors!
Get more information on Aviva home insurance.