Summer is here and so are the school holidays. Which means more time outdoors, and maybe even a family holiday abroad in the sun.
While the sun can boost vitamin D production and give our skin a healthy glow, it can also be dangerous. Easy Parenting magazine editor Emma Parkin urges us to enjoy our time in the sun safely.
It's great to make the most of the summer days outdoors with the kids but we need to remember to be careful. Together we've come up with top tips to keep your family protected while enjoying the summer fun. 
Factor-up
UVA and UVB rays can be dangerous for our skin. And, as children's skin is even more sensitive than our own, they are at high risk for skin damage.
It's good to get into a routine of putting a high-factor sunscreen on each morning during the summer months. Ideally, we should use SPF all year round. But, it's important to make sure to increase the factor during the summertime, regardless of the temperature outside.
Don't forget to reapply sunscreen every two hours. And, if your kids are swimming, make sure to apply more sunscreen as soon as they get out of the water.
Emma reminds us that lip balm with at least SPF 15 is good to use too. Kids' lips are very sensitive to sunlight so make sure to reapply it throughout the day. 
Take cover
It's important not to expose kids' skin to direct sunlight for too long even if they have sunscreen on. Instead of insisting they stay in the shade, dress them in some loose-fitting, breathable clothing that will keep out harmful UV rays.
Emma explains that the easiest way to test if a fabric can protect skin is to hold it up to the light. If you can see through it then the UV radiation can get through it too.
Hats are essential for kids playing outdoors as their heads, faces and necks are susceptible to sunlight. Some kids hate wearing hats, so Emma suggests allowing them choose a hat they like in the shop. That way you know they'll want to wear it! Remember that excessive squinting can cause strain and headaches so make sure your child wears sunglasses outdoors too.
If it's particularly warm out, it might be a good idea to seek shade between 12pm and 3pm. "That's when the sun is at it's hottest," says Emma. 
Hydrate
It's important to make sure your kids stay hydrated during the summer months. Playing in the heat causes kids to sweat more than usual. Which means that they'll need to drink plenty of water and take in plenty of other fluids.
It's always a good idea to pack a few bottles of water if you're heading out for the day. Emma urges us to encourage our children to take a break for a quick drink every half hour or so.
There are also plenty of fruit and veg that are great for hydration. Your kids might like to snack on cucumber, carrot or pepper sticks, melon slices or pineapple chunks.
Emma even suggests making your own ice-lollies for extra hydration. If you're feeling adventurous, that is! Take a look at the easy melon and cucumber ice-lolly recipe below.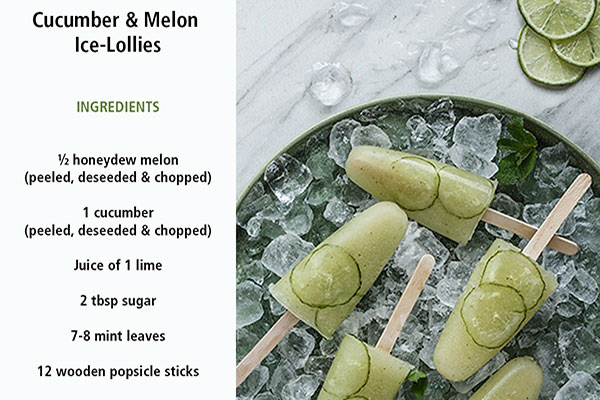 Melon and cucumber ice-lollies - Makes 12
Method:
In a food processor or blender, whizz all of the ingredients together, working in batches if necessary.
Drain the mixture through a fine mesh sieve, squeezing out as much liquid as possible.
Pour into popsicle moulds, then cover and freeze for 6-8 hours until solid, sticking in the wooden popsicle sticks after an hour or so.
To remove the popsicles from the moulds, run tap water around the sides for a few seconds. 
Per serving:
33kcals, 0.1g fat (0g saturated), 8.5g carbs, 6.8g sugars, 0.5g protein, 0.8g fibre, 0.011g sodium
You can add some super-thin slices of cucumber to the moulds before freezing to make your ice lollies looks extra pretty! 
Now that your family is safe in the sun, protect them further with Health insurance. For more information click here or give our expert team a call on 1850 45 35 25, Monday to Friday, between 9am and 6pm.