At Aviva, we're passionate about our ambitious goal to be net zero by 2040. We have committed €5 million in funding to Nature Trust, a not-for-profit company backed by Coillte and Forestry Partners, to help accelerate its native afforestation project. This funding is also about removing carbon emissions from the atmosphere and taking another step towards our net zero goal.
Aviva Ireland helps afforest Ireland
We are helping afforest Ireland for nature and for people with funding of €5 million to The Nature Trust to plant new native woodlands.
The native woodlands created will provide carbon sequestration – removing and storing carbon dioxide (CO2) from the air and so helping to address climate change.  In addition to the carbon removal, it will enhance existing and degraded biodiversity and create new biodiverse habitats, as well as providing free access to all for improved wellbeing and recreational amenities.
Net zero (carbon emissions) by 2040
At Aviva, we take our commitment to net zero very seriously. Did you know Aviva is the first major financial services group to set this ambitious goal by 2040
We've introduced a number of products and services and are making big changes across our business which means that we can keep on taking care of our customers, our people and our planet, to support that goal. ​
But what is net zero and how can we get there? Net Zero is the balance between the amount of carbon emissions produced and the amount removed from the atmosphere. ​
We know that there's a long road ahead, but the small steps we take now will make a big difference later.​
Change may not be easy, but we reckon we've got what it takes. It takes Aviva.​ ​
Transcript
00:00:00 Music playing in background
00:00:08 Steve McGerr, Aviva Insurance Limited

We know the challenges facing the insurance sector. At Aviva we are committed to creating a better tomorrow through sustainable ambition and action on climate change.
00:00:21 Norman Costello, Head of Sales, Aviva Life and Pensions Limited
Every part of our business is aligning to net zero and we are offering our brokers and our customers funds and products that in able them to do the same.
00:00:32 Brian Mahon, Chief Underwriting Officer, Aviva Insurance Limited
We believe using underwriting to tackle climate change too. We are working to develop a net zero underwriting methodology and strategy. In 2021 we have made changes to our underwriting acceptance criteria to make certain we don't insure coal or fossil fuel companies.
Our sustainable claims process means that our customers can feel confident that buying an Aviva product they are making a positive contribute to the environment.
00:00:58 Richard Jones, Head of Product, Aviva Life and Pensions Limited
With Aviva you don't have to choose between investing responsible and delivering performance for customers. We have a range of ESG funds that have been delivering strong returns and we have been partnering with Aviva Investors to use our voice and our voting rights to influence the companies and the sectors that we invest in.
00:01:16 Eugene Gibney, Head of Investment, Aviva Life and Pensions Limited
Our Aviva Ireland property team's redevelopment projects will continue to target industry standard green accreditation and we will continue to reduce the carbon intensity of our portfolio to net zero by 2040.
00:01:30 Carina Galavan, Business Property Specialist, Aviva Life and Pensions Limited
Aviva have committed to having a fully electric fleet by 2025.
Aviva are introducing e-charges at a number of our properties and we are also supporting small local businesses through initiative such as champion green.
00:01:45 Jason Avoy, Customer Initiatives Manager, Aviva Life and Pensions Limited
We will save approximately quarter of a million pieces of post a year. Directing our customers online reducing our paper consumption and using our numerous communication channels we share our concerns about climate issues with our brokers and customers.
00:01:58 Brian O'Neill, Head of Sponsorship, CSR, Aviva Ireland
In 2020 we donated 100,000 euros to causes our brokers care about and a further 250,000 euros to our charity partners while also promoting diversity and inclusion in our local communities.
00:02:16 Eimear Considine, Irish Rugby player and Primary School Teacher
Aviva care about educating children and support a number of schools in challenge communities nationwide.
00:02:23 James Lumumba, Customer Service Administrator, Aviva Ireland
One of the initiatives that see Aviva staff volunteer their skills is to make a difference in our community.
00:02:32 Caitlin Flanagan, CSR Executive, Aviva Ireland
At Aviva Ireland we used 100% renewable electricity in our offices since 2012 and since 2010 we produced our carbon emissions by 74%. We support a number biodiversity initiatives like the Aviva bees and support them by planting wildflowers at our retail parks.
00:02:51 Lisa Bergin, Sponsorship Manager, Aviva Ireland
Our partners care about sustainable too and Aviva stadium is a green stadium in more ways than one. Here we have several biodiversity projects in sustainable initiatives including recycle rainwater which is used to water the pitch.
00:03:10 Steve McGerr and Norman Costello
We know that there is a long journey ahead, but we look forward to travelling with our brokers and our customers on that journey. Creating a better tomorrow
00:03:20 It takes Aviva
With you, every step of the way
With each step you take, we'll be right there beside you – helping you put one foot in front of the other towards a brighter, better future. Learn about some of the internal ways Aviva is supporting net zero. Because it takes more than just words to get there. It takes action. ​
Transcript
00:00:00 Music playing in background
00:00:05 On screen message. Net Zero is the balance between the amount of emissions produced and the amount removed from the atmosphere
00:00:09 On screen message. Our ambition is to be aa Net Zero company by 2040. And across our operations and our supply chain by 2030.
00:00:16 On screen message. Here's some ways that we're supoorting this goal:
1. Ireland was the first Aviva market to use 100% renewable electricity.
2. Our smart building optimisatoin programme enables us to heat and cool our buildings efficiently.
3. LED lighting in all our office locations has significantly reduced our energy usage.
4. Our carbon emissions are relatively small however we've alreday cut them by over 74% since 2010.
5. We support biodiversity with an expanding bee population of 200,000 across two office locations.
00:00:42 On screen message. And there's plenty more initiatives on the way...
00:00:45 On screen message. It takes Aviva. End of video.
Aviva Bees
To support native Irish bee populations, we have five hives across two of our locations and plant wildflowers at our retail parks. Can you spot our Queen Bee below?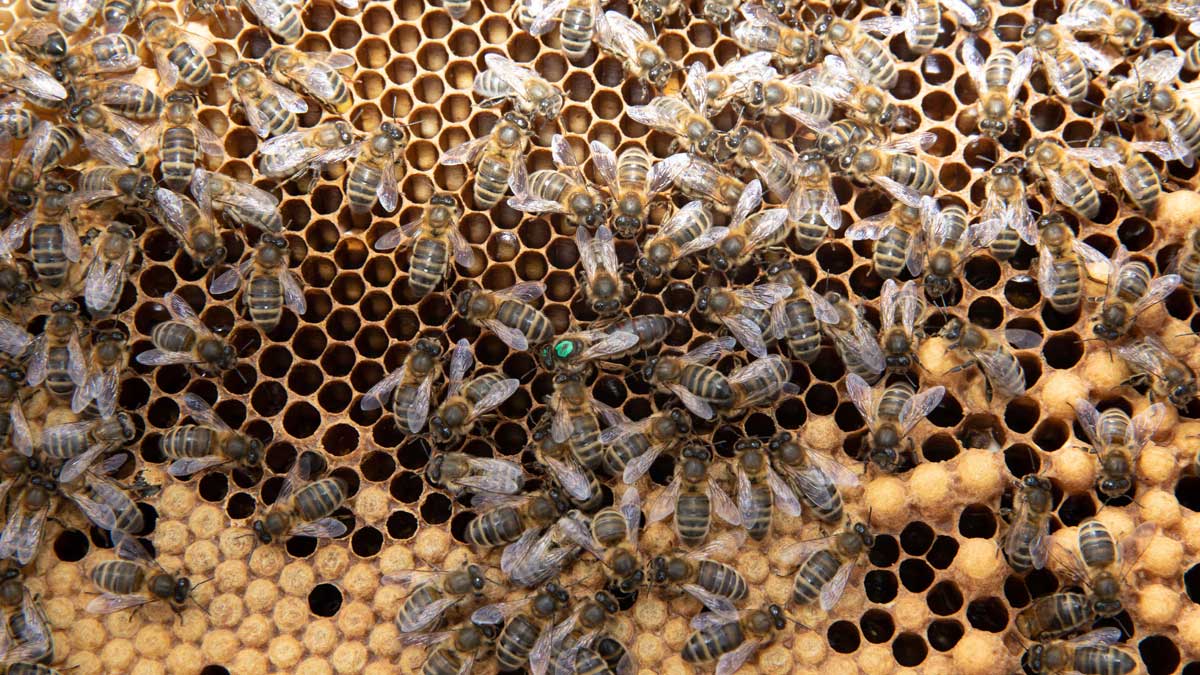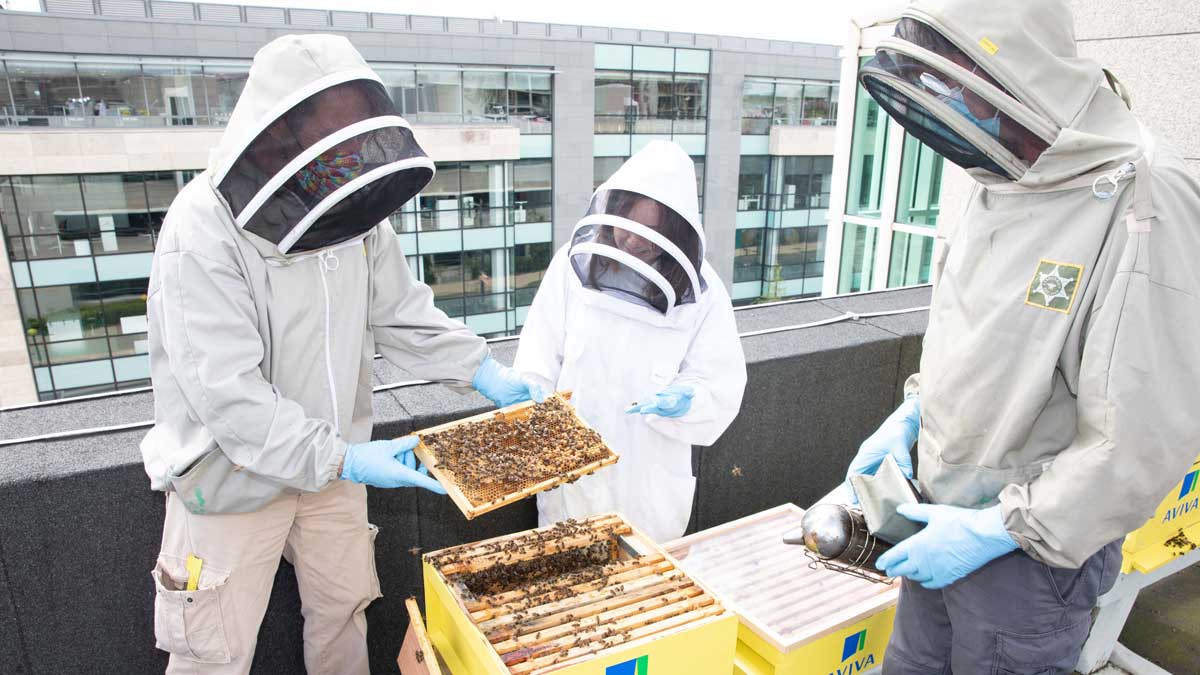 Our Reporting
We know the importance of accountability and of listening to the latest climate science.
Aviva Group Services Ireland Limited, a private company limited by shares. Registered in Ireland No.322579. Registered Office: Cherrywood Business Park, Dublin, Ireland, D18 W2P5.