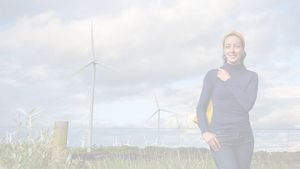 Aviva - a leader in responsible investing¹
What is ESG investing?
In the past investors have researched and considered financial factors and metrics when making decisions about their investments. ESG investing incorporates environment, social and governance (ESG) elements into a fund's investment process, in addition to financial considerations.
Environmental
How the company interacts with the environment

Climate change
Natural resources
Pollution & waste
Energy use
Social
How the company interacts with society
Working conditions

Health and safety
Employee relations and diversity
Data protection
Governance
How the company is run

Executive pay
Bribery and corruption
Board diversity
Risk management
Investing your money to make a difference
80% believe it is important to Irish customers
Aviva Research
Aviva research indicates that when explained clearly, environmental, social and governance investing, or ESG investing for short, is important to Irish customers2.
We offer responsible investing options across our Managed for You, Managed with You and Managed by You propositions. For example, in our Managed for You and Managed with You option you can invest in funds from Aviva Investors, the fund management arm of the Aviva Group.
Aviva Investors - responsibility built in
With a dedicated team of 22 environmental, social, and governance ("ESG") Analysts, Aviva Investors has built ESG considerations into their investment processes3. Aviva Investors is a pioneer in responsible investments, they have been considering ESG criteria since 1970.  Today, they are recognised as a global leader in ESG investments.  In 2019, they were named as one of only 5 managers out of 75 global investment managers to receive an "A" rating by ShareAction for their approach to ESG investing. 
Aviva Investors' ESG highlights 2019
Tackling climate change
Aviva Investors voted in favour of 86.9% of shareholder resolutions on climate change.
Commitment to voting
Aviva Investors voted on 61,876 resolutions at 5,382 shareholder meetings, representing 24% of votes against management resolutions including 46% relating to pay proposal.
Engaging at scale
Aviva Investors  undertook 3,122 company engagements with 2,149 individual companies to identify and reduce ESG risks in portfolios.
Source: Aviva Investors June 2020.
Learn more about ESG and our approach
---
Warnings
Important information to consider.
Fund availability varies by product type. Please contact your Financial Broker for details of the funds available by product type.
Warning: The value of your investment may go down as well as up.
Warning: If you invest in these products you may lose some or all of the money you invest.
Warning: Past performance is not a reliable guide to future performance.
Warning: These products may be affected by changes in currency exchange rates.
1. Source: Aviva Life & Pensions Ireland August 2020.
2. Source: RedC research undertaken on behalf of Aviva July 2019.  Sample size 1,627.
3. Where funds invest in externally managed collective investment vehicles, Aviva Investors may not be able to apply ESG criteria.

Aviva Life & Pensions Ireland Designated Activity Company, a private company limited by shares. Registered in Ireland No. 165970. Registered office at One Park Place, Hatch Street, Dublin 2, D02 E651. Aviva Life & Pensions Ireland Designated Activity Company, trading as Aviva Life & Pensions Ireland and Friends First, is regulated by the Central Bank of Ireland. Tel (01) 898 7950.