Aviva held its Broker Community Fund awards at an event in Aviva Stadium in early December. This celebration saw causes that our brokers care about receiving a total of 32 donations ranging from the minimum award of €1,000 up to the maximum of €20,000 awarded on the evening to the winning charities or community organisations.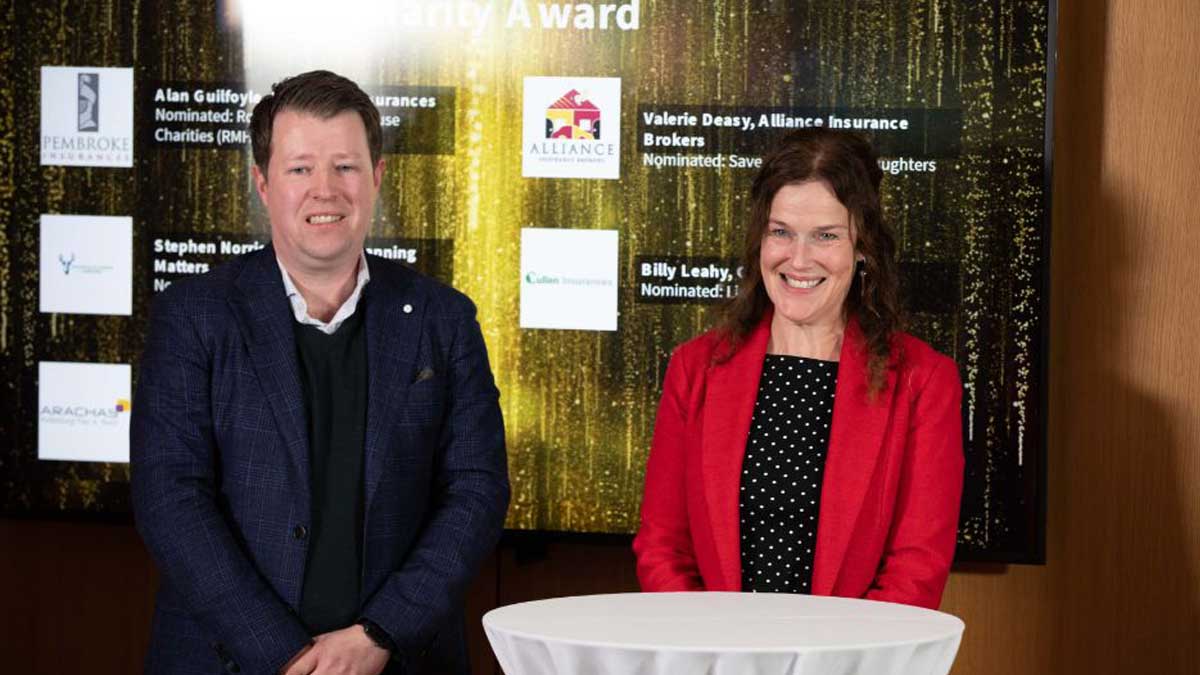 To ensure this year awards could be hosted safely for the benefit of all participants and to allow more brokers and charity staff to attend, the event was hosted in a hybrid format. This allowed for some of our shortlisted charities, community organisations and brokers to attend and present in person, and other to present and attend the event online. The largest donation of €20,000 for the winner of the Charity category was awarded to Ballyowen Meadows special school, based in Loughlinstown, Dublin, for its project to develop a sensory garden for the children at their school. The school was nominated by Stephen Norris of Financial Planning Matters.
There were also four very deserving runners-up in the Charity category each awarded a donation of €5,000 They were as follows: The Oesophageal Cancer Fund nominated by Brona Wright of Arachas, Ronald McDonald House charities nominated by Alan Guilfoyle of Pembroke Insurances, Save our Sons and Daughters nominated by Val Deasy of Alliance and Limerick Suicide Watch nominated by Billy Leahy of Cullen Insurances.
Three donations, each to the value of €10,000, were awarded to the three winners of the Community organisations category: Oughterard AFC nominated by Iain Kilbane of Q Financial Advisors, Camross Parish Development nominated by David Peavoy of Peavoy Financial Planning and Happy Trails Therapeutic Riding School nominated by Siobhan Briscoe of Travers Insurance. There were two runners up in this category who were awarded €5,000 for the great projects they are putting in place to support their local community: Kill Community Alert nominated by Jackie McQuillan of Key Financials and Mullahoran GFC who were nominated by Ciaran Brady of John Brady Insurance.
To align with our support for Climate Action and Diversity and Inclusion, Aviva introduced two new special awards for projects that support action in these areas. Bernard Jackman, the former Irish international rugby player and current commentator who has sat on the judging panel of the Broker Community Fund for the last three years, was on hand to present these awards. Vision Sports Ireland, nominated by Barry Ennis of Eppione Brokers, took home €10,000 for the diversity and inclusion award and Limerick Civic Trust, nominated by Martin Kelly of Cullen Insurances took home €10,000 for the Climate Action award.
Following the award presentations, 20 additional entries from the charities or community organisations were drawn out from a list of commended nominations and will each be awarded a donation of €1,000. The full list of these award winners can be found on www.aviva.ie/broker-community-fund.
We would like to once again thank everyone who entered this year's Aviva Broker Community Fund. It is uplifting to see all the incredible work that local charities and community organisations are engaged with for the benefit of their communities. Once again, the real challenge for the judging panel was to make their selections from so many worthy causes. These awards represent an integral part of our community giving and we are really grateful to the broker community for getting behind these awards in such numbers and taking the time to send in your nominations. We hope that the awards given will go some way to supporting local charities and community organisations achieve their goals

Brian O'Neill, Head of Communications, Brand and Sponsorship, Aviva Ireland
With 135 nominations submitted into this year's Aviva Broker Community Fund, we would like to again thank all the brokers who nominated great causes and congratulations to all those who were awarded donations from this year's fund.