What is Multi Trip Travel Insurance?
If you travel more than once a year, multi trip or annual multi trip travel insurance is best suited to cover your needs. Perhaps you're dreaming of a city break to Rome in the spring but also want to take a trip to Asia in the autumn. With this type of insurance, you don't need to worry about taking out an insurance policy for each trip abroad so long as each trip lasts for no more than 30 days.
What Does Multi Trip Insurance Cover?
Cancellation 
Travel delay or missed departure
Personal accident and property
Lost or stolen passport or driving licence
Personal liability
Legal advice
COVID Cover
If you're wondering about COVID-19, it's important to make note of what Aviva's multi trip insurance covers. We'll cover:
Overseas medical and repatriation expenses provided you are not travelling to areas where the Department of Foreign Affairs (DFA) allocates a security status of 'Avoid non-essential travel' or 'Do not travel'.
Any additional accommodation (room only) and travelling home costs you may have if you are required to quarantine on holiday and if the period of quarantine goes past your original return date.
Cover options created for you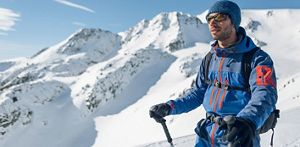 Winter Sports
Choose winter sports cover as an optional extra if you plan on taking part in any winter sports abroad throughout the year. Activities covered under this policy include skiing, snowboarding, outdoor ice skating, or tobogganing. Please note that we don't cover competitive winter sports such as ski jumping, ice hockey, or ski boarding.
Car Hire Excess
Thinking of hiring a car abroad at any stage during the year? Get reimbursed for the excess paid towards repair costs if your rental car gets damaged. Aviva's car hire excess can be added onto your travel insurance from as little as €2.39/per day or €39.99/ per year.
Why Choose Multi Trip Travel Insurance?
Enjoy peace of mind on your next trip. Aviva's multi trip travel insurance offers the following benefits:
Travel Further
If you plan on taking multiple trips to different destinations throughout the year, there's no need to take out a travel insurance policy for each individual trip. With Aviva's multi trip insurance policy, you can take multiple trips so long as each trip doesn't exceed 30 consecutive days.
Medical & Emergency Assistance
Chubb Assistance is here to help you in the event of a medical emergency abroad. Call +353 (0)1 440 1790 to avail of medical advice, payment of medical bills and repatriation assistance.
Medical Cover
Medical expenses or repatriation can be very expensive. With multi trip insurance, you don't have to worry about paying out of pocket or using personal money if you end up in a hospital or need to be brought back home. Although the European Health Insurance Card (EHIC) can be used when travelling around Europe, it doesn't cover everything.
Save Money
If you plan on taking more than one trip out of the country in the year, opting for multi trip insurance can save you money. Taking out insurance for every single trip you go on can work out more expensive in the long run.
Get 20% off online
Take out your travel insurance online and you will get a 20% disocunt1
1. Your discount will be included in the price you receive, offer applies to single trip and multi-trip insurance purchased online only.
Aviva Travel Insurance is arranged by Aviva Direct Ireland Limited and underwritten by Chubb European Group SE.
Chubb European Group SE trading as Chubb, Chubb Bermuda International and Combined Insurance, is authorised by the Autorité de contrôle prudentiel et de résolution (ACPR) in France and is regulated by the Central Bank of Ireland for conduct of business rules. Registered in Ireland. No 904967 at 5 George's Dock, IFSC, Dublin 1.

Aviva Direct Ireland Limited is regulated by the Central Bank of Ireland. A private company limited by shares. Registered in Ireland No 374895. Registered Office: Cherrywood Business Park, Dublin, Ireland, D18 W2P5.