Did you know that the Irish government has set a target of 845,000 private electric vehicles on the road by 2030 -  the equivalent to one-third of the 2.8 million vehicles currently on the road in Ireland.
As more people buy electric vehicles and the need for EV insurance increases our car insurance policy is designed for them, cover for cable theft, breakdown assistance and did you know Aviva partner with ARM who are the only Tesla approved repairer in Ireland. So, if you're considering an electric car one of the questions you might have is how to choose and install and EV charger at home.
This blog post, we'll break down the choices and explore the different factors of charging an EV at home.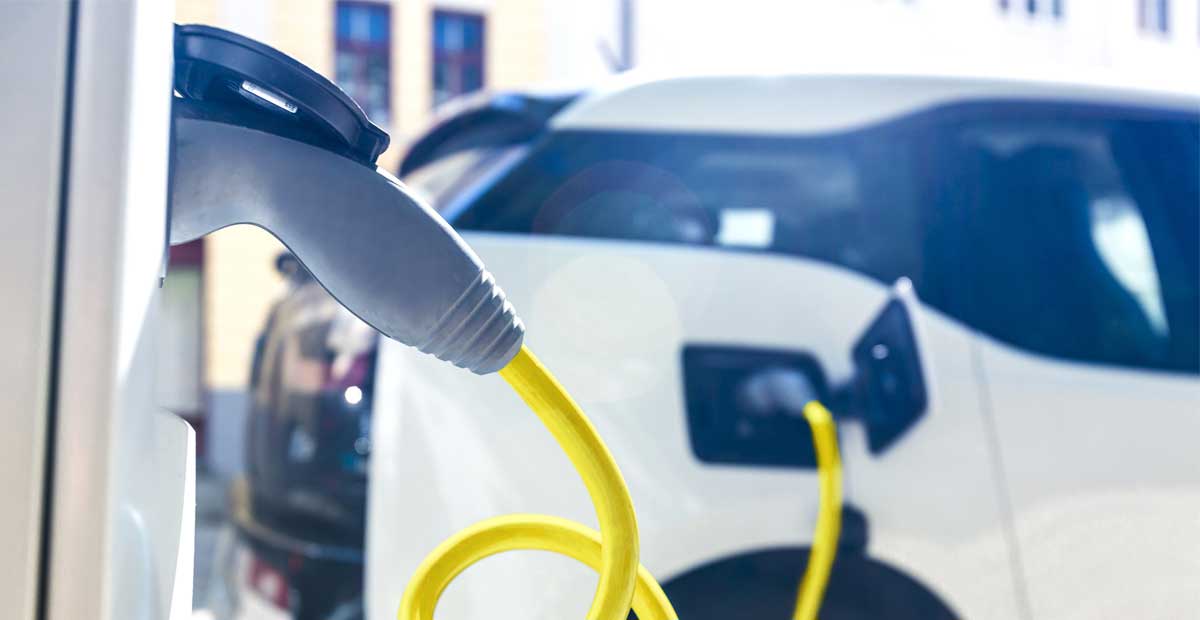 The different types of home electric vehicle chargers
There is a wide variety of EV home charger options on the market – it all depends on what you're looking for.
There are three levels of EV chargers available; slow (1), medium (2), and fast (3). Level 2 chargers are the most common for home chargers, as they offer a good balance between speed and affordability. You're more likely to find fast chargers at specialised public charging points
Once you settle on your type of charger, there are also a number of brands to consider. Some of the most popular brands in Ireland include:
EO
Chargepoint
JuiceBox
Myenergi
Wallbox
Depending on your installer, you may have a choice of different brands, or they may advise you on the most suitable option. For example, if you decide to install a home charger with Electric Ireland, they will use a 7.4kW Sync EV Smart Charger.
There are also different connector types for your EV charger. Different car models may require specific connector types, but the most commonly used one in Ireland is the Type 2 connector.
What to consider when choosing an electric car charger for your home
There a number of things you should keep in mind when choosing a home car charger. While we can advise on the different factors to keep in mind, it's important to consult the experts and manufacturers before choosing your electric car charger. Here are just a few things to consider:
Charging speed: Look at your daily driving needs and charging requirements and consider whether the charging speed of your EV charger meets those requirements. Level 2 chargers generally provide charging speeds of around 7 to 22 kW.
Compatibility: Ensure the EV charger you select is compatible with your specific EV make and model. You can do this by speaking to your car dealer or referring to the manufacturer's recommendations.
Smart features: Some EV chargers come with smart features such as mobile apps to switch charging on and off, remote monitoring, and scheduling options.
SEAI Grants: The Sustainable Energy Authority of Ireland (SEAI) offers grants to support the installation of home EV chargers. These grants offer up to €600 towards the purchase and installation of a home charger, which usually cover up to 70% of the costs involved. You can apply online through the SEAI website for this grant.
The car charger installation process
Once you've settled on a make and model, it's time to schedule the EV charger installation. Here are some things you should research first.
Qualified local installers: For your own safety, it's crucial that the person installing your charger is a qualified electrician or specialist with experience in this area. Do your research before confirming.
The best location for your charger: Take a look at your home and consider where the best location is for an EV charger. Is the charger accessible? Is it close enough to your parking space? Can it be covered or sheltered to protect from the elements? Your installer can help with these questions.
Electrical capacity: While this is not usually an issue in major residential areas, if you live in a more rural setting, you'll need to make sure that your home's electrical capacity can accommodate an EV charger. Again, a qualified electrician can help you with these assessments, and advise on any necessary adjustments.
Permitting and approval: Depending on the specifics of your installation, you may need to obtain permits or approvals from your local authority. Be sure to confirm this before any installation takes place.
Safety and maintenance of your EV charger
Once you have your charger installed, it's important to regularly check its functionality and confirm that it's running safely and efficiently. Schedule regular inspections of your charger and follow the manufacturers guidelines for cleaning and safety measures, like using appropriate circuit protection. It's important to be familiar with your charger's functions, especially its emergency stop/ shut-off – make sure you have easy access to this should anything go wrong.
Whatever EV charger you choose, you can enjoy peace of mind with Aviva - if you run out of charge at any point on your journey, Aviva will charge your car at the roadside, or tow your car to the nearest charging point or to your home, whichever is closer.
With Aviva, we have several approved repairers for electric vehicles, including a partnership with Accident Repair Management or ARM, who are the only Tesla approved repairer in Ireland. Check out our options for car insurance for EVs, and get a 15% discount on your quote by buying online.1