Show that you've got what it takes to be an ally in the most vibrant way possible – by hosting your own Pride party! It's more than just a colourful celebration; it's a meaningful way to champion diversity and inclusion with your loved ones.
To help you prepare for your own memorable celebration, read on to find some simple suggestions to help get the party started. You'll find an exclusive recipe to make your own showstopper rainbow cheesecake squares, a fun-filled DIY bunting tutorial, and a curated Pride inspired watch-list to end the party on a high note!
Rainbow cheesecake bars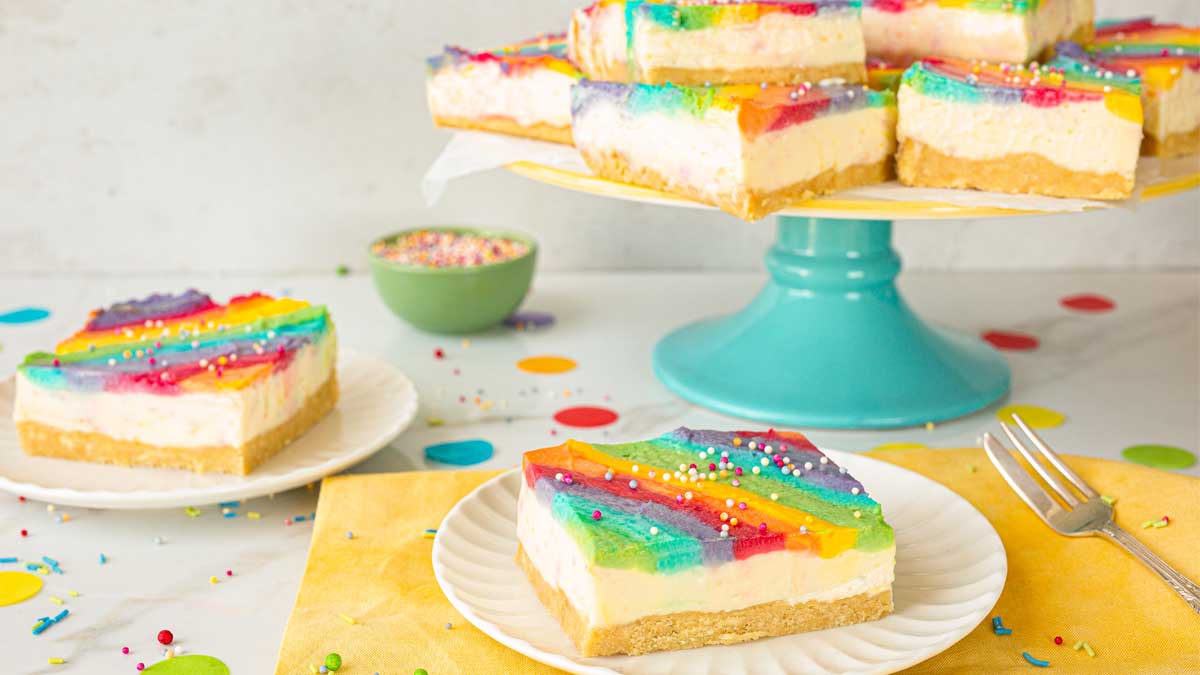 Prep time: 30 mins
Serves: 9
Total time: 3 hours, including chill time
Difficulty: intermediate
For the base
260g Golden Oreos
125g butter, melted
For the cheesecake layer
250g full-fat cream cheese, softened
200g white chocolate, melted
250ml double cream
125g mascarpone cheese
1 tsp vanilla extract
50g rainbow sprinkles
For the rainbow whipped cream
310ml double cream
125g mascarpone cheese
1 tsp vanilla extract
Yellow, orange, red, blue, green and purple food colouring gel
Spray the sides and bottom of a square 9-inch cake tin. Add the golden Oreos to the bowl of a food processor and pulse until you reach fine crumbs. Add the butter and pulse until you've got a crumbly mixture.
Add to the cake tin and use the back of a spoon to spread evenly and press firmly into the bottom of the cake tin. Chill in the fridge while you make the cheesecake layer.
In a large mixing bowl, add the cream cheese and beat until fluffy, using an electric hand mixer. Scrape down the bowl and add the melted white chocolate. Mix until well combined.
To a separate large bowl, add the cream, mascarpone, and vanilla extract. Whip to stiff peaks. Add the whipped cream to the cheesecake mixture and use a spatula to gently fold through until well combined.
Add the sprinkles and fold through to combine. Add the mixture to the cake tin, using a spatula to spread as evenly and flat as you can get it. Chill in the fridge to set for at least 2 hours.
To another mixing bowl, add the cream, mascarpone, and vanilla extract. Whip to stiff peaks. Separate into 5 bowls and add food gel. Fold through until well combined.
Add the cream to piping bags and pipe lines of whipped cream on top, in order of the rainbow. Dip a spoon into boiling water, wipe it dry and gently run over the cream for a smoother finish. 
Chill for 10 minutes, then slice into nine bars.
Make your own rainbow triangle bunting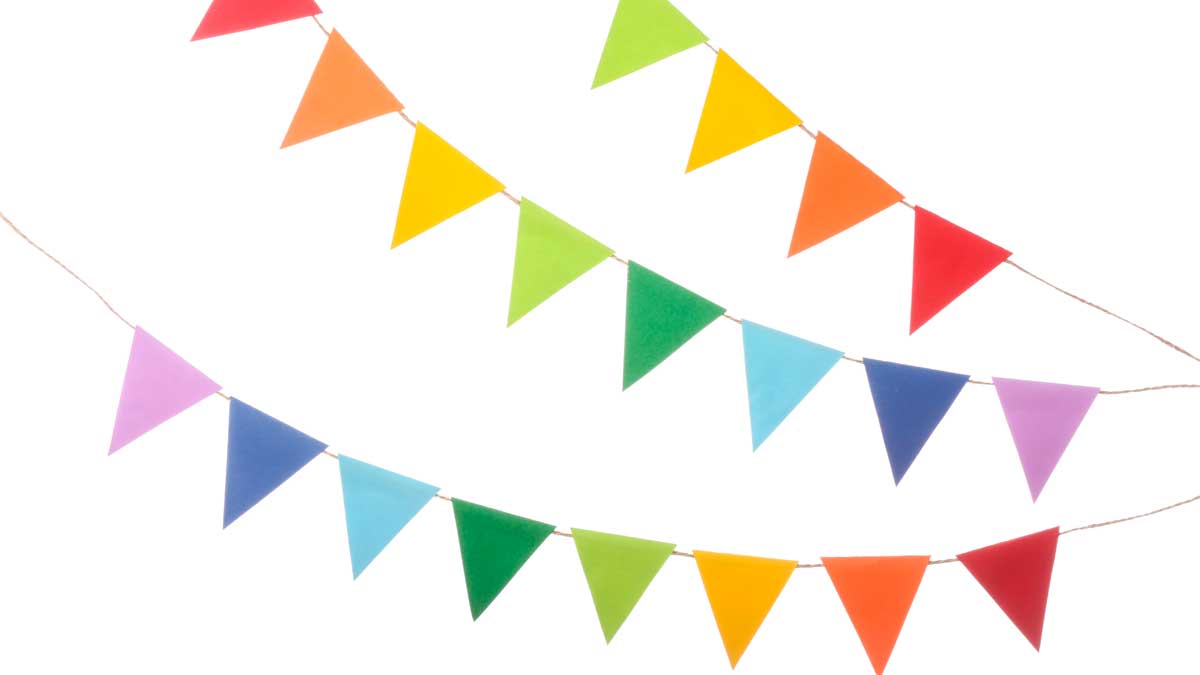 What you'll need:
Plenty of coloured paper to represent the colours of the rainbow - Red, Orange, Yellow, Green, Blue, Indigo, Violet.
String or twine.
Scissors.
Hole puncher.
Instructions:
Take your coloured paper and cut it into large, equal sized squares.
Once you've made your squares, cut them diagonally so you end up with two triangles from each square.
With your hole puncher, make two holes near the top of each triangle, on the longest side. Be sure to check they're aligned and equally spaced.
Take your string or twine and thread it through the holes in the triangles. Start with the violet triangle, then indigo, blue, green, yellow, orange, and finally, red. Continue this pattern until you've threaded all your triangles.
Remember to also leave enough string on both ends so you can hang your bunting up!
Finally, the fun part - decide where you want to hang your bunting. It could be across the room, over your door, or along a wall - the choice is yours!
Pride inspired watch-list
Handsome Devil
Suitable for 15+1
A coming-of-age story set in Ireland, 'Handsome Devil' uncovers the story of an unlikely friendship between a sports star and his roommate. With the tagline 'follow the crowd, or follow your heart' at its core, it's a thought-provoking Irish drama not to be missed.
Pride
Suitable for 15+2
Based on a true story, 'Pride' is centred on the unexpected alliance between LGBT+ activists and striking miners in 1980s Britain, demonstrating the power of community and solidarity during the toughest of times.
Rocketman
Suitable for 15+3
The life and career of musician Elton John is depicted in Hollywood blockbuster 'Rocketman'. Taron Egerton stars as John, who comes to terms with his sexuality as a young singer catapulted to fame. 
BeLonG To Youth Services is the national organisation supporting lesbian, gay, bisexual, transgender, and intersex (LGBTI+) young people in Ireland. Support BeLonG To with Aviva Home Insurance. For every new home policy bought this June, we'll make a €10 donation to BeLonG To.4 Get your quote today.