Celebrate Pride 2022
Aviva Pride Ireland is a Lesbian, Gay, Bi, Trans, and Allies (LGBTQ+) Community Group for our people, which is open to everyone who believe it is important to spend energy being yourself, not hiding it. Our ambition is to be recognised for our commitment to our People and Customers in the LGBTQ+ community, as well as making Aviva an employer of choice for LGBTQ+ professionals.
This June, Aviva Ireland, proud sponsor of Aviva Stadium, Irish Soccer, Irish Rugby, and the Women's National Football Team, asked the people of Ireland to #LaceUpWithPride in support of Belong To. For the second year in a row, we sold rainbow laces for €4 with all profits going to Belong To, the national organisation supporting lesbian, gay, bisexual, transgender, and queer (LGBTQ+) young people in Ireland.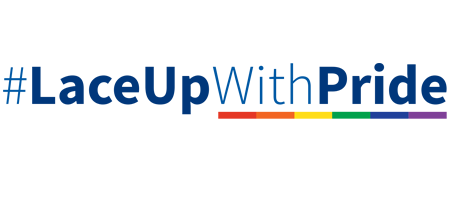 Aviva staff celebrate #LaceUpWithPride for Pride 2022
Transcript
00:00:00 Video Starts
00:00:15 Kieran Murphy
So we're here tonight to light up the stadium for pride and also to raise the Pride flag outside, to celebrate the month of Pride.
00:00:26 Emma McPherson
Pride, to me, means somebody being their true selves and for me it's so important in the work place that people can be their true selves.
00:00:37 Kathy Kavanagh
Allies are really important. Your secret power is to show your support for the LGBT community. It's really important to be actively involved  and that's why I like being a chief ally.
00:00:51 Claire McMorris
My hope is that anyone on out there looking at the lights tonight, whether it be like, kid, teenager or adult who's struggling, it's a symbol of, there's hope, it's inclusive, there's so much support out there and that you're seen, you're loved and you're supported, and that's one of the reasons why I'm so proud to work for Aviva.
00:01:17 Video Ends
​​​​Everyone has a story; this is Jason's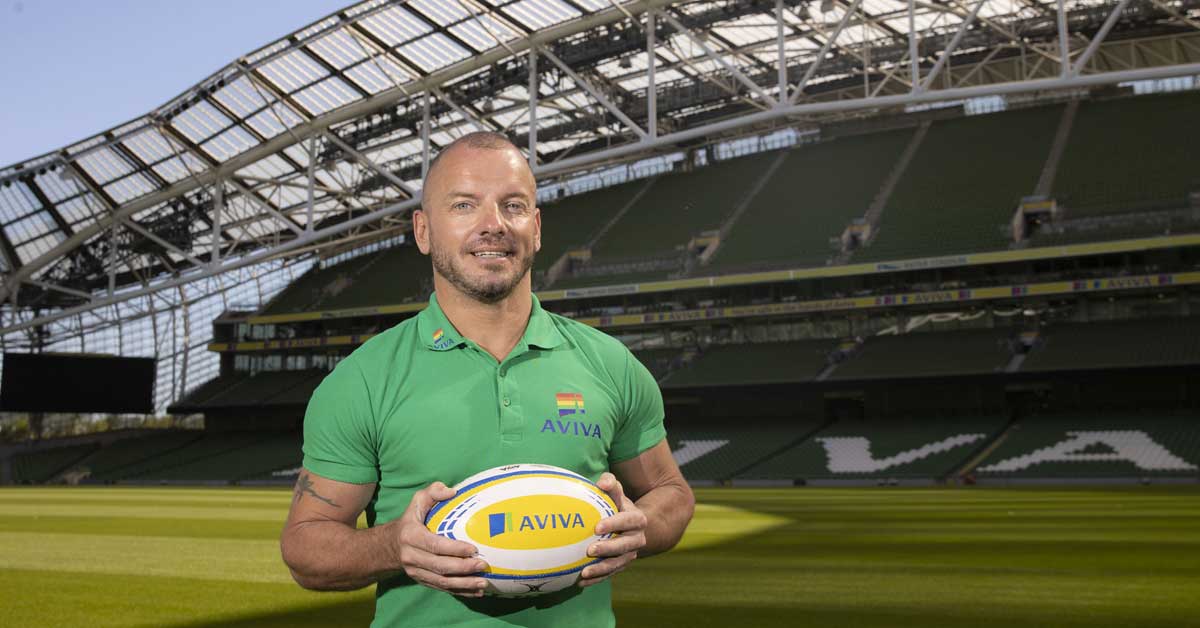 20 years ago, I married my wife. I thought it was the right thing to do - meet a girl, get married, build a home, and have a family. That's what all my friends wanted, it's what my family wanted, and I wanted to be accepted, to feel normal and to fit in.

When I finally came out to myself 6 years after I got married, I had a very difficult journey ahead of me. I got divorced (later my marriage was annulled), I lost the home that I built on my father's land, I left the village where I grew up. I remember packing my clothes, tears running down my face and leaving with just two black bin bags.
I had no one to talk to or anyone to help me understand how I felt. I faced dark times, alone and lost. For 10 years, I had little to no contact with my family and I lived a secret life - in work, I pretended I had a girlfriend, watched what I said, how I spoke, how I dressed... I didn't want to be this gay guy.
I often wanted to give up, to end all the self-hate, shame, and guilt. Now, I am glad I didn't.
My life in 2020
​I am very happy living as a gay man, working for a company that is open and inclusive where I don't have to pretend and hide. I'm happily married to Freddy - my best friend, my soulmate, the love of my life. We married 5 years ago, after the marriage referendum was passed... our 5th anniversary is in 2 weeks!
I have a ​​great network of friends and now an amazing relationship with my family. When I finally told my family, my mum cried - for what I went through alone and for not talking about or understanding how I felt. I'll always cherish the moment my mum told me she was so happy that I found happiness and to have her son back plus a son-in-law!
My ex-wife and I are in contact with each other again. I'm delighted to say that she is now very happily married with 3 children.
The feeling of acceptance and love for me, has allowed me be at peace with who I am. Now I'm the best version of myself.
Why #LightUpForPride and lighting up Aviva Stadium is so important
​My only regret in life is that I hid my true self for so many years. At Aviva, we want our colleagues and customers to spend energy being themselves and not hiding it. This is something I wish I could go back and tell myself.
I feel so proud to work for a company who promote a culture of inclusive diversity where everyone can bring their whole self to work. Having a connection with BeLonG To, support services for young LGBTQ+ people, is so close to my heart. I wish this had been available to me when I was growing up... I think my life would have been different without spending all those years hiding and feeling ashamed.​
I believe and feel things have changed for the better in Ireland and people's views on the LGBTQ+ community have progressed positively but there is s​​till work to be done. Not everyone feels safe to be who they are. #LightUpForPride and lighting up Aviva Stadium is an amazing way for us, as a company and as individuals, to reach out to the young LGBTQ+ people of Ireland with a message of hope, solidarity, and a reminder that even in your darkest moments, you are accepted and celebrated by so many - a sign that it is safe to dream!
Celebrate Pride 2022
Transcript
00:00:00 Video Starts
00:00:06 Jack Dunne
So I decided to come out when I was 18. It was coming up to the end of my final year in school, and I decided I'd tell one or two people and see how it went and it went really well. It took, it probably took a few more years then until I came out publicly to the media, which was a big decision, but I'm glad I did it.
00:00:24 Jamie Finn
Yeah, it's very important to see solidarity from those who are not in the community. I got that from family, freinds, teammates as well. So, I think that made my journey a lot easier. It's so important to have those people around you - to have someone to talk to as well.
00:00:39 Jack Byrne
It's important that people feel comfortable and feel like they can really be themselves. You can never achieve much as a group of individuals, but as a team, the sky is the limit if you get the balance right.
00:00:52 Jamie Finn
We're calling on everyone to #LaceUpWithPride with Aviva this June.
00:00:59 Video Ends
The Cork Rebel's Story
Transcript
00:00:00 Video Starts
00:00:03
The Cork Rebels was founded in 2016 and it's grown and grown over the years. Inclusivity and diversity is the heart of what we do. Anybody's welcome to join our club, we don't discriminate. Sexual orientation, gender identity, age, race, religion. It doesn't matter whether you can play football or whether you can't,  you know, everybody is welcome.
00:00:23
Being a good ally is speaking up when others won't speak up. That could be your buddies saying something derogatory or even being misogynistic, homophobic, racist, any one of those ways, standing your ground for what you know is right.
00:00:40
The great thing about the Lace Up With Pride campaign from Aviva is that it helps the message that we want to bring. It helps bring it to a wider audience, and helps organisations such as 'Belong To' who work with LGBTQ+ youths. And the proceeds from the sales of laces will help the work they do and that's fantastic.
00:01:00 Video Ends
The Emerald Warriors' Story
Transcript
00:00:00 Video Starts
00:00:01 Jack Dunne
Ever since I came out, I've had really good experiences and I have so many life long friends I've met through different sports clubs and different sports teams who have supported me through thick and thin.
00:00:11 Evan Somers
You know, I've really supportive family, really supportive friends. And obviously playing for the Emerald Warriors is, you know, a great team of people who, you know, always have your back, they're always supporting you.
00:00:18 Jack Dunne
Team sports especially are brilliant for, you know, bringing people together. When you feel like you belong, it's easier to feel confident in yourself and just believe in yourself. 
00:00:28 Evan Somers
It can even help in making you feel less alone. You know, just having a group of people you can, you know, enjoy yourself with, you know, enjoy their company and make lots of friends.
00:00:37 Jack Dunne
Someone who's a good ally isn't afraid to stand up even when it's not so easy. It's important for them to say this is right. And if something's wrong, you know, they'll put their foot down and say, "I don't believe in that".
00:00:51 Evan Somers
Things like Lace Up With Pride are important because just having visibility really helps. You know sometimes it gets hard conversations started.
00:00:57 Jack Dunne
Although they're just a symbol. I think symbols can be really powerful and they show solidarity and give so many people the opportunity to, you know, say "I'm an ally and I support the LGBT+ community". Two months on, how are you feeling about the attack? And, you know, what do you think can can be done in the future to help prevent things like this?
00:01:15 Evan Somers
Obviously, what happened to me or if anyone went through any similar incidents, it's horrific, but one thing I can take from it is the support has been amazing. You know, it's shown that, you know, like even, you know, Leinster Rugby would be like coming out and saying, you know, we support you. And that really helps. Just, you know, seeing that, you know, there are good people out there and, you know, people do care. To give advice to the younger version of myself. I think what I'd say is, you know, there's hateful people in the world, that there's always going to be hateful people in the world. It's just the world we live in. But, you know, try to remember who you are and be proud of who you are. 
00:01:55 Video ends
*Acceptance criteria, terms and conditions apply.
€10 donation will be made for every new home policy sold from 01/06/2022 to 30/06/20022.
Aviva Direct Ireland Limited is regulated by the Central Bank of Ireland.
Aviva Group Services Ireland Limited, a private company limited by shares. Registered in Ireland No.322579. Registered Office: Cherrywood Business Park, Dublin, Ireland, D18 W2P5.