What is Aviva Pride?
One of Aviva's values as an organisation is that we care like crazy about our customers, and each other. Aviva Pride is our Lesbian, Gay, Bisexual and Trans+ Employee and Allies network group – it is 100% organised and run by our people on behalf of their colleagues. Our ambition is to be recognised for our commitment to LGBT+ employees and customers, as well as making Aviva an employer of choice for LGBT+ professionals where our people are free to do their best work.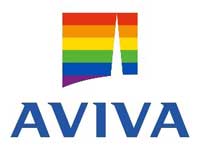 Lighting up Aviva Stadium with Pride
This year's Aviva Pride is was extra special. We brought two of our most cherished partnerships together – Aviva Stadium and Dublin Pride – in a fusion of colour and inclusivity. For the first time in Irish history, Aviva lit up the iconic home of Irish soccer and rugby. We lit up the night skies of Dublin by turning Aviva Stadium awash with the colours of Pride for the first week of June. Our Dublin office on Hatch Street also showed its true colours with a 'twin' rainbow effect lighting up the ground floor for the month of June. These highly visible initiatives aim to build on our culture of openness and inclusivity, showing how Aviva takes pride in its community where everybody is #SafeToDream.
Aviva Pride: #SafeToDream in 2019
Across Aviva's four Irish locations (Cork, Galway, Dublin city and Cherrywood), our Pride employee network is growing.
2019 is the second year running that Aviva was a gold sponsor of the charity Dublin Pride Run, which is the first major event of the Dublin Pride calendar. In its 8th year, this hugely popular event has become a staple of both the LGBT+ and the athletics calendars. The Dublin Pride Run supports the crucial work of Irish LGBT+ charities, and we're thrilled that so many Aviva colleagues took part this year.
We're an enthusiastic supporter of the annual Dublin Pride Festival, and took part this year for the fourth year running. On 29 June, Aviva colleagues, friends and family marched in the parade. It was another fun and successful day!
We've held many Aviva Pride and Allies events and seminars in order to increase visibility, understanding and awareness amongst our people.
We are the headline sponsor of the BeLonG To Ball, an incredible event which supports BeLonG To Youth Services, an important charity who work with young Irish LGBT+ people. Each year, celebrities, corporate partners and allies came together for a moving night to support the vital work of BeLonG To. The Rainbow Ball is the signature annual fundraising event hosted by BeLonG To, in 2018 raising €71,000 to help their work to eliminate bullying from schools across Ireland.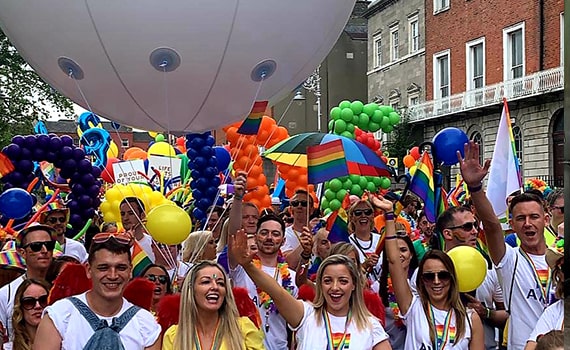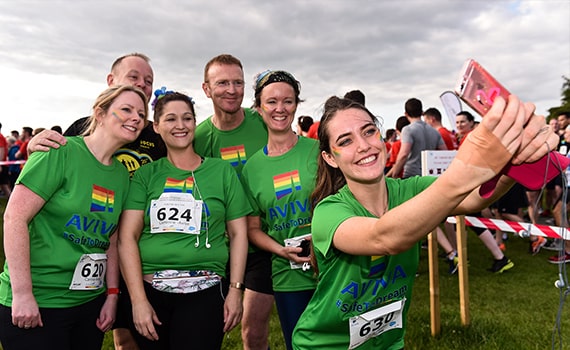 ---
Aviva Group Services Ireland Limited, a private company limited by shares. Registered in Ireland No.322579. Registered Office One Park Place, Hatch Street, Dublin 2.