Celebrate Pride 2023
This June, Aviva Ireland, proud sponsor of Aviva Stadium, Irish Soccer, and Irish Rugby, are asking the people of Ireland have they #GotWhatItTakes to be an ally and support the fantastic work Belong To, LGBTQ+ Youth Ireland does to help young people in Ireland.
This June, we'll be selling rainbow pride socks both online and in store through Human Collective for €10. For every pair of socks sold, we will be matching the sale and donating €10 to Belong To, LGBTQ+ Youth Ireland.
To further support this, we will be donating €10 for every new home policy bought during the month of June to the charity.1
Support Pride 2023
Have you #GotWhatItTakes to be an ally? Get your pride socks here, we will be donating €10 to Belong To for every pair bought.
Get pride socks
Pride starts at home
This June we will be donating €10 for every new home insurance policy bought to Belong To Youth Organisation.1
Get a home insurance quote
​​​​Everyone has a story; this is Jason's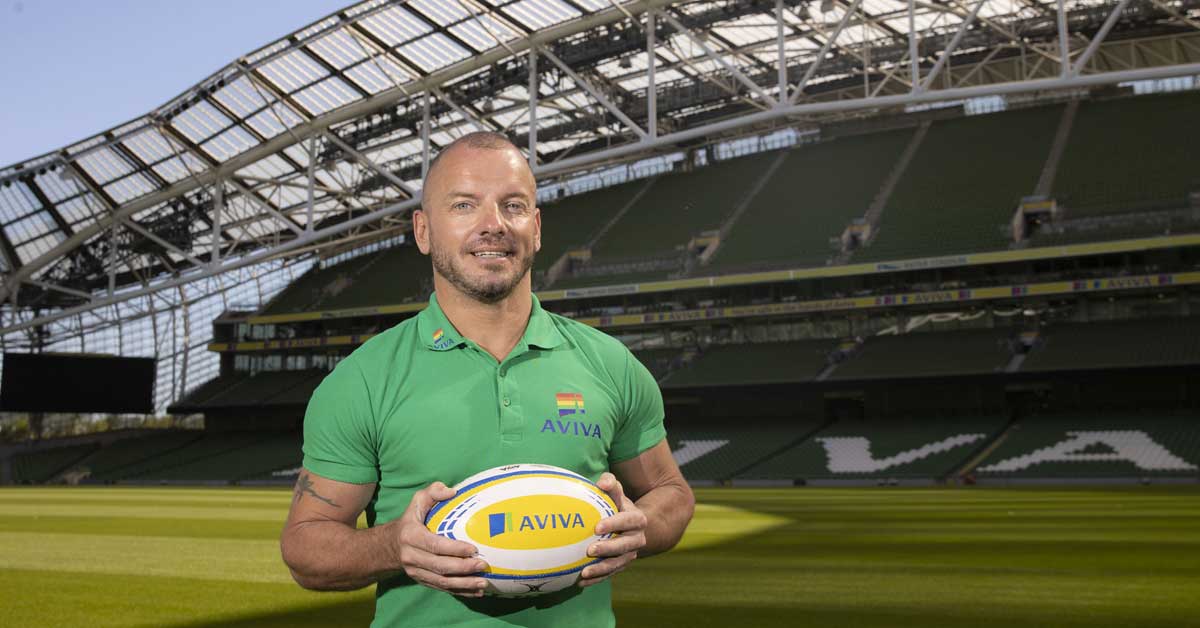 20 years ago, I married my wife. I thought it was the right thing to do - meet a girl, get married, build a home, and have a family. That's what all my friends wanted, it's what my family wanted, and I wanted to be accepted, to feel normal and to fit in.
When I finally came out to myself 6 years after I got married, I had a very difficult journey ahead of me. I got divorced (later my marriage was annulled), I lost the home that I built on my father's land, I left the village where I grew up. I remember packing my clothes, tears running down my face and leaving with just two black bin bags.
I had no one to talk to or anyone to help me understand how I felt. I faced dark times, alone and lost. For 10 years, I had little to no contact with my family and I lived a secret life - in work, I pretended I had a girlfriend, watched what I said, how I spoke, how I dressed... I didn't want to be this gay guy.
I often wanted to give up, to end all the self-hate, shame, and guilt. Now, I am glad I didn't.
My life in 2020
​I am very happy living as a gay man, working for a company that is open and inclusive where I don't have to pretend and hide. I'm happily married to Freddy - my best friend, my soulmate, the love of my life. We married 5 years ago, after the marriage referendum was passed... our 5th anniversary is in 2 weeks!
I have a ​​great network of friends and now an amazing relationship with my family. When I finally told my family, my mum cried - for what I went through alone and for not talking about or understanding how I felt. I'll always cherish the moment my mum told me she was so happy that I found happiness and to have her son back plus a son-in-law!
My ex-wife and I are in contact with each other again. I'm delighted to say that she is now very happily married with 3 children.
The feeling of acceptance and love for me, has allowed me be at peace with who I am. Now I'm the best version of myself.
Why #LightUpForPride and lighting up Aviva Stadium is so important
​My only regret in life is that I hid my true self for so many years. At Aviva, we want our colleagues and customers to spend energy being themselves and not hiding it. This is something I wish I could go back and tell myself.
I feel so proud to work for a company who promote a culture of inclusive diversity where everyone can bring their whole self to work. Having a connection with BeLonG To, support services for young LGBTQ+ people, is so close to my heart. I wish this had been available to me when I was growing up... I think my life would have been different without spending all those years hiding and feeling ashamed.​
I believe and feel things have changed for the better in Ireland and people's views on the LGBTQ+ community have progressed positively but there is s​​till work to be done. Not everyone feels safe to be who they are. #LightUpForPride and lighting up Aviva Stadium is an amazing way for us, as a company and as individuals, to reach out to the young LGBTQ+ people of Ireland with a message of hope, solidarity, and a reminder that even in your darkest moments, you are accepted and celebrated by so many - a sign that it is safe to dream!
1. Acceptance criteria, terms & conditions apply. Offer subject to minimum premium of €230 for home insurance (€115 for Contents or Buildings only). €10 donation will be made for every new home policy bought from 01/06/2023 to 30/06/2023. Home insurance is underwritten by Aviva Insurance Ireland DAC. Aviva Direct Ireland Limited is regulated by the Central Bank of Ireland.
Aviva Group Services Ireland Limited, a private company limited by shares. Registered in Ireland No.322579. Registered Office: Cherrywood Business Park, Dublin, Ireland, D18 W2P5.