Celebrate Pride 2021
We at Aviva are working with our charity partner BeLonG To Youth Services to raise funds to continue the fantastic work it does to support young LGBTI+ people in Ireland. This June, we'll be selling rainbow shoe laces both online and in store through Intersport Elverys for €4. For every pair of laces sold, all proceeds will be donated to BeLonG To Youth Services.
Join us then, on Wednesday June 23rd, for our #LaceUpWithPride day! We are calling on the Irish sporting community to wear their rainbow laces with Pride in solidarity with the LGBTI+ community.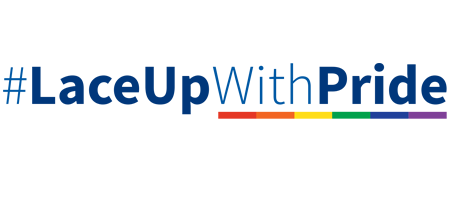 Support Pride 2021
Sport returns to clubs and pitches across the country, we're inviting the sporting community to 'open back up with Pride.
Launch Video
Aviva Ireland, proud sponsors of the IRFU and the FAI Men's National Football Team, the Women's National Team, and Aviva Stadium, is teaming up with Elverys and BeLong To for its #LaceUpWithPride Campaign giving people the chance to buy rainbow laces.
Aviva staff celebrate #LaceUpWithPride for Pride 2021
Transcript
In Aviva we're really passionate about our diversity and inclusion agenda and pride and LGBTQ is a huge part of that. We've a really active pride community and the activity of that pride community has meant that our staff really feel free to be themselves at work.
I think Aviva's now got quite a good track record of supporting the LGBTQ+ community which has really made the workplace much more diverse and much more inclusive.
I think the impact that the pride rainbow laces will have on others will be similar to hopefully what the feeling that they've had from us lighting up the stadium over the last number of years. It's really important that you can bring you're true self to work or whatever you do in you're everyday life and hopefully the rainbow laces symbolises that.
I think it'll be really important for LGBTQ people of all ages but especially young people to see again a big iconic building like the Aviva stadium lit up in the rainbow colours. It just makes them know that they are visible, they're valued and they're welcome here.
Creating a diverse and inclusive workplace for me and my colleagues is a fundamental part of living up to our purpose at Aviva for being with you today for a better tomorrow.
Aviva Group Services Ireland Limited, a private company limited by shares. Registered in Ireland No.322579. Registered Office One Park Place, Hatch Street, Dublin 2.