Everyone is talking about COP26, the UN climate change conference that's taking place in Glasgow from 31 October – 12 November 2021 and at Aviva, we're not any different. We will have a presence at COP's finance day on 3 November, and our Group CEO Amanda Blanc will chair the Women in Finance for Climate Action group. At Aviva, we're passionate about tackling climate change and we'll be there, asking governments to take even greater actions to meet their climate commitments. 
Every time you turn on the news and you hear about turbulent temperatures, frequent floods, wild weather, and forest fires. As a financial services company, we care about you, your environment, your future – and everything in between – as we all want to be around for a lot longer.
We're getting our house in order, putting plans in place to combat climate challenges. We know that there's a long road ahead, but the small steps we can take now will make a big difference later.
We're doing the green work for you
It's our goal to be a net-zero company by 2040. That's a whole 10 years ahead of the Paris Agreement – a climate action timeframe set out by world leaders to tackle climate change.
You might be wondering what that means for you. Well, when you take out an insurance policy with us or put money into your pension pot with us, your money won't, over time, be used to add any extra greenhouses gases to the environment than we take away. And that's good to know.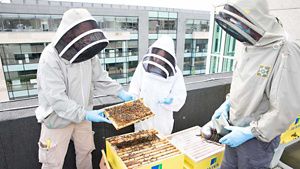 Aviva's goal
Our 2040 goal applies to everything we do and that means taking action. In Ireland, we have used 100% renewable electricity in our offices since 2012 and we were the first Aviva market to do so. We are installing electric vehicle charging points at our office locations and converting our fleet to 100% electric by 2025 while continuing to reduce our operation and supply chain emissions to net zero by 2030.  We care about biodiversity too and have planted wildflowers at some of our properties to support our five bee colonies of approximately 150,000 Irish honey-bees. 
We offer a broad range of sustainable investment solutions. This includes our core Multi-Asset Range, MAFs which are classified as sustainable investing funds under European Regulations.

Learn more about these funds
Speak to your financial advisor or download our guides:
Some big carbon emitters get a big no from us
When it comes to big carbon emitters, we'll be encouraging any company we work with to take climate action. If they're one of the 30 companies who are part of our climate escalation programme, they'll need to make significant changes – or we'll stop investing in them. We've got experience in this area – Aviva Investors has been rated one of the best investors in the world for using our influence with companies to drive climate change action.
We'll also be looking at the way we work with companies who make money from practices we know have the very worst impact on the planet. And by the end of 2022, we'll no longer invest in or insure companies who make more than 5% of their income from thermal coal unless they're signed up specific climate targets. In Ireland, we no longer underwrite or insure any fossil fuel companies.
Build the planet's future as you build your own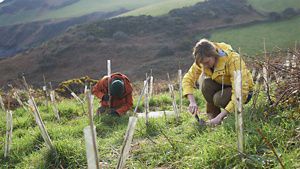 Where is your pension invested?
Not many people know the impact that your pension can have on the planet. Our research shows over 90% of people don't realise that where their pension is invested contributes to their carbon footprint.1 You might just think it's for your future. But it can make a big difference to the planet's future as well.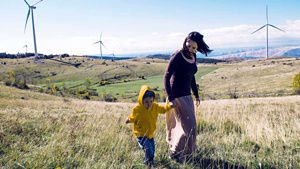 Lower-carbon funds
When it comes to pensions, we know that investing in lower-carbon funds can be 21 times more effective at reducing your carbon footprint than things like giving up flying, switching to renewable energy and becoming a vegetarian2 – another reason for us to reach net-zero by 2040 for our investments. 
1. Censuswide research for Aviva, 2033 Natrep UK, 04.06.2021 - 07.06.2021
2. Route2 and Aviva, Pension carbon savings research, April 2021
Giving you greener choices
The eco-friendlier options you have in front of you, the easier it is for you to pick an option that works for you. That's why we're offering you sustainable changes in everything from your pension to your home insurance. Here are some of the things we're doing:
Sustainable claims process
Our sustainable claims process means that we deal with your claim faster, with local assessors that reduce our travel emissions, while repairing your vehicle in our nationwide network of garages.
Electric Vehicles
Our network of Aviva Motor Services garages have the capability to repair fully Electric Vehicles, and we insure over 10% of all greener³ vehicles in Ireland.
3. Compiling of: Petrol Hybrid, Electric, Ethanol/Petrol, Gas, Hybrid and Diesel Hybrid fuel types.
It takes strong partnerships to reach a brighter future
Working alone only leads to small changes. To make big changes, we need to work together – with you, communities, governments, global organisations, everyone working towards the same goal.
Aviva PLC is made up of three core markets, UK, Canada, and Ireland. At Aviva Group level, we've partnered with leading climate action organisations such as Make My Money Matter and the World Wildlife Fund (WWF) to spread the climate action message further and build on each other's expert know-how.
We're also a founding member of UN-convened Net Zero Asset Owners and Net Zero Insurance Alliance. It's made up of eight of the world's leading insurers and reinsurers, all of whom are playing their part to help reach net zero.
And it's with this ambition, that we're at COP26. To call on governments to do more to change the rules so that finance supports a sustainable world instead of adding to the damage, including by taking four targeted climate actions. And to represent each and every one of us who wants to see world leaders do more, so we have a better chance of reaching the brighter future we're aiming for.
We are refocussing our charitable partnerships here in Ireland and will be announcing our climate charity partner in 2022. With them, we will work with local communities to make them stronger and more resilient to the effects of climate change.
Why where your money goes matters?
See why having a better understanding of where your money's being invested can make a world of difference.