Aviva Life & Pensions Ireland DAC (Aviva), one of Ireland's leading insurers, today reported that the company paid out €118.6 million in claims to customers with protection policies in 2022, the highest value paid to date and an increase of over 11% on the amount paid over the previous year (2021: €106.5 million).  The company paid €118.6 million to 2,628 claimants (2021: 2,534) across its life, specified illness and income protection policies last year, with increases paid across each product segment.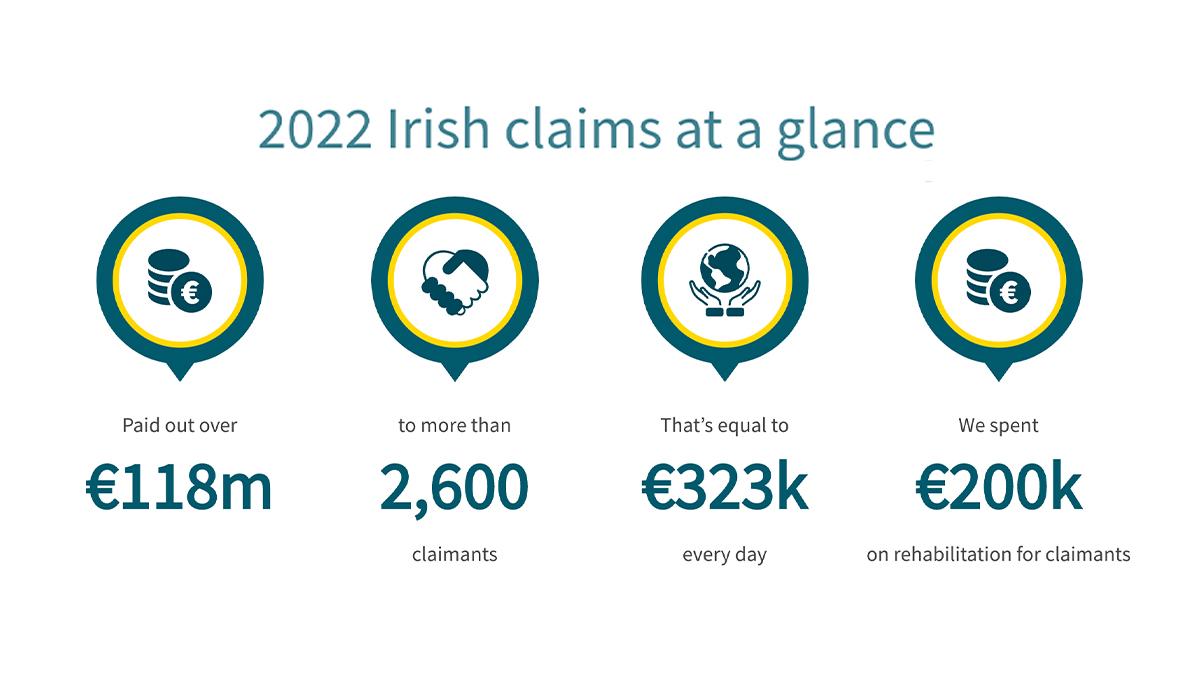 Income protection claims
Aviva paid out €48 million (2021: €46 million) to 2,000 new and existing claimants last year.  Of those claims submitted in 2022, 56% were from women with an average annual benefit of €34,500, while men represented 44% of claimants and received the higher average annual benefit of €51,000.  Psychological issues are now the number one medical reason for claims on income protection policies at 26%, higher amongst women at 30% (men: 20%), with orthopaedic issues coming in in second place at 22% - higher amongst male claimants at 29% (women: 17%).  The percentage of claims paid out as a result of cancer (20%), neurological (7%), and cardiac (5%) issues are broadly similar to the previous year.  However, 5% of claims recorded in 2022 was driven by people suffering from either long-Covid or complications having had covid, some of whom had underlying medical conditions. The average age of claimants is 48 for women and 49 for men and the youngest claimants were aged 25 (men) and 26 (women).
The longest active claim in payment is 31 years.  The company also paid €200,000 in early intervention and rehabilitation support to its income protection customers through the year.
Transcript
What is income protection?
It's an insurance policy that will pay you a regular income if you're unable work due to illness or injury.
What do people typically need to claim for?
More than half of the claims we see are for Mental Health and Orthopaedic conditions.
Cancer and Cardiac conditions are also common.
How long do people need to claim for?
5 years is the average length of time people are out of work for on an income protection claim. Our longest claim is in payment 30 years.
How much did Aviva pay to claimants in 2022?
Last year we paid €48m to over 2,000 customers. Our youngest claimant was only 25, so it shows the policy can be needed at any age.
How are Aviva policies different?
With Aviva, you get more than just a financial payment, we have a team of rehabilitation partners who will help you get back on your feet.
Finally Colum – what advice would you give to people?
Well, I've been in claims almost 30 years, and I've seen first-hand how important income protection is for families. Your income is your biggest asset and if you're working, you really  should have an income protection policy.
Colum your time is up. To find out more about Aviva income protection- talk to your Financial Broker.
Specified illness claims
Some 157 customers who were diagnosed with a specified illness were paid €14.2 million (2021: €10 million to 126 customers) in 2022.  Whilst breast cancer and other cancers has been the leading reason for specified illness claims from women for some time, there was a significant 21% increase in the volume of claims due to incidents of breast cancer during the year, bringing the total claims for breast cancer to 55%.  Other cancer diagnosis also increased by 6% to 37%, whilst the number of cardiac and stroke diagnosis actually reduced by 6%.  The experience for men was similar in 2022 in that there was an 11% increase recorded in cancer diagnosis to 56% and a 5% reduction in cardiac and 3% reduction in the incidents of strokes.
The largest claim paid out during the period was €950,000 (2021: €500,000).  The average age of claimants was 53 and the youngest female claimant was aged 35 and the youngest male claimant 34 years-of-age.

Death benefit claims
Aviva paid out €56.4 million on 471 death benefit claims (2021: €50.5 million on 408 claims), with the largest single claim pay-out of €1.2 million.  There were no changes recorded in the top three reasons for the claims which continue to be cancer, cardiac and respiratory issues.
"A key finding from a recent survey of approximately 700 workers across the country conducted by iReach Insights on behalf of Aviva showed that 59% considered themselves to be stressed at present.  This is clearly a worrying statistic and reflects the growth in psychological issues as the number one medical reason for income protection claims, particularly amongst women.  The primary causes of stress as reported included money worries (69%), work problems (59%), concerns for other family members (31%), and health issues (27%).  Younger people appeared to be suffering more from stress related issues (18-44-year-olds) rather than the older age cohorts.   In addition, 52% of respondents claimed to feel more stressed of late, while 15% claimed to always feeling stressed.  On a positive note, 14% of workers said they are less stressed of late and 19% claimed that they rarely feel stressed at all.

The value of holding life, specified illness and income protection cover is only fully realised when a claim is made. Paying claims is at the heart of what we do, and we are always pleased to support our customers in what is generally a very stressful time. Having a regular income or receiving a lump sum can help alleviate financial concerns when someone is dealing with an injury, illness, or the death of a loved one.

Siocha Costello, Aviva
"We believe that having some financial protection is better than none and recommend that those in employment speak with a financial broker who can help them plan the best protection option suitable to their specific circumstances and budget.  Our average annual benefit paid last year to individual income protection customers provided approximately €980.00 per week (men) and €665.00 per week to women.  These sums represent a substantial uplift on the State Disability benefit of €220.00 per week which is what individuals with no income protection cover can expect to receive if they are unable to work because of injury or illness for an extended period", concluded Siocha Costello.