YOUNG ADULTS MOST LIKELY TO FEEL UNSAFE AS PASSENGERS BUT LEAST LIKELY TO SPEAK UP
Aviva, in partnership with Dublin City Council, launches new virtual reality technology to promote road safety nationwide with students from Trinity Comprehensive School, Ballymun
1 in 4 (27%) of 18-24-year olds felt unsafe as a passenger due to the driver sending/reading texts while driving
1 in 3 (33%) young adults admit they don't always wear a seatbelt while driving 
1 in 3 (31%) of drivers aged 18-24 claim they like to drive fast and that they believe their reactions are good enough to avoid any hazards
Half (48%) of 25-34-year olds admit to phone usage while at traffic lights
Tuesday 26 November 2019, Dublin: New research on attitudes to motor safety by Ireland's leading insurer, Aviva, has shown that 1 in 2 (45%) 18-24-year olds have felt unsafe travelling as a passenger in a car on more than one occasion, with 5% of the same age group feeling unsafe frequently. Those aged 18-24 are 61% least likely to tell the driver that they felt unsafe in the car.  These worrying statistics were revealed today as Aviva announces its sponsorship of Your Life Your Choice, a new nationwide road safety training program incorporating cutting-edge virtual reality (VR) technology, which will be rolled out nationwide with the aim of providing vital road safety training to teenagers.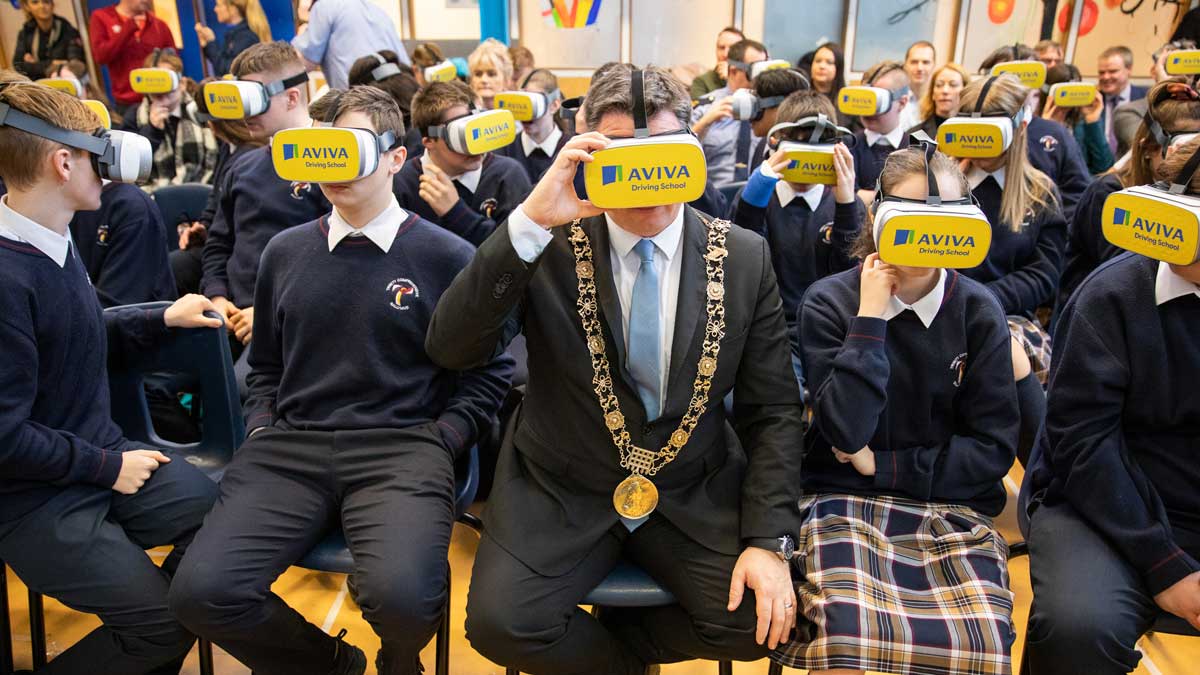 The programme launches today in partnership with Dublin City Council with students from Trinity Comprehensive School in Ballymun.  Over the coming months, the VR headsets and training will be brought to schools around Dublin and Road Safety Officers from County Councils across the country will also be visiting their local schools with the program.  This is the first time that Road Safety Officers will use virtual reality headsets as a road safety training tool.
Commenting Michael Bannon, Motor Underwriting Manager, Aviva said: "The VR headsets provide a unique seven-minute simulation experience of a serious road incident, with the user being fully immersed as a front seat passenger into a crash scenario. With the campaign targeted at secondary school students from transition year and beyond, they will witness many of the dangerous behaviours that are contributing factors when young drivers are involved in serious accidents, including mobile phone use while driving, distractions from other passengers, speed, stopping distance etc. They will also witness the immediate aftermath of a serious accident from when the emergency services arrive on the scene.  We are delighted to be supporting the Your Life Your Choice campaign which we hope will drive awareness of the importance of driver safety and protect young lives on our roads. If we can save even one life, our investment will have been very worthwhile".
Today's launch announcement follows the success of a pilot program which took place in Cork, run by the local County Councils and An Garda Siochana. The VR headsets aim to make the virtual possibilities of dangerous driving a reality for young people, using modern technology.
The stark research shows that 33% of those aged 18-24 are significantly more likely to claim that they don't always wear a seatbelt, especially for short journeys.  In addition, 1 in 3 (31%) drivers aged 18-24 claim that they like to drive fast and believe that their reactions are good enough to avoid any hazards.  Those surveyed are least likely to feel safest when travelling with friends (13%) and most likely to feel safest (63%) when driven by their partner. Only 22% of those surveyed felt safest when travelling as a passenger with their grandparent(s).
Helen Smirnova, Senior Executive Engineer, Road Safety, Dublin City Council said: "We welcome this initiative to further educate our young people on the importance of road safety.  This is a tremendous example of how technology can be used innovatively in helping to change the behaviour of all road users.  The emphasis here on 'Education' is timely as this of one of Dublin City Council's three central pillars for our road safety strategy (2013-2020), along with Engineering and Enforcement".
Leo Lieghio, member of the Irish Road Victims Association, who spoke at the launch about the loss of his 16-year-old daughter, Marsia in a road traffic incident said: "Initiatives such as this are so important when it comes to educating our young people about driver safety, as well as the life-changing consequences of reckless behaviour for them and the families of those affected.  My beautiful daughter Marsia was the same age as many of these transition year students when she died and, unlike them, she never got the chance to sit her leaving certificate, go to her debs or study to be a midwife as she always dreamed of.  I hope that Marsia's story, along with this new VR technology and driver safety programme helps students understand the weight of responsibility we have as drivers and the importance of honouring the safety of ourselves and others".
Paddy O'Reilly, transition year co-ordinator, Trinity Comprehensive School, Ballymun said: "Every young person thinks that they are immortal, including the students here. Our hope is that the students will better appreciate the dangers highlighted in this simulated crash and will become better, more responsible drivers as a result. We very much welcome the launch of the VR headsets in Ballymun today".
Other research findings revealed that 15% of drivers claim to have used their mobile phone while driving with 32% admitting to using it when stopped at traffic lights. Both behaviours are significantly more likely to be evident amongst those aged 25-34, almost half (48%) of whom claim to have used their mobile phone when stopped at the lights. A higher incidence (27%) of 18-24-year olds admitted to feeling unsafe as a passenger due to the driver sending or reading texts whilst driving.  Almost 1 in 5 (19%) of this age group felt unsafe due to the fact that the driver was a learner.
The pilot program for Your Life Your Choice took place in schools in Cork which saw some 4,200 students from 30 schools participating. Led by Cork County Council's Safety Officer, Caroline Casey, feedback was hugely positive with students acknowledging that everyone should see the video as part of their driving test and that it held their attention throughout. Other comments from students included an acknowledgement that they should put away their mobile phones when in the car.
Representatives from Dublin City Council and other County Councils will be visiting schools in Dublin and around the country with members of An Garda Siochana over the coming months.