At Aviva, we understand that nothing unites the Irish nation like sport. And we're proud sponsors of the ancestral home of Irish Rugby and Soccer, Aviva Stadium.
Sport creates strong relationships and underpins communities across Ireland which wholly reflect Aviva's values. And that's why, we want to ensure that our customers are given the opportunity to experience this inspirational and historic venue. It takes Aviva.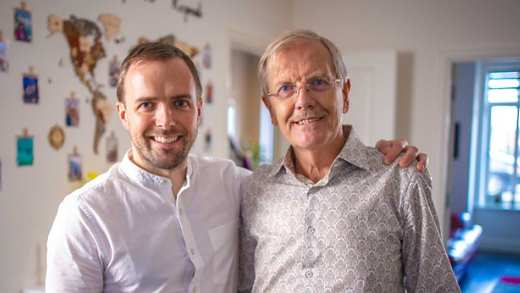 Christopher and Ian
We asked some of our customers what it would mean to be there as Ireland returned to the home of Irish Rugby, Aviva Stadium for the Autumn Nation's Series.
We were flooded with heart warming stories and family traditions - we had to share some with you…
November series customer stories
Christopher's and Ian share a passion for the game and share with us how it has shaped their lives, and why being pitch side for the games this month means so much to them.
At Aviva, we're committed to doing right by our customers – and that includes helping to create experiences that will never be forgotten. So after a long hiatus, as full capacity crowds returned to sporting grounds around the country we wanted to invite our customers to tell us why they should be there at the Autumn Nations to cheer on the Irish team, at the home of Irish Rugby, Aviva Stadium.
Ian and Christopher are father and son, and life-long rugby fans. In fact, it's almost exactly 11 years since Ian surprised Christopher for his 21st birthday with tickets to the newly reopened Aviva Stadium. A card signed by his heroes still takes pride of place in Christopher's home, and the experience still lives strong in their minds.
Now, the time had come for Christopher to return the favour and we knew we could help.
We loved the story of that special 21st birthday and couldn't wait to send him and his dad back to Aviva Stadium for the three games of this year's Autumn Nation's Series. But before the games kicked off, we visited the pair at Christopher's home to discover how a shared passion for the game has shaped their lives, and why being pitch side for the games this month means so much to them.
Because for memories to last a lifetime, it takes Aviva.
Transcript
00:00:01 Christopher
Do you want to start, or…?
00:00:04 Ian
Um, no…
00:00:05 Christopher
Ok. I'll start so.
00:00:07 Ian
You can start. I was involved in rugby for many, many years. That was Letterkenny and I captained Ballyshannon for a good few year. At the age of about six, I brough him a rugby ball and we used to go to the garden, and we'd practice throwing the ball and passing the ball. And Christopher then started tackling me around my ankles, first then it was around my knees, then it moved up a bit further and then he got to the age where I wasn't that keen on him tackling me at all.
But I think he probably got his love of rugby from that, those antics that we had in the garden ad he joined the local rugby club.
00:00:54 Christopher
Yeah, it's always funny, when I'm looking at buying tickets or whatever, I always have to say. Do I want to bring my friends, or do I want to bring my father? And it's always a toss up or balance.
00:01:06 Ian
I seem to do fairly well out of it now, in fairness.
00:01:08 Christopher
Yeah, you do, you don't do too bad. So it was my 21st birthday and my father got us tickets for. I think it was the first international in the new Aviva Stadium. It was a brilliant match, unfortunately, we lost by a couple of points, but then at the end Dad then handed me a ticket. It was this black ticket. I was kind of looking at it, going, what is this thing?
Well, I looked at it and it was tickets for the post-match reception to meet the players, and I was like, oh wow. I'd say we spent 10 minutes walking around not knowing where to go or what. We went in and all the players were there. It was brilliant. And they were all so generous with their time and they posed for photographs.
00:02:00 Ian
I have to say they were very accommodating, we got a card signed for Christopher and they all signed it quite willingly. I was more delighted by the fact that Christopher was really enjoying himself, and I sort of stood back little bit, took the photographs and just let him sort of get involved in the chatting. And I suppose the background to this was trying to come up with a, you know something that will be different for Christopher. I'm sure I got as much value out of it as Christopher did.
00:02:30 Christopher
You definitely did. It was more a present for yourself.
00:02:33 Ian
I know, I know.
00:02:35 Christopher
And I tagged along. I entered a competition, I got an email from Aviva and it was tell us about, your favourite memory of the Aviva. I kind of wrote down about the 21st experience. It also said, what would it mean to you to win these tickets?
So, I said that it would be nice to go back on the 11th anniversary of the 21st and to be able to give back to my dad. And he had gotten me the tickets and to be able to give him back the tickets, 11 years on. So yeah, I got the call then from Aviva that I that I'd won the competition, which was fantastic and now we're sitting here doing an interview which is a bit surreal. And then I rang you I don't think you believed me.
00:03:31 Ian
No. I thought he was having me on you know.
00:03:34 Christopher
Yeah, pretty, pretty hot tickets!
So we're going to be going to the first autumn international Ireland vs. Japan, on the 6th and then we're going to go to the Ireland vs. New Zealand match, which, for me just to see the Haka live is just going to be mind blowing. And then we're going to the Argentina match the following week.
00:04:04 Ian
After such a long time, we've been bereft of being able to get out and stand beside a pitch, or sit in a stadium, it's just absolutely fantastic now to have this ahead of us, that we're able to go and sit with other people and cheer our national team on. It is jusy…it's nearly surreal at this stage.
00:04:27 Christopher
I suppose going back to the fact that it is sort of the anniversary of that 21st birthday, it's just nice to be able to be there, just the two of us again.
I'm always looking at people who win things, Aw I never win anything but this is true, I rarely win things, so it's nice.
00:04:56 Video ends.