Fancy becoming part of our team? Take a closer look at what we offer our franchise partners.

Skilled instructors, convenient nationwide locations, and the added incentive of accompanied driver cover have made Aviva Driving School.
Comprehensive training
At Aviva, we know how important it is to have the right support. So you can expect extensive induction training, the most up-to-date training materials and ongoing backup to help you deliver the best for your clients. And our Quality Assurance programme lets you benchmark your service to be sure you're at the top of your game.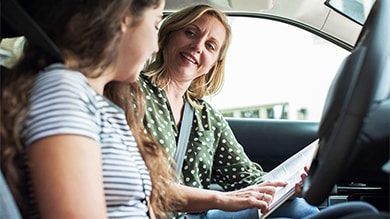 Practical administrative support
Our friendly call centre staff is always on hand to guide you through any potential obstacles. With mobile access to the Aviva Driving School booking system 24 hours a day and a simple online diary and payment system, we've got all your administrative needs covered.
A nationwide client base
We have an ever-growing customer base around the country, many of whom opt to buy our multiple lesson packs at all times of the year. That means that wherever you are in Ireland, you can benefit from repeat business, with as many as 13-19 lessons booked by each pupil.
Rewarding financial options
To build a successful business, you need financial stability. That's why you pay zero weekly or monthly franchise fees as an Aviva Driving School instructor. Not to mention the fact that lesson payments are transferred directly into your bank account by electronic fund transfer every week.
Competitive insurance rates
Join us and you can enjoy competitive car insurance, which includes professional indemnity and public liability insurance at no additional cost. And if your car happens to be off the road due to routine maintenance or an accident, we even provide you with a spare one for free! (Subject to availability)
Aviva Driving School branding
We provide all the tools you need to help your business thrive, but we want you to look great too! So we equip you with free Aviva Driving School branded vehicle livery, roof signage and even professional business cards to get you road-ready.
A supportive community
One of the best things about being part of Aviva Driving School? You get the opportunity to work with like-minded colleagues who are only too willing to support you at every phase of your professional growth.
Interested in joining the team?
Looking for more information?
Contact Us
Monday to Friday: 9:00a.m. - 5:30p.m.
Saturday - Sunday Closed
Bank Holidays Closed
As Aviva Driving School is not a financial service, it is not regulated by the Central Bank of Ireland.