1978 saw the launch of two greats. Tony Ward made his international debut the same year as Aviva's Income Protection products debuted in Ireland. Ward scored record points in the Five Nations Championship that year and also inspired Munster to a legendary win over New Zealand, scoring two drop goals and a conversion in a 12–0 victory at Thomond Park on 31 October 1978. To date, Munster are the only Irish provincial men's team ever to beat the All-Blacks.  Aviva's Income Protection products have continued setting records with 2,000 people paid €48 million in income protection claims in 2022.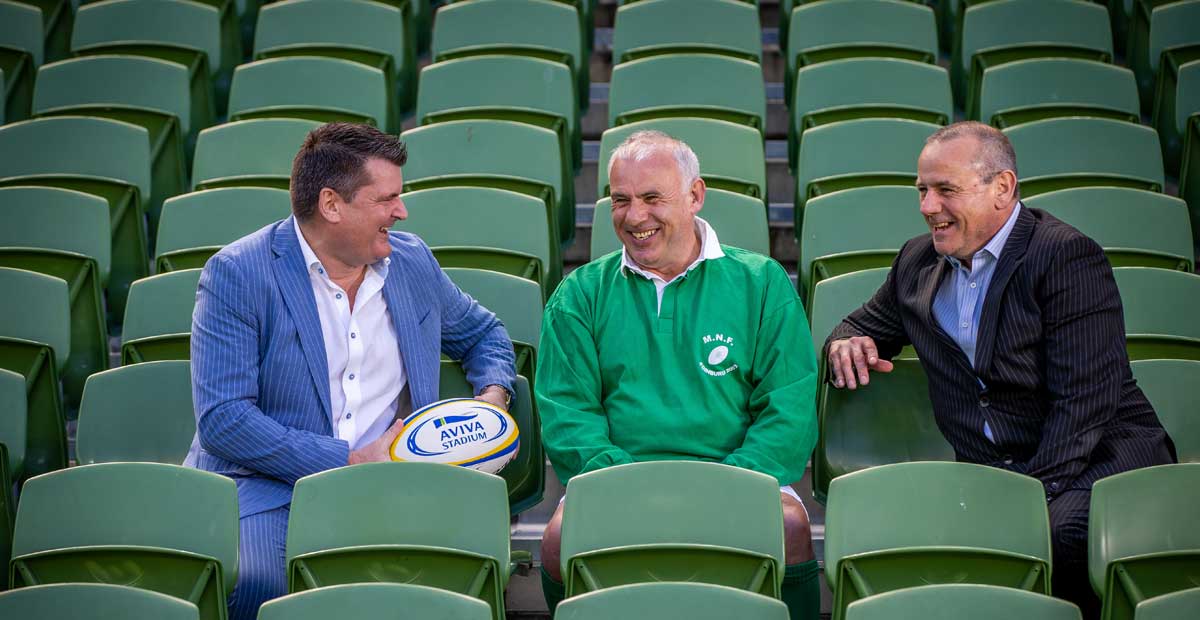 Norman: What do you remember about your debut in 1978?

Tony: When you're getting your first cap, it's a huge thing. I was 23 years old, and we were playing Scotland in that game. As we arrived on the team bus, what still sticks out in my mind is the memory of the band practising out the back and the sound of musical instruments being tuned up was very eerie, which didn't help my nerves! You're so nervous because you don't know if you're up to playing at that level, even though your form might be OK as it's a step up again.  No one wants to be a one hit wonder when you play the game but once I got out there, I don't know where it came from, but I just felt incredibly confident and, I think the nicest thing of all is when you play your first game is that you enjoy it so much. I'm a real worrier but I felt great when I was out there, and we won that day which ended a losing streak at the time. 
John: Another big event that year was beating the All Blacks - what are your memories of the game?
Tony: We beat the All Blacks in the October and it was a bit special. Christy Cantillon scored a try in that game - there was a lot of great Irish players at that time. As a player you didn't fully appreciate the All Blacks win immediately after the game, but I remember staying in Jury's hotel on the Ennis Road in Limerick where we celebrated that night. Early the next morning Mike Murphy from RTE got through to me in my hotel room live on air and interviewed me about the win.  This hadn't been planned but honestly it was only then that it really registered with me that we might have done something special.
Norman: There was a lot made of the rivalry between you and Ollie Campbell, if it was now would you both be facilitated on the same team?
Tony: It was huge, there was a lot of publicity around it at the time and they did try to facilitate both of us two or three times at a few internationals and in Australia, but we never felt that the backing was really there. You felt that it was playing to the public and I didn't really feel that I had the support of the people who mattered behind me.  We're all human at the end of the day and no matter what level you play the game, when you know that a manager or coach wants you on his team, you respond accordingly. Unfortunately for my sins I'm a sensitive old soul which doesn't help, but it's a different game today. I suppose the obvious comparison in more recent years would be the rivalry between Ronan O'Gara and Johnny Sexton.
Norman: what did you do to get one up on him?
Tony: I had been to PE College and had two fantastic psychology lecturers – PJ Smyth and Dave Weldrick both sadly no longer with us, so we'd worked a lot on psychology and specifically the mental build up before big games which made me focus on ignoring him. I would deliberately avoid eye contact and focus on taking him down and then we'd run out before the game and he would run by me, giving me a little pat on the backside as he said best of luck Wardy, and I just melted. While my psychological armoury was to avoid him, maybe his was to break that focus, but that was his personality also. We're even closer friends to this day - he's great for keeping in touch.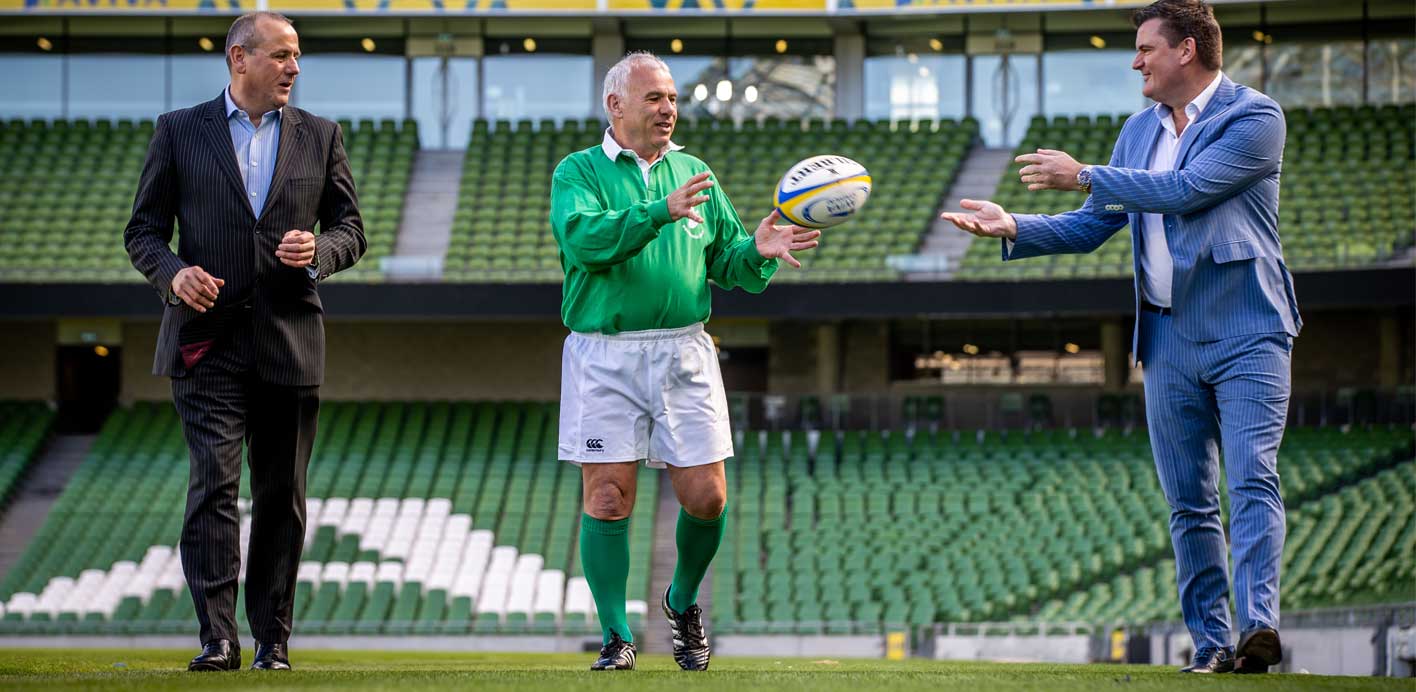 Norman: When you played against him - did you get physical with him?
Tony: As physical as any direct positional rivalry can be but it wasn't in either of our natures to stoop beneath the rules. To me getting the better of him was to weave around or sidestep him when in possession and he would have thought the same – it didn't diminish in any way each of our desires to be the number 1 number 10 and we'll not concede to Sexton, O'Gara, or any of today's professionals on that score.  There's just different approaches and different ways to do it.
John: You also played football when you were younger?
Tony: I played a lot of football when I was young, and I loved it. I guess it was the influence of Match of the Day. I was brought up in Leeds for the first six years of my life. I am a proud season ticket holder and regular attender at the Theatre of Dreams that is Elland Road to this day.  When I left school at St. Mary's I was captain of the rugby team and I had to decide whether to play rugby or soccer.  I signed on the dotted line for Louis Kilcoyne, Liam Tuohy and Shamrock Rovers. In itself, living in D6 as a Milltown fanatic that was one boyhood dream achieved but when I went to Limerick to NCPE for my teaching degree, Garryowen had coincidentally just lost their out-half John Moroney and with another international Shay Deering at the Dooradoyle club he, as a former 'Mary's schoolboy himself, knew me and suggested that they approach me, and they did.  I played my first game for Garryowen against Wanderers in Lansdowne Road.  After the game, one of the all-time Garryowen greats and then scrum half Liam Hall was up on the table giving a rousing rendition of 'Any dream will do'. I was captured hook, line and sinker and it was that banter, fun and camaraderie that swung me over to rugby and that critical stage in my sporting development. Do I have regrets at quitting football? Yes, and I'll not pretend otherwise but back then it was what it was. 
John: Did you have trials with the English clubs?
Tony: When I was 15, I was pursued by Manchester United and Arsenal, but my mum insisted I did my Inter cert and wouldn't let me go. I was resentful at the time I recall. Liam Brady went, and he was outstanding. David O'Leary, Frank Stapleton, Donal Murphy, Jimmy Holmes - a lot of players in that era went over to play for English clubs through the apprenticeship scheme. Donal, Liam, and I wore the number 9, 10 and 11 shirts respectively in the Republic of Ireland under 15 team of that year.   
John: Who would you say is the best out half that Ireland has ever produced? 
Tony: I think it's impossible to compare the amateur versus the professional, you just can't.  Players like Mike Gibson who was before my time - how good would he have been if he had been a professional? I would love to have played professional rugby. It's not just being paid for doing what you love doing but it's the chance to fulfil your potential to its maximum. That's what the professional players are doing now. That's why I'm in such admiration of the level of commitment made by GAA players as amateurs in hurling and Gaelic football.   
Norman: Going back to your Irish rugby days - there have been rumours of some people not looking after themselves as much as others would have, is there any truth to that?
Tony: I know a few of the lads would have had a nightcap the night before, it was a tradition with some players but even in the amateur era, you just couldn't do more than that and play at that level.  There can't be any carry on.  Players of that era left everything on the pitch.  My generation of players gave as much in their commitment to representative rugby as anyone who's out there today, but we still had to go to work and practise morning noon and night. I was out practising my kicking at every opportunity that work would allow.
John: Was it hard for you to stop playing? 
Tony: Yes, because nothing replaces playing but at least I did it on my own terms – I retired at 36 years-of-age and got involved in journalism fairly quickly. I was doing work for RTE, the BBC, Sky and the Irish Independent then I went into a full-time teaching role before re-entering journalism on a full-time basis when the game went open in '95 – a typically defensive rugby term at the time for a professional.
John: How did you decide to stop?
Tony: I felt that my mind was telling my body what to do but my body just wasn't reacting in the way I was expecting it to and was used to it doing. It clicked with me that my body was telling me something here.
Norman: Do you think sport has got too serious for kids?
Tony: I do worry a little about that because I'm seeing a little of it in my involvement in coaching and as a director of rugby. Club culture coming into schools has started creeping a little more and more from senior down to junior levels. When I was young, we got so much pleasure out of it. I loved playing sport and I loathe the word 'process' – I'm an advocate for playing in the moment. Andy Farrell gives players the flexibility to be part of a process but still enjoy the moment. Looking back, the one thing you get in all sports is the camaraderie and that bond and it lasts for life. It's something special. It's cliched when you're that age but as you get older, you really appreciate it. The beauty of sport is it never leaves you – it's part of your soul.
John: Finally, will Ireland win the world cup?
Tony: We're capable of it but it's a tough draw. To get out of our group is going to be an achievement in itself. And then when you get to the quarter finals which we've never been beyond, you've then got to play either France or New Zealand. So, it will be a nightmare just to get to the semi-final and the lopsided draw certainly does not help.  Right now, we're capable of going all the way but France and South Africa are the ones that worry me most and no I'm not forgetting New Zealand because all three are traditionally so strong.
I'm a huge Andy Farrell fan, he was a fantastic league player with Wigan, but I love the fact that he has humility in abundance. I love what we're seeing and what we're hearing from the players and how happy they are when in camp and yet they're hugely motivated. Irish rugby right now is in a very good place so if we're ever going to win the world cup – this is the time.