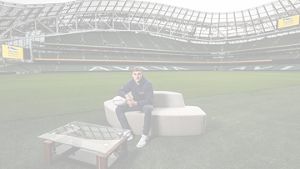 Aviva Anthems
Let your voices be heard
Sport in Aviva Stadium is back, but not as we usually know it. Fans all over Ireland are patiently waiting for the stadium doors to open once more, but until then, we gave some of Irish Rugby's biggest supporters the opportunity to have their voices heard.
As proud sponsors of Aviva Stadium, the home of Irish Rugby, we gave a group of lucky fans the chance to join the Irish Rugby team and the Harmony Federation choir, via the big screen to sing Ireland's Call in the first match of the Guinness Series against Wales on November 13th. 
You can check out the video below and hopefully, one day soon, we'll all be back cheering together.
Social Media
Visit our social media platforms