Even the most careful traveller will have occasions when something goes wrong on a trip. According to our travel expert Michelle Jackson - The Novel Traveller, the best way to avoid unnecessary circumstances is preparation: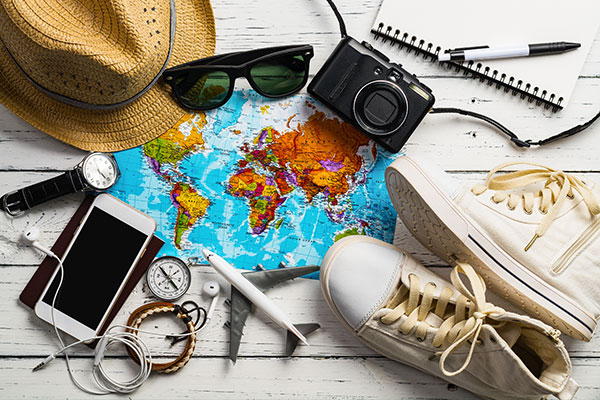 Back up all your travel documents by photographing them and sending them to yourself by email so that you have the details on hand in an emergency. This goes especially for your passport, any visas, paperwork or flight details. Include your travel insurance details and important telephone numbers for your bank and next of kin. Put important addresses into a list and put them in one easily accessible file to pull up on your email. Take photocopies of your documents and keep them at home.
Leave valuable items at home. Wearing expensive jewellery will be a stress and if you're heading to a warm destination do you really want marks on your tan?
Make sure that you inform your bank about your plan to travel beforehand. You can take money out in most ATMs around the world, once you have a Mastercard or another worldwide recognised brand on your debit/credit card. Taking cash out as you need on your holiday is safer but be aware that a standard minimum charge applies per withdrawal.
Don't carry all your cash in one place. Break it up into different places and if you have pockets don't put money in the back pockets of your jeans or trousers.
Don't put valuables in a backpack where they can be pilfered while on a busy train or shopping at a market.
Be aware of your surroundings. Most people that you will meet on your travels are lovely and you will find warmth and welcome in the most unexpected of places. Travel reduces prejudices and xenophobia and it's a great way to meet new people. But there are scams in certain countries to watch out for – but remember, this shouldn't stop you mingling with the locals but do remain vigilant and try to spot signs that are a bit odd.
Don't go off alone with someone in a taxi or to their house. 
An offer of going for coffee in Beijing to let a local practice their English might well be an attempt to remove you of your money when you get a highly priced bill if the cafe is owned by the local's brother.
Many poorer countries have an abundance of guides on the street and be aware that they will look for payment for this − or they will bring you to their brother's shop to get the cheapest spices when you discover you're handing over €50 for a bag of cinnamon to get away you will wish you hadn't. This isn't the norm, but it does happen.
Guided tours from a reputable company will prevent instances like this. If your hotel recommends a tour you can be sure they will deliver. Do your research online before you go. TripAdvisor is a great source of first-hand experience and do check the dfa.ie website for up-to-date news on all countries before you travel.
Whether you're taking a single trip, many trips, a family holiday or a business trip, Aviva have got you covered. Visit here to learn more about our travel insurance that best meets your needs.
Safe travels!