Over 100 girls take part in Aviva Soccer Sisters Dream Camp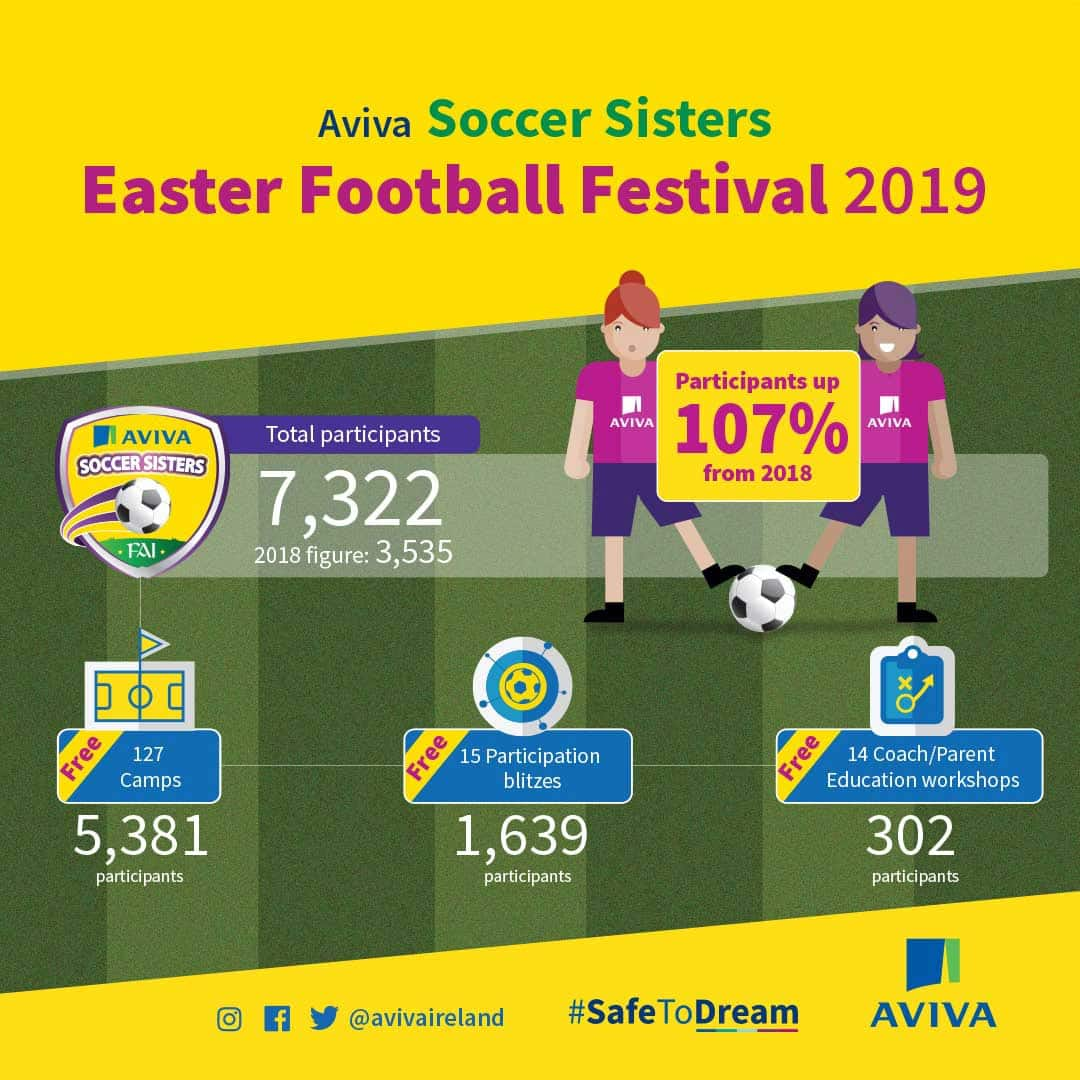 Winners from 11 clubs country-wide played at Aviva Stadium
Over 100 girls from all over Ireland took to the Aviva Stadium pitch on Wednesday, May 29 to participate in the Aviva Soccer Sisters Dream Camp.
The girls were from the 11 teams that were drawn from 100 football clubs who participated in this year's Aviva Soccer Sisters Easter Football Festival during the Easter mid-term break.
Over 7,000 participants took part in the free camps aimed at encouraging young girls to get involved in playing football from a young age.
This year's festival surpassed all targets, with a 107% increase on 2018's figures thanks to the addition of free camps, blitzes and coaching courses. 127 camps and 15 participation blitzes took place in counties throughout Ireland, along with 14 coach and parent education workshops with the aim of getting more volunteers involved in the game.
Republic of Ireland Women's National Team player and Aviva Soccer Sisters ambassador Izzy Atkinson was there on the day to meet the young players.
Speaking at the event, Atkinson said it was the opportunity of a life-time for the girls.
She said: "It's just such a wonderful experience for the girls to get to play out there today. I would have been over the moon to get this experience when I was their age and I'm sure they'll always remember it.
"It was great to hear about the big increase in the number of girls taking part in the camps, and I'm sure this will just encourage them all to come back next year. It's all about encouraging as many girls as possible to play football and seeing them all out there enjoying themselves is just great."
Brian O'Neill, Head of Communications, Brand and Sponsorship, Aviva Ireland, said; "Aviva is so proud to sponsor the Aviva Soccer Sisters. We are committed to get more girls involved in sport at a young age and have worked with the FAI to make soccer more accessible to everyone. With the introduction of free places on camps for both girls and parents this year, we were delighted to see a significant increase in participation. We are delighted to offer these teams the opportunity to play here in Aviva Stadium. What a dream come true for them!" 
Players from the Under-17 Só Hotels Women's National League also took part in the Dream Camp by coaching the girls and refereeing the games. 
2019 AVIVA Soccer Sister Dream Camp winners
Clonmel Town FC, Tipperary
Midleton FC, Cork
Ballyduff FC, Waterford
Templeogue Utd, Dublin
Arthur Griffith Park FC, Dublin
Glebe North FC, Dublin
Yeats United, Sligo
Oughterard AFC, Galway
Ballyjamesduff AFC, Cavan
Blayney Rovers, Monaghan
Mulroy Academy, Donegal