For many people, getting engaged is one of their fondest memories. The engagement ring that comes with it represents the special bond between you and your partner, so it is precious. Not to mention it is often something that required some saving to make the purchase possible. At Aviva, we understand the significance and value you put on an engagement ring.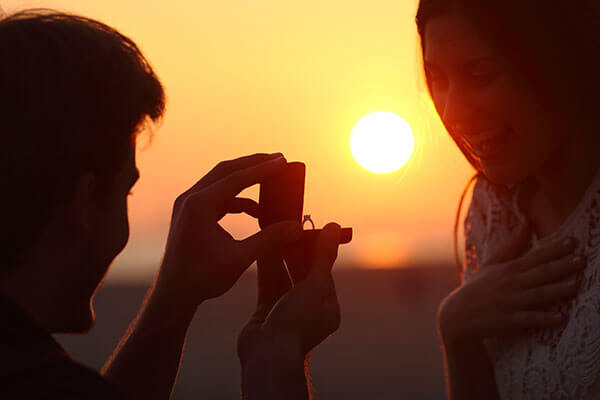 Things to consider when buying an Engagement Ring
Buying an engagement ring for that special person in your life is a big step. You likely made the decision months ago and have been carefully putting aside money ever since to make the purchase. Then comes the difficult part; actually choosing the ring. So, what are some of the things you need to consider? Introduce yourself to the five c's:
Diamond cut
The diamond cut doesn't actually refer to the shape of the diamond; rather it signifies the reflective quality of the diamond. When a diamond is cut properly, it will reflect light well, giving it that beautiful sparkle.
Diamond clarity
Diamonds contain tiny blemishes or inclusions which occur naturally. Generally, these marks cannot be seen by the naked eye. The more inclusions in a diamond, the less value to the diamond.

Diamond Carat
The carat refers to the weight of the diamond, and often the size of the diamond will correspond to this, but not always. Today, one carat is equal to 0.2 grams, which is about the weight of a paper clip. The more a diamond carat increases, the rarer the diamond is, which in turn increases the cost.
Diamond Colour
The closer a diamond is to being completely colourless, the rarer the cut, and the higher the value. Diamonds are generally measured on a colour scale that ranges from D, which is completely colourless (and very rare!) to Z, which is a sort of light yellow. Diamonds that classify as D, E & F on the scale are considered to be the most valuable.
Diamond certificate
A diamond certificate is vital in measuring the quality and value of your diamond. The certificate will grade the value of your diamond depending on the above characteristics. It gives you peace of mind in knowing exactly what you're buying, and if it's worth the asking price. The certificate will also help you regarding the ethical standards of the ring; where it came from and how it was mined.
Of course, every couple is different when it comes choosing the right ring. Some may choose to shop for the perfect ring together, and in other relationships, one partner may decide to choose themselves and have a surprise proposal. Either way, it's a very exciting time that requires plenty of thought and effort.
Engagement Ring Insurance Cost
Just like anything of great value to you, such as your home or car, it's a good idea to insure the engagement ring in case something unexpected happens. With Aviva, you can choose additional cover for unspecified items or to cover the engagement ring for:
€5,000 - Single Article Limit €1,500;
Personal Money €130;
Bicycles €500 (in any period of insurance).
€7,500 - Single Article Limit €2,500;
Personal Money €130;
Bicycles €500 (in any period of insurance).
€15,000 - Single Article Limit €3,500;
Personal Money €200;
Bicycles €500 (in any period of insurance).
Or, if you'd prefer, you can cover individual items, each for a specific amount chosen by you.

Please note that for rings valued more than €5,000 a copy of the valuation is required.
Does all this talk and preparation for your engagement have you fantasizing about your wedding? Have a look at our article on the 8 things you didn't know about weddings. And don't forget, at Aviva we offer a 10% increase in content cover for 30 days before and after the wedding of any member of your immediate family, as standard.
Feeling a bit confused about the right cover for you and your loved one? Call us in Galway on 1800 332 211 Monday – Friday 9am to 6pm and our dedicated team will be happy to assist you.
Learn more about Aviva home insurance.