Nowadays we all try to live healthier and more active lifestyles. And the result is clear, because we're now living longer than ever before1. After retirement, you can expect to live a long time, with a lifestyle quite different to the one you had before.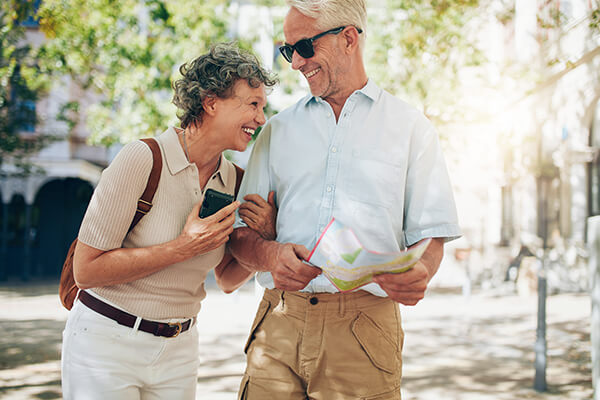 While some of us embrace this time to focus on hobbies and interests, others may struggle with a range of emotions from guilt, to boredom, to a change in feelings of self-worth, frustration, and fear. We've put together some suggestions to help with the transition from working life.
Give yourself time
Adjusting to retired life is not something that'll happen overnight, and your emotions may vary from day to day. You may feel guilty that you're not working anymore or feel anxious about being bored without a work schedule. Try to remember that like any big change in life it'll take time for you to become accustomed to what comes with retirement.
Try a course or take up a new class
Retirement is the perfect time to try out a course or classes that you felt you didn't have the time for before. There are a variety of online courses to choose from that can vary, from three weeks to four years. A great source of information on courses taking place across the country is courses.ie.
Take up a new hobby or pastime
Having less structured days allows you to take up a new hobby or learn skills. like gardening or a new language, that you put off in the past due to time restrictions. Staying active through exercise such as walking, yoga, and swimming will also help boost your mind and body and keep them healthy.
Volunteer
Volunteering is a good way of ensuring an active retirement. There are countless organisations seeking people to give their time, such as schools, animal shelters, churches, helplines, museums, libraries and those that perhaps involve some skills you acquired through your career such as a legal advisor, maintenance volunteer, event organiser or charity shop retail assistant. Volunteer.ie is a great resource when looking for remote or physical volunteer work. 
Get political
Political campaigns are always in need of a helping hand, be it fundraising, administrative work, or contacting potential voters. You could also join environmental or community groups that tackle issues you feel passionate about.
Socialise
It's important to keep in contact with friends from your work circle as much as possible. Set up weekly calls, and maybe start a virtual quiz or book club to socialise with them. Taking classes, volunteering and regular exercise can present opportunities for you to meet new friends too, often with other retirees with similar interests.

The financial side
It's important to consider not only the social side of your retirement, but also the financial side. The current State pension, if you qualify for it, is approximately €12,000 per year2 which will cover the basics. However, it won't allow you to keep up any of the hobbies, luxuries or extras that you've always enjoyed. This is where a personal pension can help you maintain the standard of living you've been used to.
Check your PRSI record
Be sure to check this in the run up to your retirement so that you can find out how much of a State pension you'll receive. Should it be the case that you won't get as much of a pension as you'd expected, you'll need to prepare yourself financially.
Pension options
The 4 main options are: 
Taking a tax-free cash lump sum
Taking a taxed cash lump sum
Buying an annuity (i.e a regular income in retirement), or
Investing in an Approved Retirement Fund and/or Approved Minimum Retirement Fund.
We know planning for retirement isn't everyone's usual Sunday activity but at Aviva, we aim to keep things simple. We've more information on our pensions online or speak to your financial broker to understand exactly what options your pension allows.
We encourage our customers, where possible, to make use of our online options to access any help you need. If you have a query you can reach us via our Life & Pensions contact form. You can also manage your policies online.