It can be expensive to mend the damage caused by a burst pipe in your home. It's important to know what causes burst pipes, how to prevent it from happening, how to recognise when your home has one, and how to best deal with the outcome.

We're covering everything you need to know so you can avoid paying repair costs, or replacement costs for any damaged furniture in your home as a result of a burst pipe.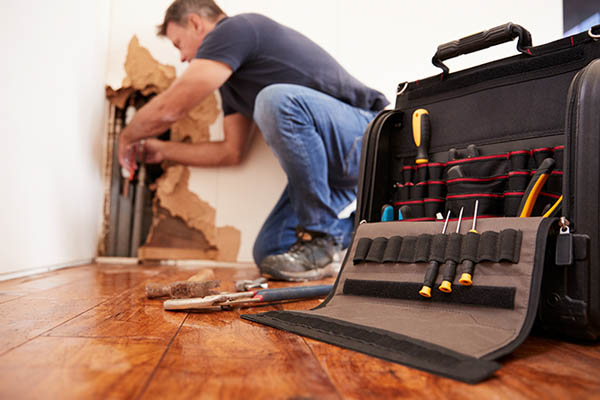 Note: If you experience any low pressure with the water in your home, check if your neighbours are experiencing similar problems. If they are, it's probably a problem with the local water supply and not just your home's pipes.
What causes burst pipes?
The most common cause of burst pipes stems from a drop in temperature, causing the water inside your home's pipes to freeze. When the water freezes, it expands and puts huge pressure on your pipes. This causes them to crack or burst open. When the frozen water inside the pipes thaws and reverts back to liquid, it escapes from the pipes.
How can I prevent frozen pipes?
Preventing frozen pipes is cheaper than having to repair burst pipes. Try the following steps: 
Leave your heating on at a lower temperature for longer or put it on timer for during the night.
If you won't be at home for a day or longer during cold weather, be sure to shut off your water supply, and also ensure that any water-dependent appliances or facilities are turned off. 
Insulate any pipes that are away from the main, warmer areas of your home. This includes the pipes in your attic or garage. Lengths of fiberglass or foam rubber are available from all hardware stores.
At night, leave open any cabinets or presses that hide pipes in your home. Warm air can then circulate around the pipes.
Seal up any holes or gaps in the walls around the pipes in your home. Foam insulation or caulk can do this.
How to locate a frozen pipe:
Try each of the taps and toilets in your home. Whichever ones have low or zero water flow are the ones connected to a frozen pipe. You may not have access to the frozen pipe, but if you do, follow the next step.
Heat the frozen section by using a heating pad, a hairdryer or by wrapping towels soaked in hot water around the pipe.
What do I do when a pipe bursts?
Act fast. Turn off the water in your inside stop valve, which is usually located under your sink. Then switch off the stopcock in your cold-water tank. This will most likely be in your attic. Always be aware of where both these taps are located so you aren't left scrambling to find them in an emergency. Call your plumber.
Drain your pipe system by turning on all cold taps and flushing the toilets in your home.
Switch off any heating installations in your home. Then turn on your hot taps to fully drain the system.
If your pipes have been leaking for some time without you and your family realising, there may be water collected in your ceilings. If any of your ceilings are bulging be wary. Stand out of the way, pierce the plaster with a long-handled screwdriver and collect the water in a bucket. This will prevent the ceiling from bursting and flooding the entire room.  However, if a large area of the ceiling is bulging, call for professional help and stay out of the room just in case the ceiling falls through in that area.
If your burst pipe is near any electrical sockets or switches, turn off your electrical mains to be safe. If there is any form of water leakage near your electrical mains switch, do not touch it. Call an electrician for help.
You can temporarily repair the burst pipe yourself until a plumber arrives by tightly binding the damaged area with strong tape or cloth.
If a major pipe burst in your home and you experience flooding, there are some steps you can take to help limit the damage. Click here for these steps.
Keep in mind, in terms of insurance claims there is a difference between flooding and escaped water. Flooding is water damage caused by water from an outside source. Escaped water is that which comes from inside your home.
All Aviva Home customers have Help in a Home Emergency cover as standard.
In the event of a home emergency, like a burst pipe, we can provide assistance 24 hours a day, 365 days a year through our service provider Mapfre Assistance Ireland by contacting (freephone) 1800 565 556.
Once you've protected the pipes in your home, let us protect your home itself. Learn more about the benefits of Aviva home insurance.