If there's one thing we're used to in Ireland, it is rain. But sometimes really heavy rain causes flooding that we don't quite feel prepared for. It can be very traumatic having to clean up your family home or business after flood damage has occurred.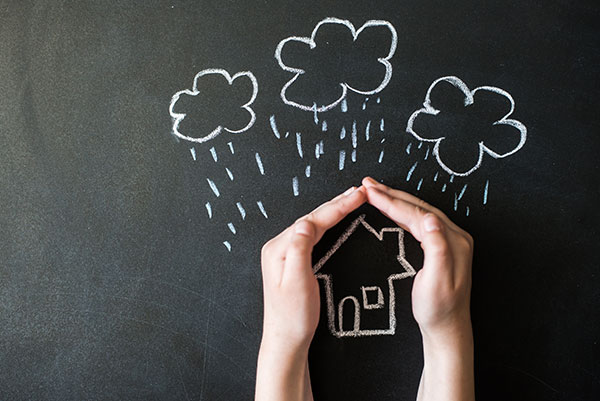 Below, we're outlining some precautionary measures you can take to lessen the risk of damage and also some practical tips on what to do to restore your home after flood damage. 
If you think, or know from experience, that your house is susceptible to flooding during extreme weather conditions you must always be aware of bad weather forecasts, so you can take some steps ahead of time: 
Precautionary measures:
Ensure that drains and gutters are clear of any debris, to reduce the risk of your gutters overflowing or bursting. This can cause damage to the plasterwork of your home.
Move as much as feasible, from downstairs to upstairs, things such as furniture, rugs and electronics. For heavy items, move as far away from the walls of your home as possible.
Create a flood kit that you will have at hand should you need it when flood clean up begins. The kit should include:
✔ A pair of wellies
✔ A first aid kit
✔ A torch or flashlight
✔ Rubber gloves
✔ Warm and waterproof clothing
Buy, or create, flood bags. You can create your own flood bags by using sand or garden soil. If you use soil, stomp down on it to make it very compact. Don't fill the bags completely with sand or soil; they need room to fill when collecting water. Alternatively, you can use pillowcases, refuse sacks, burlap or plastic bags. Tightly tuck the opening of the bag under itself and overlap the sacks like bricks in a wall to ensure there are no gaps.
Turn off your electricity, water and gas supplies at the mains.
After flooding has occurred:
First of all, if your home is affected by flood damage, contact a reputable builder or damage repair professional straight away, who can then arrange any emergency repair or boarding up.
Once you are certain the building is safe to enter, double check that all gas, electricity and any fuel taps are turned off inside. Don't touch any of your electronics as they may have become live from water damage.
If safe to do so, take some photos from around your home of where damage has occurred before emergency repairs are completed.
Remove any items that will require drying out such as rugs or furniture. If possible let them dry outdoors; if left to dry inside they might start to grow mould. Open all of your windows to ventilate and speed up drying.
Remove damaged items from your home but do not dispose of them until your insurance claim has been settled or the items have been inspected. If possible, store them in a shed, attic or skip in the meantime.
Thoroughly clean down all surfaces in your home touched by water to remove bacteria. If any sewage water entered your house, clean down every surface, even those not touched with the flood water. 
If you want to invest in flood resistant measures for your home:
Fit non-return valves on your pipes and drainage system to prevent water or waste backing up and flooding your home.
Install a pump into your basement or under-floor to remove floodwater.
Have a certified electrician raise electrical sockets, fuse boxes and controls panels to around 1.5 – 2 metres above floor level.
Install plinths or legs to your kitchen appliances to keep them raised from the floor.
Mount TVs and other electricals to your walls, at last 1.5 – 2 metres above floor level.
Remove wooden floors and replace with tiles.
Use waterproof sealant on external walls, and also water-resistant paint on interior walls.
Have a professional add sealing and dry-line to walls and floors to help prevent flood damage.
Purchase a dehumidifier to dry out the walls and ceilings of your home or business.
If your home suffers damage from extreme weather conditions and burst pipes happen as a result, click here to read our article on what to do in this situation. To have your home prepared for any storms that might take place, click here for our guidelines of best practice.
Don't forget, we offer help in a home emergency, including storm damage. To read more, click here. To talk immediately to an experienced Claims Handler, call 1800 147 147, we are open 24 hours a day, 7 days a week, 365 days a year. Please have your policy number to hand when you call.