With the summer season upon us, many of us will be preparing excitedly for our family getaway with our holiday packing list! If you must pack for kids, gone are the days when you could simply throw a suitcase together the night before a trip. You'll understand that packing for children, as well as yourself, requires military precision and careful planning. Here are some helpful tips on what to pack for your children's holiday!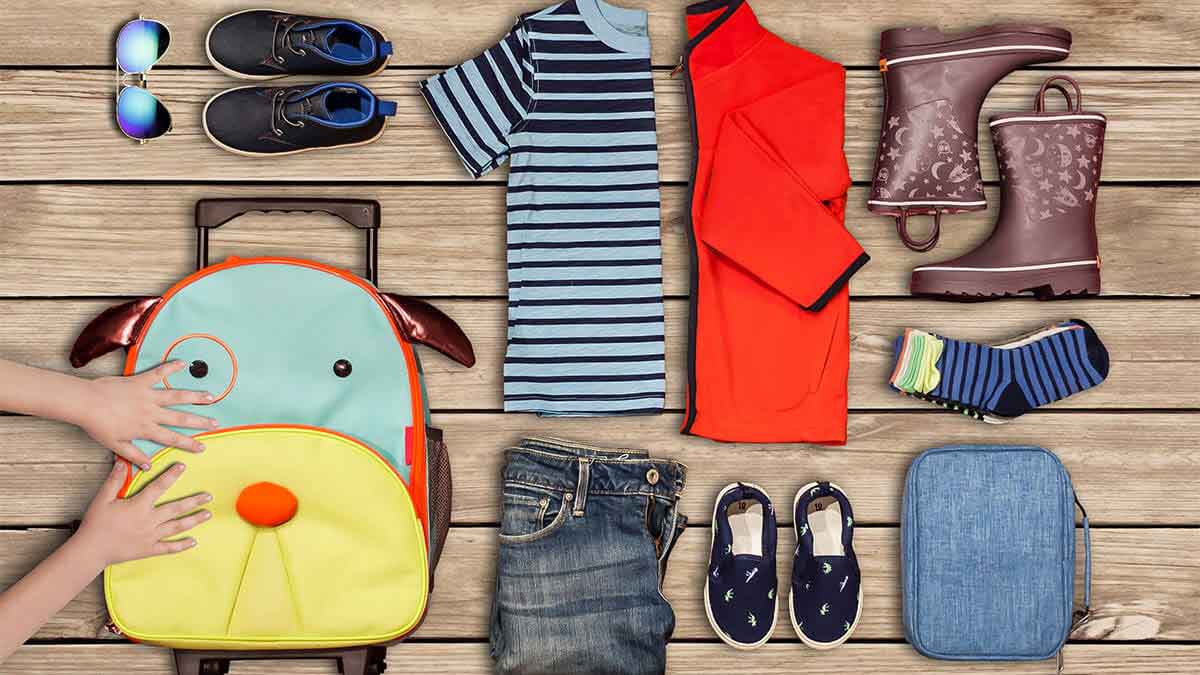 Create a packing list for each child
A packing list means that you can tick off items as they are packed. You can also involve the children by getting them to select their clothes and lay them out.
Pro-tip: Place heavier items at the bottom of suitcases. This will ensure better weight distribution.
Roll your clothes
You will be pleasantly surprised by how much more you can fit by doing this. After you have rolled your clothes, place them in travel vacuum bags to remove air.
Pro-tip: Fill every inch of space in a suitcase by rolling small tops, underwear and socks and stuffing them into shoes, bags, and hats. These will also help these items keep their shape!
Pack toiletries for the entire family
Include shampoo, conditioner, shower gel, toothpaste, and toothbrushes for everyone. If you are heading to a warm destination, you will need to pack sunscreen and after-sun lotion.
Pro-tip: Place a small piece of plastic cling film under the lid of toiletries, this lessens the chances of spills!
Don't forget essential medications
Pack a supply of regular medications your child may need in your hand luggage. Factor in that you might need an extra supply in case of flight delays. For younger kids, you will need to pack items such as Calpol, children's paracetamol and nappy rash cream.
Pro-tip: Pack a small first-aid kit that you can bring in your carry-on. This should contain plasters, antiseptic, hand sanitiser, oral rehydration tablets and baby wipes.
Bring toys/activities for the airplane
Don't get caught out without some games or activities to occupy children during flights or while you're hanging around airports. Handy options that won't take up too much space in your carry-on include crayons and a colouring book and puzzle/sticker books.
Pro-tip: If you have a tablet, download a suitable movie before your trip. Then surprise the kids with this movie when you're on the plane.
Anticipate possible delays
When you're thinking about what to pack for children's holiday, bear in mind that you just never know when you might encounter a flight delay, so it's advisable to pack extra snacks and a change of clothes in your hand luggage. If you have young children, add in some extra baby formula and baby food, plus nappies.
Pro-tip: Opt for a backpack as your hand luggage. It will allow you to keep your hands free and you can make use of the multiple sections and compartments to store essential items that you can quickly reach.
Get your kids to pack their own carry-on bag
Provided they are old enough, your kids will love the freedom of packing their own carry-on bag. Show them how to pack their favourite toy, some snacks, books, and a small game. If they have their own carry-on, it also means they won't be looking for things in your hand luggage every five minutes.
Pro-tip: It's a good idea to pack a spare change of clothes in your child's carry-on bag, just in case!
Hand luggage hacks
Remember the 100ml liquid restriction for carry-on luggage. If you have a laptop or tablet to entertain the kids on your holiday packing list, make sure that it is easily accessible – you will need to scan it when passing through airport security. Ensure it is fully charged before the journey.
Pro-tip: Check the weight and size restrictions of your airline's hand luggage allowance. It's also worth investing in a digital luggage scale so that you can weigh your hand luggage before you get to the airport.
Finally, make sure that the kids' passports (and your own!) are in date before you fly. Visit the Passport Service website for more information.
Make sure that you have the right travel insurance for you and your family: check out our full range on Aviva Travel Insurance. Also, get a 20% travel insurance discount on single trip and multi-trip travel insurance.1