It's hard to believe that the back to school season has come around already. For some, this means sending the little ones off for their first ever day of school, and for others it's the staggering reality of their child's last year in secondary school. No matter what stage of education your child is at, it's a good idea to plan ahead for college fees as six in ten parents in Ireland expect to get into debt because of third level costs for their child.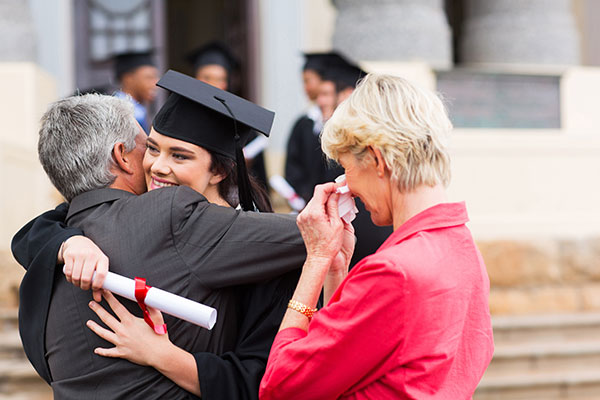 We want to take some of the pressure off you while planning this next step in your child's life, so we've broken down some of costs and some tips to help you save.
Average costs of college in Ireland
College fees in Ireland can be as much as €3,000 per year, depending on which institution your child attends. The average annual cost to send an Irish student to third level education if living in rented accommodation in Dublin is more than €12,000, and over €11,000 if living in other parts of the country.
Most third level courses are three to four years long, meaning you could be left with a jaw clenching €48,000 bill. It's important to keep inflation in mind too, because these costs may have risen by the time your child heads off to college.
If your child qualifies for a student grant, the maximum amount available is €3,000.  This is a good helping hand, but still only a small portion of the full amount needed.
Tips to help you save for your child's college education:
Create a habit
The best starting point is to get into the habit of saving and create a savings plan. Try to put away a portion of your child benefit payments if you can, and if this isn't feasible, aim to save a realistic percentage of your household budget each month.
We have a list of 9 clever ways you can make everyday savings without putting yourself under too much pressure.
Understand your spending
To help understand what you're spending your money on, keep an eye on your bank and credit card statements. There's also an array of helpful apps out there that can help you log all of your incomings and outgoings in one place. These will give you a realistic idea of what's affordable savings-wise. Have a look here at our list of good budgeting apps and tools.
Evaluate your options
Once you've completed these first two steps, you'll need to look at the most appropriate savings and investment options for you. This will depend on how long you have to save before your child starts college.
Find the right place
When deciding where to open your savings account, you'll need to decide how much access to your money is required. Certain savings accounts require a set notice period before withdrawals can be made.
Remember
When calculating third-level costs, you should include things like rent, food and transport costs not just books and tuition fees.
Help your savings make the grade with Aviva
Aviva's Regular Saver aims to allow you to gradually build up the funds necessary to support your child's third level education. You can save from as little as €100 a month through Regular Saver.
Aviva's Investment Bond gives your built-up lump sum the potential to grow over the medium to long-term. You can invest from as little as €10,000 through an Investment Bond.
Below are examples of two families, one who and regular savers and one who are lump sum investors.
The regular savers
Let's say Alice and John have decided to invest €140 a month into Aviva's Regular Saver account to help pay for their child Annie's education. If we assume their fund returns 3%, 5% or 7% per year, the following table shows what their return could potentially look like after 18 years excluding the impact of tax. Not a bad return for a €4.60 investment a day!

The lump sum investors;
Let's say they invest €10,000 for their child Alex's education in an Investment Bond. If we assume their fund returns 3%, 5% or 7% per year, the following table shows what their return could potentially look like over different time periods excluding the impact of tax.

To maximise the return potential of your money, why not talk to one of our advisers about our Investment Bond and Regular Saver options?