It's time to get smart with your waste management and make recycling second nature! Recycling your household waste is not only good for the environment but it can also save you money.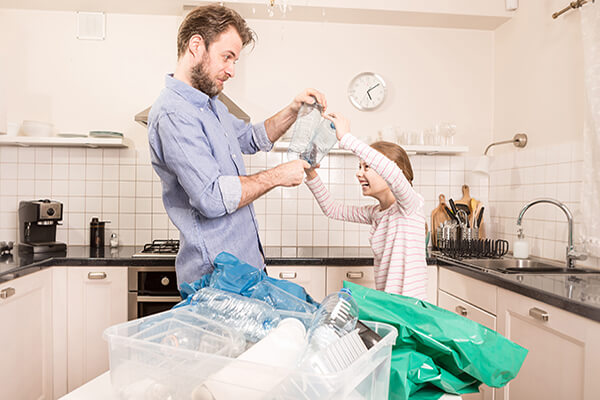 The EU has set a target for countries to recycle 55% of their waste by 20251, so what can we do to help achieve this? Here's seven tips to get started:

Recycle
This is an essential step in reducing your household waste. Glass, paper, plastic and metal are easy to transport to your recycling centre. Make a weekly visit part of your schedule, this way; the chore won't seem such a big deal!
Compost
An excellent waste management solution, most kitchen scraps make terrific compost material. The green waste produced from composting is great for gardeners and organic farmers; if you don't have use for it currently, why not consider starting your own herb garden?
Filtering
We're all guilty of valuing convenience and pick up so many disposable water bottles on the go, but by filtering your water - you'll cut down on using plastic bottles. Install a water-treatment system, or use water jugs with replaceable, recyclable filters.
Repurpose
It's great to downsize, but is your excess really rubbish? Try to give your belongings a new lease of life by donating unwanted clothes to clothing banks. If you're moving to a new house and doing a clear out of your belongings, why not allow others to benefit by giving them to charity. Your trash may be someone else's treasure.
Cut down on packaging
Purchasing loose fruit and veg goes a long way to cutting your waste disposal. When shopping at your local butcher or fishmonger, bring your own containers from home!
Batteries
Rechargeable battery technology has hugely improved. Use them, and you'll cut out more unnecessary packaging. Under EU law, all retail outlets that sell batteries are now obliged to take back old batteries of similar type, so you don't have to worry about correctly disposing of them.
Door drops
A friendly 'no junk mail' note on your door or letterbox will cut down on the number of unwanted flyers/freesheets you have to recycle. 
Why not try some of our tips and see the impact they have on both your rubbish and your pocket?
We know that your home is important to you, make sure to protect it with Aviva home insurance. Buy Aviva home insurance and get 15% off when you buy online. Get your quote today.2
We encourage our customers, where possible, to make use of our online options to access any help you need. If you have a query you can reach us via our contact forms. MyAviva is annline self-service portal available to all our home and car insurance customers.