A new season has arrived and it's put us in the mood to give our homes a clean start! The team at everymum are big fans of using natural cleaning products that are safe for all the family, so we decided to chat to them and get in on the action! Creating your own cleaning products is a safe, natural and inexpensive option. Most of what you need is likely already in your home, and any that aren't are well worth purchasing to avoid using chemical-heavy commercial products.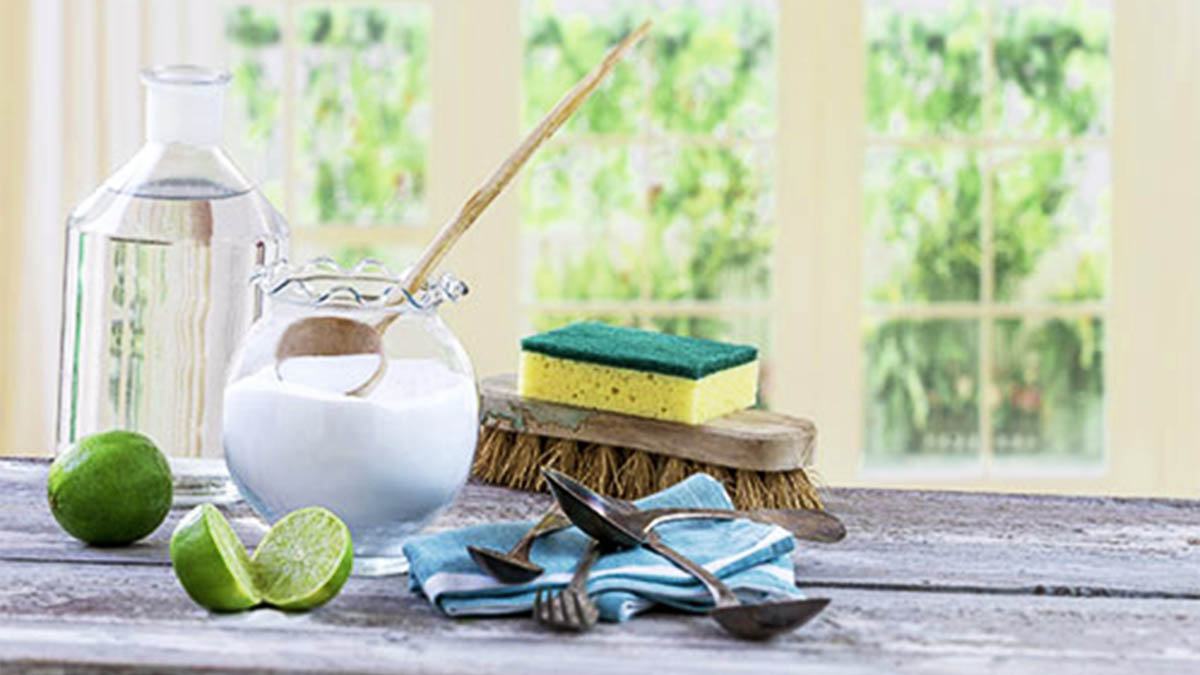 Some vinegar, baking soda, soap and water can get you a long way, and for half the price of shop bought cleaners. Not only are the results effective, but they're also less harmful on the environment and mean less toxins coming into your home.
Air Fresheners:
Many commercial air fresheners mask unpleasant odours, but this solution actually absorbs them and gets rid of them completely. Add vinegar, baking soda and lemon juice or essential oils together in small bowls and leave them in your kitchen, bathroom and bedroom.
Top tip: Simmering vinegar and water on the hob after you've prepared a meal can stop smells from lingering in your home.
Dishwashing Soap:
Add two to three tablespoons of vinegar to soapy water when washing dishes to remove stubborn dirt. If you use a dishwasher, mix equal parts washing soda (soda crystals), baking soda and salt, then add to your dishwasher as normal.
Top tip: If you have hard water in your home, add more washing soda to the mixture until you're satisfied with the results.
Laundry Detergent:
Shop bought laundry detergents can have dozens upon dozens of ingredients, when really it only needs three or four. Using homemade laundry detergent is gentle on your clothes and your skin. Blitz around 250g of washing soda (soda crystals) with the gratings of a bar of castile or natural soap, 250g bicarbonate soda and five drops of lemon juice or essential oil in a food processor to create an effective, non-toxic laundry detergent.
Top Tip: To remove food stains from your clothing, spray them with a mixture of equal parts vinegar and water before washing. Particularly stubborn stains can be removed with a small amount of hydrogen peroxide before washing as normal.
Floor Cleaners and Polishes:
Whether you have stone tiles, vinyl or lino, most floor types can be cleaned and polished with a solution made of 125ml white vinegar and two litres of water. After mopping your floors, rinse with clean water and allow it to dry. For wooden floors, mix the white vinegar and the water with 15 drops of peppermint oil for a nice sheen.
Top Tip: To polish the wood, mix one-part white vinegar, two-parts olive oil, then lightly buff it into the floor until it has a nice shine.
Bathroom Cleaning:
Even the best cared-for bathroom is likely to develop a little mildew from time to time. Mix a little hydrogen peroxide with water in a spray bottle and apply it to the affected areas then wait for an hour before rinsing it with clean water. To clean your tub and tiles, scrub with baking soda on a wet sponge and rinse afterwards.
Top tip: If the stains are particularly stubborn, wipe it down with vinegar first and then scrub away!
Kitchen Cleaning:
As we all know, kitchens can get quite messy thanks to being the centre of the home! We've got tips to declutter your home, with a nifty trick to try in your kitchen! To clean your fridge, an all-purpose cleaner made of vinegar and water can be used to scrub the interior and any materials made of stainless steel. Baking soda can remove oil and grease from most surfaces when scrubbed with a wet brush.
Top tip: You can disinfect surfaces by rubbing them with a slice of lemon.
The cleaning fun doesn't have to end here! Check out our cleaning hacks 101 guide for a home Kim and Aggie would envy! 
Buy home insurance online and get 15% off. Get your quote today.1
We encourage our customers, where possible, to make use of our online options to access any help you need. Home insurance, car insurance and travel insurance can all be purchased online. MyAviva is an online self-service portal available to all our existing home and car insurance customers. If you have a query you can reach us via our contact forms here.