It looks like good news is in store for fans of cult hit Desperate Housewives, with the residents of Wisteria Lane rumoured to make a return to TV screens in 2022 – a full decade since the show first said its goodbyes.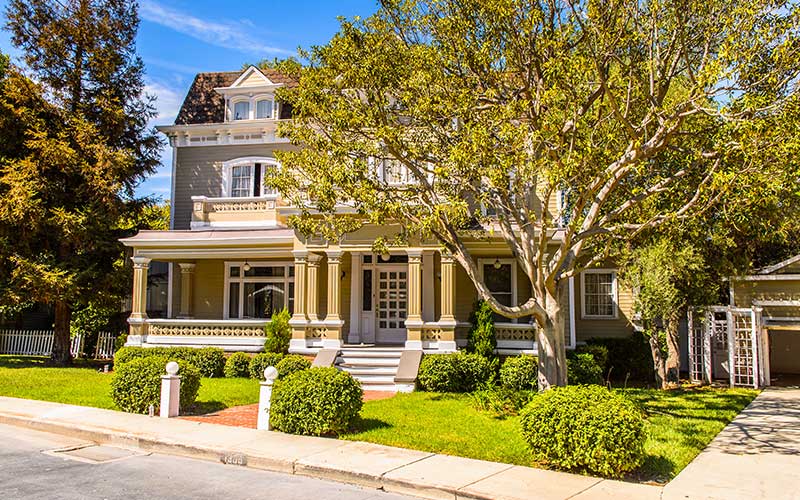 When thinking of the 'perfect' place to live, few TV locations measure up in the way the houses on Wisteria Lane do. Although the residents of the fictional street saw more than their fair share of drama, they also managed to deliver plenty of interiors inspiration courtesy of the picturesque suburban homes where the thrills and spills unfolded.
So, whether it's the show or the style that gets you excited, here's something to celebrate the mooted reboot. Take our Desperate Housewives trivia quiz to see how your knowledge stacks up – and for inspiration on ways to keep your home's exterior in tip top condition, have a look at our guide on seasonal maintenance suggestions…
Spring
Declutter and clean
The housewives of Fairview with their pretty pastel-painted homes don't call it a spring clean for nothing! With sunnier spells on the horizon, spring is a great time to declutter your garden and give the outside of your house a good clean. Don't forget to make sure your windows are spotless – inside and outside!
Check your roof and loft
Any build-up of moss that develops over the colder months should be washed away to prevent any damage to your roof. Be sure to carefully check your loft too, for any unwanted water absorption or insulation issues.
Summer
Spruce up your woodwork and garden
If you fancy a gorgeous garden like Gabrielle's, sprucing up the outside of your home is a much easier task during those bright, summer days. Regularly mowing the grass and pruning trees are good ways of showing your lawn some love, and whether it's fencing, window frames, doors, or fascia's, a lick of paint can do wonders to revive wood.
Repointing
Weathering and decay over time can cause voids in the brick joints, allowing water to soak through. Repointing should be done in warm temperatures to allow for quick drying. This will help bricks and mortar to look fresh and sharp for the seasons ahead.
Autumn
Clean your gutters
If the surrounds of your home are just as green as the Van de Kamp's, you'll want to be certain that your gutters don't become clogged with leaves and debris. Try to get into the habit of checking them throughout the year, but pay special attention during the autumnal season, as the trees shed their leaves en masse.
Insulate
Any external pipes or taps should be insulated properly to prevent them freezing and bursting; with the winter months on the horizon, it's a good time to make sure everything is in good shape.
Winter
Storm damage check
You'll want to batten down the hatches, so you don't end up like the tornado stricken Wisterians! During windy periods, be sure to inspect your fences and trees regularly, and ensure any repairs are undertaken quickly to prevent any further damage. Don't forget to trim back trees and bushes to avoid any loose branches coming down.
For advice on what you can do both before and after a storm, check out our Home Storm Safety Tips.
Prevent damp
Even during cold snaps, try to open windows and use extractor fans occasionally to prevent damp from developing. Showering and bathing produces lots of moisture, so keep your bathroom door closed to stop any condensation from spreading throughout the house.
Whether you're planning to make light touch improvements to your home, or embarking on a bigger renovation, you'll want to know your home is protected. That's where Aviva home insurance can help. Buy home insurance online and get 15% off 1. Get your quote today.