Nothing beats the feeling of being in your own home and relaxing or having some friends or family over to visit. But thanks to the realities of life, our homes fall victim to plenty of clutter, stains, and mess! This is especially true if you often have the grandkids or nieces and nephews over! The living room truly is a hub for unwinding and gathering everyone together, so we've collected a mixture of our favourite cleaning tips that we use to get our living rooms in tip-top shape for you to try out.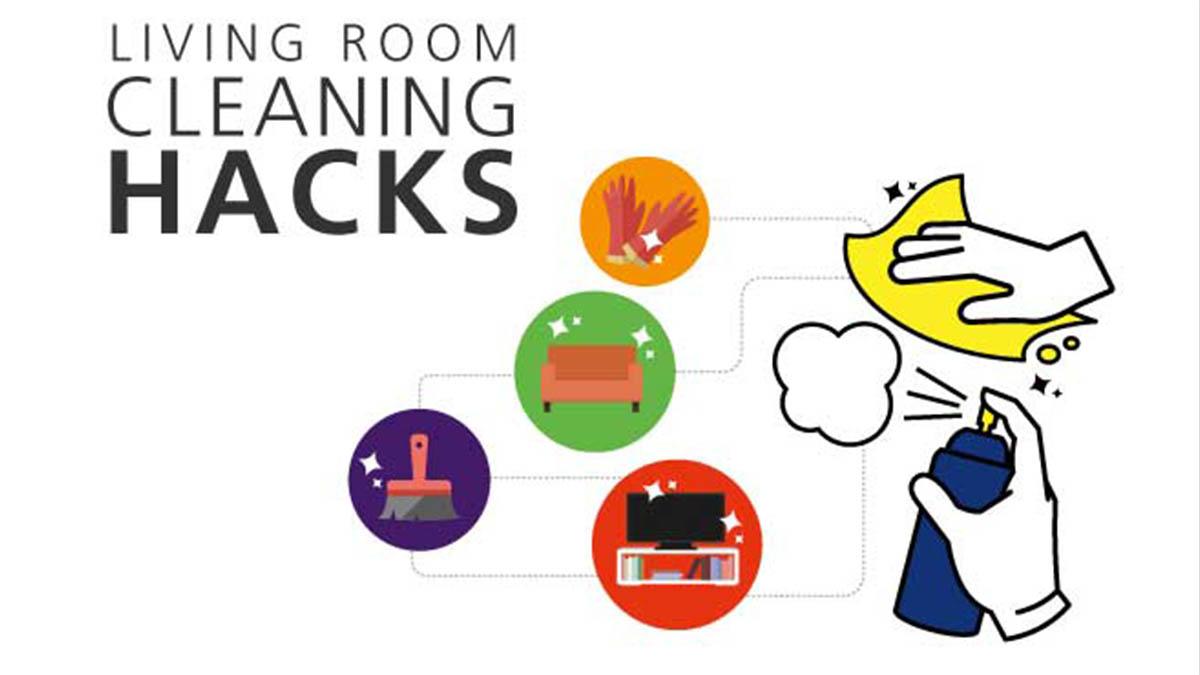 Remember: It's good practice to test out any cleaning product, homemade or commercial, on a hidden or inconspicuous part of the item you are cleaning before general use – just in case
How to Clean the Living Room
1. Carpets
Do you have a furry friend at home? A rubber dishwashing glove will easily remove fur from your carpets, and also your furniture. Just rub over the surface and the animal fur will collect on the glove. For a last minute deodorise of your carpet from pet smells, throw some baking soda down and leave for 30-60 minutes before hoovering up.
Have a mysterious stain on your carpet? Mix three-parts water, one-part white vinegar and a couple of drops of washing up liquid and dampen (wring it out well) a tea towel or old t-shirt in the mixture. Place the tea towel or t-shirt over the stain and run a medium-heat iron over the tea towel or t-shirt. The heat should transfer the stain from the carpet to the tea towel or t-shirt.
Housekeeping top tip: If you have plastic blinds put your hand into a sock, and run your hand over your blind slants to clean and remove dust.
2. Wooden Floors
Use a soft-bristled sweeping brush to remove dust from your wooden floors, as some hoovers may cause scratches on the wood. Use a pH-neutral, water-based cleaner as these won't contain any harsh chemicals that might discolour your wooden floors. Most specified hardwood floor cleaners should be pH-neutral, but make sure to double check the bottle.
To shine your floors naturally, use one-part white vinegar, two-parts olive oil mixed in a spray bottle (this prevents the floor from becoming too slippery). Use a damp microfiber cloth or mop to lightly buff the floor in circular motions with the mixture. Shake the mixture each time to prevent oil separation. Do not use too much water when you clean your floors as it could cause waterlogging or damage to the wood.
Housekeeping top tip: If any of your little visitors get greasy fingerprints on your walls, lightly rub over the mark with some white chalk. Give the chalk a couple of minutes to soak up the grease, then dab off with a damp cloth. The chalk will wash off and take the greasy fingerprints with it!
3. Couch
Sprinkle some baking soda over a fabric sofa and leave for 20 minutes, then hoover off to remove any odours and bring some life back into your sofa. Always check the manufacturer's label on your sofa to check whether removable covers or sofa material can be washed or not.
To remove any stains from fabric sofas mix one-part washing up liquid, one-part white vinegar and three-parts warm water. Always test the mixture on a hidden part of the sofa to ensure no discolouring takes place. Be sure to use a white cloth any time you touch a light-coloured sofa, to avoid any colour transfer.
For a leather couch, use commercial leather cleaner or else two-parts water, one-part white vinegar and gently buff the leather. Again, always test any cleaning products on a hidden part of the item you're cleaning.
Housekeeping top tip: Use a lint roller to remove dust from lampshades and cushions in seconds!
4. TV
We all know how frustrating it is when you're settled on the couch watching TV and you notice smudges or glares on the screen, floating just in front of our favourite character's face! Use a microfiber cloth to safely clean your TV screen, as tea towels or standard cloths might leave tiny scratches on the protective film of the screen. Buff in circular, light-handed motions.
If your screen is very dusty, it's worth wetting your microfiber cloth and squeezing out excess water and using this to clear the dust properly. Be careful the cloth is damp, and not wet – water drips could drip behind the TV casing and damage the screen.
Housekeeping top tip: Clean your remote control with a sheet of kitchen towel with some hand sanitiser or lemon juice on it. Use dipped cotton buds to get between buttons if needs be.
5. Coffee Table
For marks left on your coffee table by hot cups, try one-part baking soda with one-part water and gently rub over the marks. Test the mixture on the underside of your table first.
For watermarks on your coffee table, use some petroleum jelly and a soft cloth and rub in circular motions. Follow with a wood polish to shine. Test the mixture on the underside of your table first.
Housekeeping top tip: High ceilings in your living room? Tie a towel around the top of a sweeping brush to reach up and dust.
6. Windows
Use two-parts water, one-part white vinegar and one-part washing up liquid to clear your windows of any marks and grime. Buff your windows while still slightly damp with an unused coffee filter or microfiber cloth to shine them up nicely. This works better than newspaper as there can be ink transfer this way.
Housekeeping top tip: Pick up some wood blocks from a craft store. Place the blocks into a zip lock bag and drizzle 40 drops of essential oils into the bag, shake and leave for 24 hours. Leave the blocks in bowls around your sitting room. You can create these little air fresheners with any of your favourite scents!
That's it! You're all set to entertain or simply relax in your freshened up living room, all the while protecting it from too much mess!
You never know when you may need to make a claim on your home insurance so ensure your policy is up-to-date and be sure your entire home has the protection it deserves. If you're renting a house or an apartment, renters insurance may be what you need to ensure personal possessions and contents are covered.