If there's anyone who knows how to throw a good party with mountains of food, it's the team at Easy Food magazine! They also know all about the home TLC required afterwards! We've spoken to them for some quick & easy kitchen cleaning hacks for you to try next time the family has been over for a party, so you can take the hectic out of your home.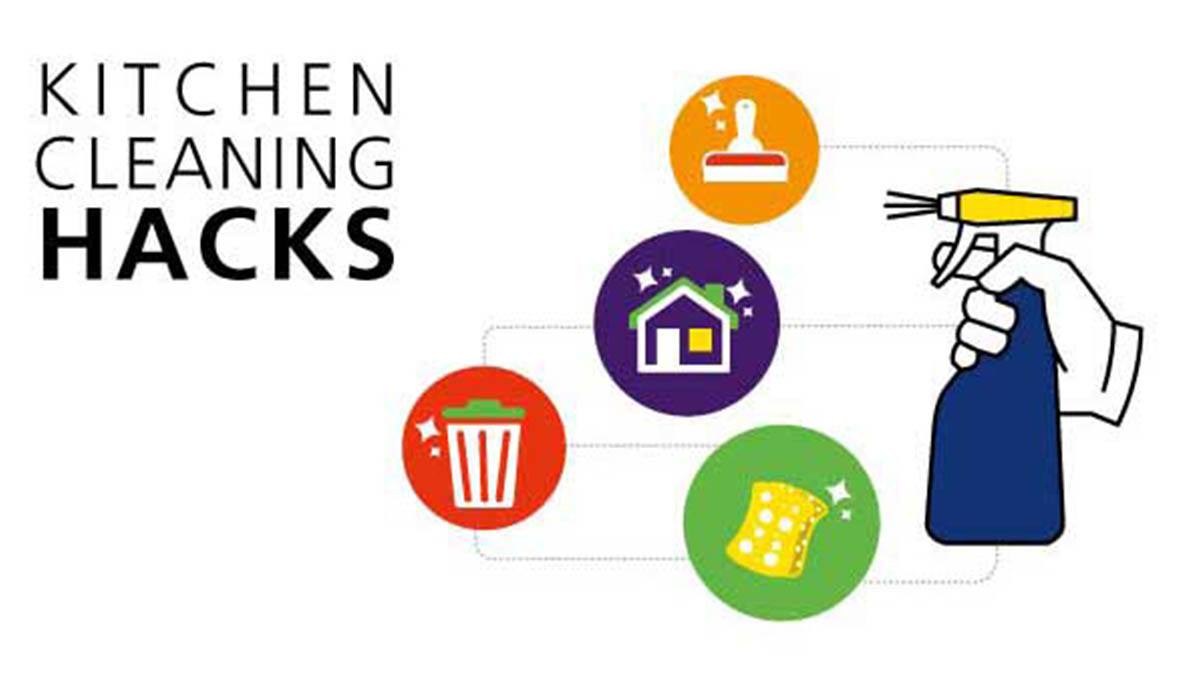 1. Always clean your kitchen before guests arrive
One of the biggest time-savers for your kitchen clean-up starts before the guests even arrive to your home! Make sure the dishwasher is empty, the bins have been taken out, and where possible, clean the items you use to cook as you go. This will help the mountain of washing up look much less intimidating afterwards.
2. Time saving cleaning tips for hosting
Put an oven liner or some tinfoil at the bottom of your oven, and roasting dishes, to make the clean up easier.
Make it as simple as possible for people to leave their dirty dishes in one spot by placing an empty tray on a small table and pointing out what it is for. It is your home after all so it's okay to be somewhat insistent! 
Put away any decor that is hard to clean, like pale rugs and delicate glasses. Place coasters on tables for guests' drinks and make space for their plates.
3. Always treat spillages straight away
Have some kitchen roll, tea towels, and soda water nearby in case of spillages, so they can be tackled straight away.
4. How to tackle that dreaded red wine spill in your home
Dab the stain with paper towels to absorb as much of the wine as possible.
Don't rub it!
Apply a little soda water to begin working on what remains. Getting moisture into the area is the quickest way to break it up and keep it from settling. For tough stains sprinkling over a small amount of bicarbonate of soda or a little white vinegar can help.
5. Clear the basics before bed
Home really is where the heart is, so don't break yours by waking up to the smell of stale drinks, old food and dirty dishes! Doing a small amount of the work when your guests leave (and before you sit back and relax) can really help.
First, get rid of any food into the bin or covered with tinfoil/sealed bags into the fridge. 
Clear from the outer rooms toward the kitchen, this will allow you to centre all the mess in one place.
Fill the dishwasher and put it on, or rinse dishes and stack them ready to be washed in the morning if you don't have the energy now.
Clear the drinks, pouring away any remnants and resealing half-empty bottles of wine or spirits.
6. Reduce your waste
Can't get the cork back in the bottle? Pour leftover red wine into an ice cube tray and freeze, ready for use in your next spaghetti bolognaise.
7. How to remove Candle wax from a tablecloth
Got candle wax on your tablecloth? Allow it to dry, and then scrape away any excess. Cover the stain with kitchen towel and iron on a low-medium heat, being careful not to burn. The remaining wax residue will instantly lift.
8. Cleaning out musty smells after a party
If opening the windows just doesn't do it, fill a saucepan with water and boil with a sliced lemon, and a sprig of rosemary or a few drops of eucalyptus oil. Leave on the stove and allow it to simmer until your home smells heavenly again!
Tackling the tough bits of cleaning your kitchen
9. Baking dishes
After soaking overnight, scrunch some tinfoil into a ball and use that to scrub grungy glass or stainless steel baking dishes. It works like a charm, and is a great way to recycle used pieces of foil. A word of warning though – don't try this on anything non-stick!
10. Scorched pans
Save yourself some serious elbow grease by filling the bottom of your pan with a cup of white vinegar and water. Allow it to simmer for a few minutes on a low heat, then remove from heat and add two tablespoons of bicarbonate of soda. This should dislodge some of the grease and make the clean up much easier. You can also rub half a lemon around stainless steel cookware to add an extra shine before rinsing and allowing to air dry.
11. The best way to clean your oven
Coat the inside of your oven with a paste of baking soda, water and dish soap. Let it soak for at least 15 minutes and wipe off the residue, then wipe over once more with a clean cloth to thoroughly rinse it. For tough oven shelves, cover them in the paste  and then scrub with an old toothbrush covered in tinfoil.
12. Microwave messes
Pour water and one tablespoon vinegar (or a few slices of lemon) into a microwaveable glass jug. Microwave on high for five minutes, and the splashes in your microwave will wipe away easily.
13. Chopping Boards
 If your boards are stained from chopping beetroot and cabbage, or smell like onions and garlic, clean them by rubbing salt on the surface with half a lemon.
14. Glasses
Particularly in hard-water areas, glasses can lose their shine over time. Give them a boost by soaking for 30 minutes in warm water with 1 cup of white vinegar, or just rub them with a soft cloth dabbed with a little vinegar. Once they dry, the smell (and taste!) of the vinegar will dissipate.
Now that you're ready to entertain, without too many spills! Make sure you give your home the protection it deserves with Aviva home insurance.