Making sure your home is energy efficient has never been more important. Many Irish families are on board with having as green a house as possible – but often the cost can be off-putting.
The SEAI offers a range of grants and incentives to help Ireland to be more energy efficient.
The truth is, not only will having a better energy rating in your home save you money on bills, but you can also avail yourself of various grants offered by (SEAI) to help with the costs of having new systems installed.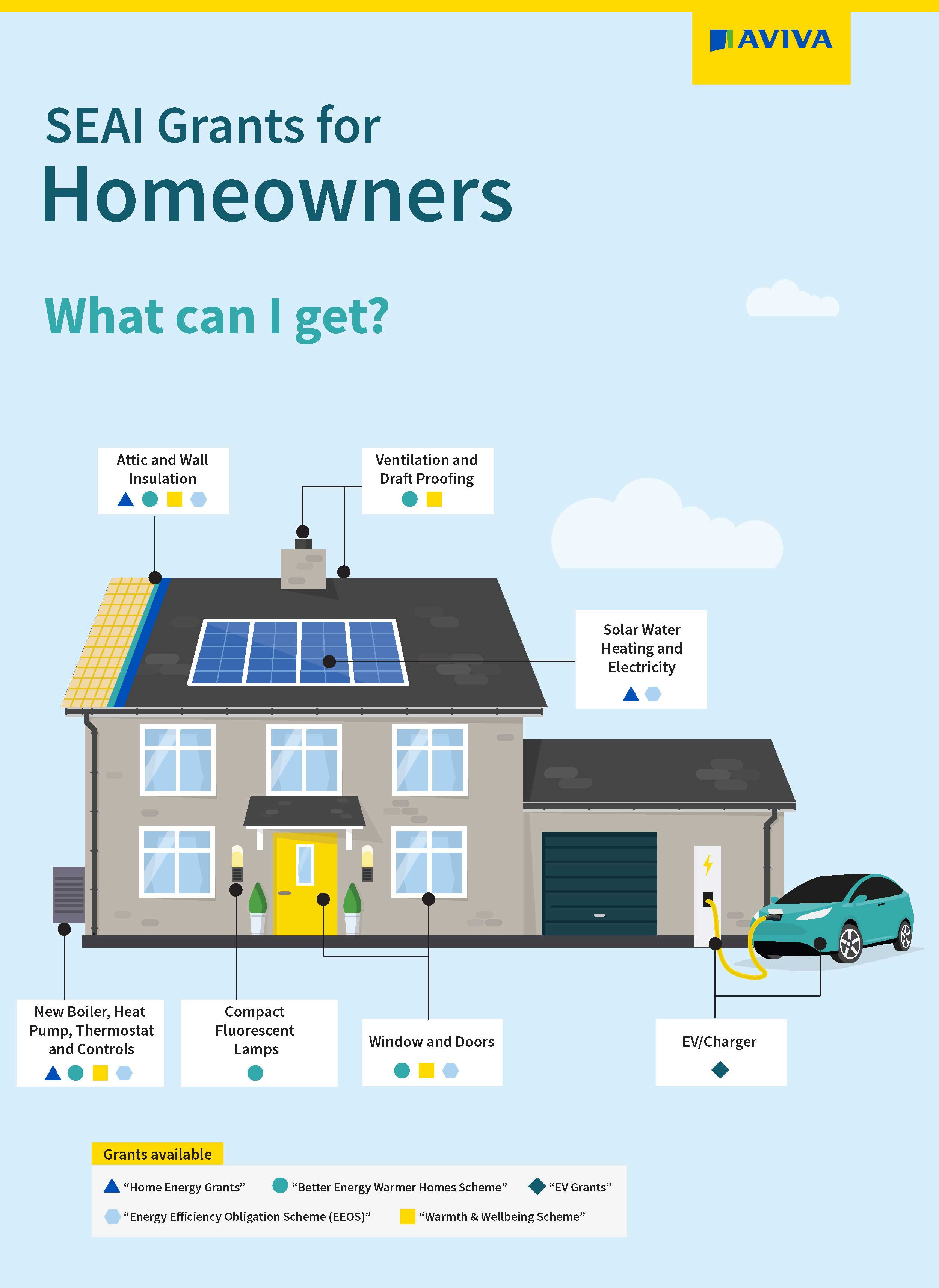 If you are a homeowner in Ireland and you are thinking of going down this route, we've got a list of the various SEAI grants available and how to apply.
Insulation grants in Ireland
Insulation is one of the most important factors when it comes to reducing energy consumption; as a result, it's the subject of a variety of SEAI grants. Starting from €400 for attic insulation, the available assistance goes all the way up to €6,000 for external wall insulation of a detached home.1
In addition, if you complete three upgrades, your third grant value will be increased by €300, and for four upgrades you will receive an additional €400.
All homeowners and landlords whose homes were built and occupied before 2006 can apply for these grants; that's because homes built after 2006 should be in accordance with the 2003 Building Regulations, and so shouldn't need significant upgrades.
Heat pump and controls grants
Heat pumps are electrical devices that can be installed in your home to convert the energy from the circulating air, into heat. These are a far more environmentally efficient alternative to oil, gas and fuel. You can get a grant worth €3,500 to have a heat pump installed in your home.2
All homeowners and landlords whose homes were built and occupied before 2011 can apply for this grant. It's important to note that for this specific grant you need to use an SEAI registered technical advisor for installation to be eligible; you can find a full list of advisors here.
For heating controls, you can apply for a grant worth €700 for the installation of energy efficient heating controls – including upgrades to your boiler, immersion heater controls, programmable timers, and thermostatic heating controls. These specific types of heating controls can reduce your energy usage by up to 20%.3
Solar water heating and electricity grant
Solar panels are used to generate electricity for items in your home, converting sunlight into power you can use. Once you've paid for the initial installation, your electricity costs will be reduced as well as your carbon footprint.
There are two different grants you can apply for: a solar water heating grant4 of up to €1200, or a solar PV grant5 of up to €3800. The former will heat water for your home; the latter will provide electricity throughout the house.
Typical thermal solar systems can cost in the region of between €800 - €1300 per square metre – meaning that, with the grants available, the cost can usually be made back within a few years.
The Warmer Homes Scheme
The Warmer Homes Scheme offers qualifying applicants assistance for upgrades to improve home energy efficiency. It's open to those who are also currently in receipt of the fuel allowance, the working family payment, the one-parent family payment, and other payments; find out more with this guide on eligibility.
EV grant
The EV grant provides up to the value of €600 towards the purchase and installation of a home charger unit for owners of an electric vehicle. Of course, that's just the start of the savings you can make with an electric car.
How to apply for an SEAI grant in Ireland:
Speak to a building contractor, architect, BER Assessor (a registered individual or business who is licensed to assess or advise on your Building Energy Rating Certificate (BER)) or energy advisor about what energy upgrades can be made to your home and decide what upgrades you want to proceed with.
Choose a registered technical advisor.
This step is only necessary when applying for a grant for a new heat pump system. This advisor will decide which particular kind of heat pump will work best in your home.
Choose a registered contractor to carry out the upgrade.
Apply for the relevant SEAI grant.
Once the upgrade(s) have been made to your home, fill in the form called the Declaration of Works, which will be sent out to you in the post by the SEAI. Send this form back and you will receive your grant within four weeks.
And there you have it. Reducing your home's energy bill may not be as costly as you thought, with the help of SEAI grants.
At Aviva, we understand that a sustainable lifestyle is not only better for our environment, but it betters our homes - and looking after Irish homes is what we're all about. That's why we offer 15% off when you buy home insurance online. Get your quote today.6
We encourage our customers, where possible, to make use of our online options to access any help you need. If you have a query you can reach us via our contact forms. MyAviva is an online self-service portal available to all our home and car insurance customers.