With each passing month, more and more drivers in Ireland are making the switch to electric vehicles (EVs). Whether it's the environmental benefits, the technological advancements, or the ever-expanding choice of makes and models on the market, it's clear that the future on our roads is looking electric.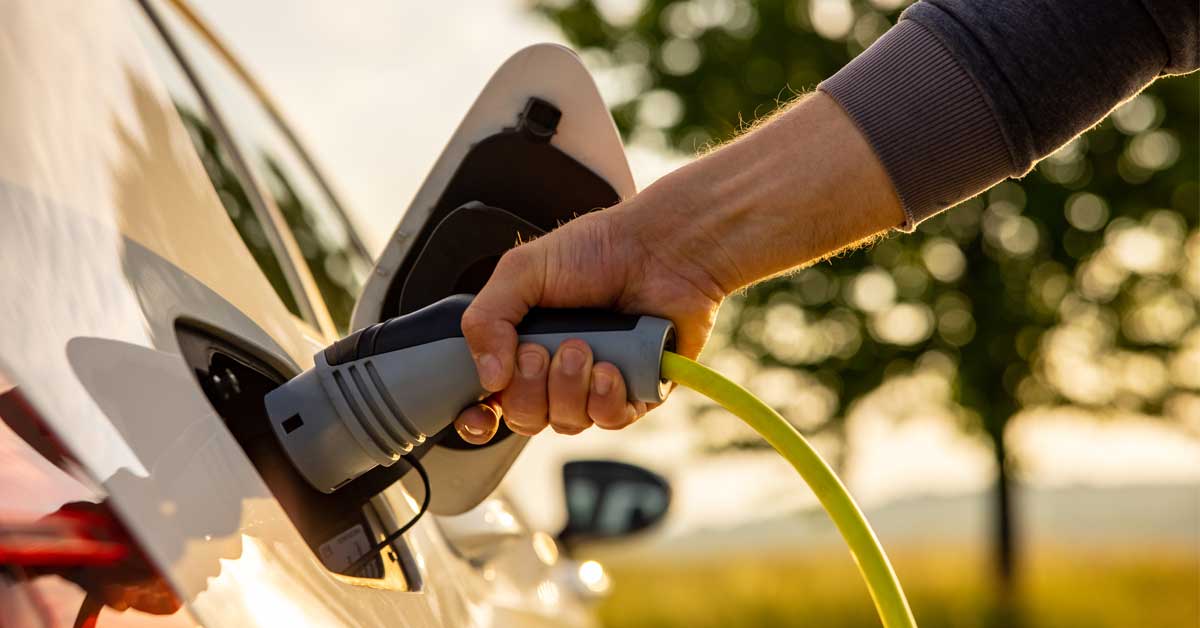 But what is it like to live with an electric car? We've tackled some of the biggest questions you might have about what you can expect after making the change – and enlisted the help of Michael Bannon, Motor Underwriting Manager and the proud owner of a Peugeot e-2008, to shed some light on his experiences over the past 12 months…
How easy was it to make the switch to an EV?
While going electric might seem like a giant leap, the transition can actually be a very smooth one; it's almost like we'd never driven anything different. Of course, there's a learning curve involved when it comes to planning for longer journeys and judging your range ahead of time – but behind the wheel, it's driving as you've always known it and better.
Key to making the switch as seamless as possible is finding a reputable dealer, who'll guide you through the process. From advising you on applying for grants and installing a home charger to understanding the different driving modes in the car, there's nothing like assistance from the experts in ensuring you start on the right foot. And once you do, you'll never go back. I've always been a petrol head, I love cars – and while I thought I would never go electric now that I have, I wouldn't go back. I just love electric.
What was new about driving an electric car?
It is actually a better drive, better than anything we've driven before, from its seamless acceleration and smoother drive to its overtaking ability and technology.  It has, like many electric cars, regenerative braking which allows you enjoy a one pedal driving experience, which is great. And one of the biggest benefits is the lack of engine noise – you can really hear the difference compared to older cars or diesel engines.  Our electric car actually became almost a serene place to be: you can listen to music and you talk to people in the rear of the car without raising your voice over the constant drone of a diesel engine in the background.
On top of all that, you'll see a fairly dramatic difference in your wallet too. A trip that typically would have cost €100 in a diesel car, ends up costing less than €30. Add in cheaper servicing, tolls and taxes, and there's tangible benefits to be enjoyed long into the future…
For city driving – do you have to consider anything?
In short, not a lot; short journeys and everyday use is the bread and butter of all EVs. Once you're charging the car at home, it's absolutely fantastic; you can be driving around for three or four days doing the school run, going to the shops, running in and out of work, and not have to worry about charging.
You've got that extra bit of power, which is really nice – as long as you use it sensibly of course. In general, EVs are now coming packed with technology in them as standard, compared to the traditional fossil fuel cars, which make them fantastic. So definitely huge pluses for city driving.
For long-haul drives, what are the main considerations?
While many EVs now boast ranges of up to 500km and beyond, models like the Peugeot e-2008 land somewhere nearer the 310km mark – which means a little planning is required when setting off on longer journeys.
When you are thinking of buying electric at first, it's all about range anxiety, concern over how much charge the car has if we unexpectedly needed to go somewhere urgently, confusion over the different battery types, and what about the residual value.  But once you have an electric car these concerns quickly go away.  The real anxiety is when you go on your first long trip and realise you have not planned it well and suddenly you have 'Charge Anxiety' – not that the car cannot do the drive, but that chargers will not be available where you are going.
So it's all about planning! With increasing numbers of charge points around the country, there should be very few places you can't get to, but diligent planning will go a long way; the difference between a fast charger and a regular charge point is worth hours, for instance.  So, know where the chargers are and using the ESB charge app keep an eye on what is in use and for how long its been in use.
If you get your planning right, you get to a place whereby you arrive at your location when you want, and in a much better mental state. You're less tired because you've had a break during the trip when you've needed to stop and charge; you're not on the motorway for hours on end - trying to get where you are going without a stop.  So you really are in a better mood getting to your final destination, you don't feel stiff and sore when you arrive. You might have gotten off the motorway for a little while, had a walk and seen other places you would not normally stop, may be you had an hour to play some games with the kids, or just read a few pages of your book with a coffee.
So, once you get over both charge anxiety and range anxiety and you plan out your longer journeys, owning an electric car is great.
There's also the prospect of getting the full benefit of the various safety features which are increasingly common in EVs as standard; from Lane Keeping Assist to Adaptive Cruise Control, they're very much designed to make lengthy trips as simple, comfortable, and safe as possible.
Purchasing your first electric car – what tips would you give?
As with purchasing a petrol or diesel car – or, in fact, making just about any major purchase at all – it's smart to do some real research before committing. What do you need in your new car? Where do you drive, when, and how far? Can you install a charger at home? And what will your budget stretch to? These are the types of questions you should be considering long before setting foot on a dealer forecourt.
And when you do visit a dealership – ideally a reputable, well-established one– it's worth taking your time and shopping around.  Also, before you buy make sure the car comes with everything you need – including the cables you'll require. Some EVs won't come with the full on-street charging cables you'll need, and buying these separately could cost well over €185; so ask your dealer and they may well throw them in for free.
Make sure that they spend some time with you; you'll be told about all the features of the car. A lot of people, when they buy a car, actually don't spend time with the dealer to find out all about it. When I bought mine, they gave us an hour's tutorial in the car before we left the garage, which was amazing – we learned loads of good stuff that we probably wouldn't have discovered on our own.
Final advice
As excited as you might be to start the new, electrifying chapter of your driving life, it's important to not get ahead of yourself. A few of my friends have fallen foul of this when they've made the leap: when you're going to get your charger installed at your house, you've got to apply and be approved for the charger grant before you spend any money. Most people don't realise that, and they go off and pay for their charger to be installed and then go for the grant – if you do that you've got a problem.
Complete the online form because you've got to get your application approved. They'll send you out the terms and conditions, they'll also send you out something for your electrician and a letter of offer and then you have up to six months to have it installed.
Don't forget, once you get your car you should register for a public charge point access card, this will let you access the public charge point network.
The best thing about more and more EVs being bought is that there'll be more and more second hand EVs available in the next year or two.
So even if a brand-new EV doesn't take your fancy, the options for going electric are only getting better…
If you'd like to learn more, take a look at our recommendations on the top electric car models which are on the market.
If you do make the switch to electric, you'll want to know your EV is protected. Buy your Aviva car insurance online and we'll give you a 15% discount. Get your quote today.1