We all do our best to be more environmentally friendly, whether we recycle our waste at home, use less fuel or buy less packaging. Electric cars are a growing trend in Ireland, with the number of electric cars and hybrids licensed doubling in the first three months of 2022 alone!1
There's no better time to make the change with over 25 electric car models eligible for an SEAI (Sustainable Energy Authority of Ireland) grant in Ireland. Not only that, there's also over 2,000 charging stations around the country, so it's easier than ever to consider the move to an electric or hybrid car, even if you need a long-range option.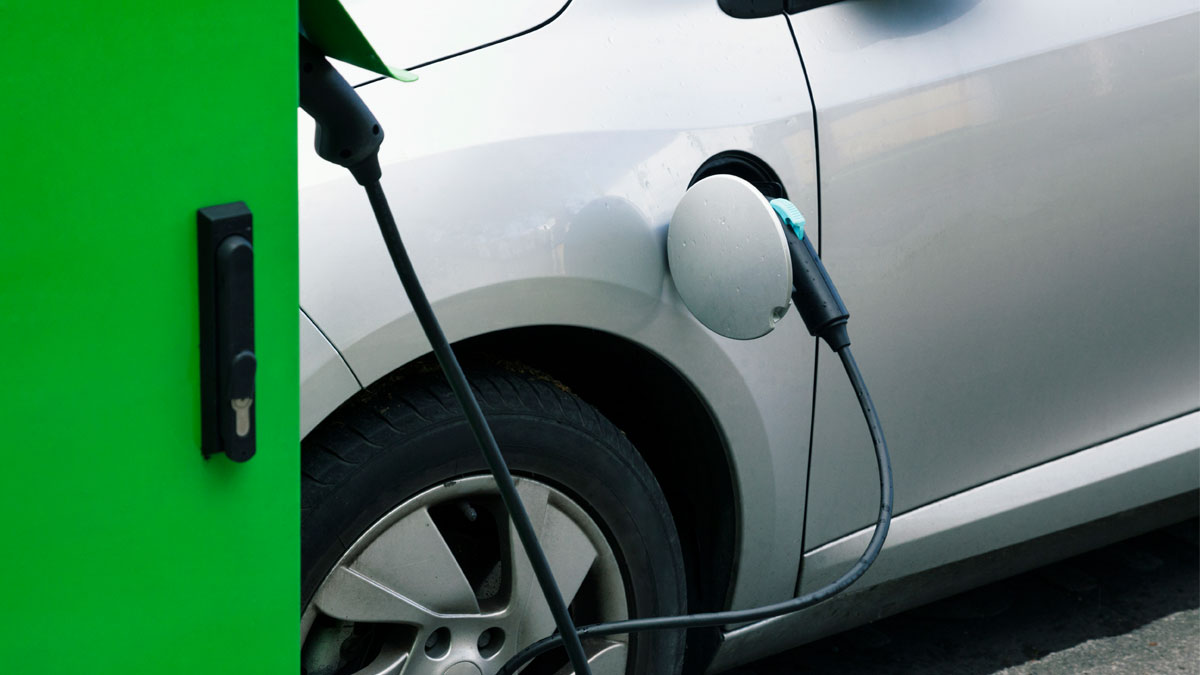 So, how do you choose the best electric car for you when there are so many options available? Here's a list of our top five electric cars and their features so you can make the right choice for you.
The Nissan Leaf is the best-selling electric car in Europe and sits at a lower price point of €28,145.3
The Nissan e-pedal means you can accelerate, brake, and fully stop all with one pedal. It also comes with Nissan ProPilot, which can accelerate, steer, brake, and park for you! The car also comes with four cameras to give you a full 360˚ view around your car to make tight manoeuvres easier.
Road tax is just €120 a year for the fully electric model. It has a sleek and simple interior with heated seats, an 8-inch touchscreen, reversing camera, SatNav, and dual-zone air con. However, the roof slopes slightly so anyone taller than six feet might find it a bit cramped.
There are plenty of options for electric car charging at home with this model. Recharging the  battery from empty takes 12 hours with a conventional plug, four hours using Hyundai's home Pod Point charger, or just 30 minutes with a rapid charger. Rapid chargers are usually found in service stations around the country.4
If you've been toying with the idea of an electric SUV, the Volkswagen ID.4 has it all in a compact package. With a range of up to 525km and a 52/77kWh battery depending on the model, the ID.4 allows you to drop the kids at school and to and from work without any worries about EVS charging.
The SUV aesthetic makes it a comfortable car to spend your day in, but Volkswagen's IQ.DRIVE is where the model really shines. Use voice control to manage the radio, phone calls, and navigation, and enjoy peace of mind with emergency brake assistant "Front Assist" as standard.
What's more, this model is a truly great option for those concerned about sustainability and safety. An optional heat pump ensures energy-efficient heating of the interior, giving up to 30% greater range in winter. When driving under 30 km/h, the ID. e-Sound slightly elevates the noise levels with artificial vehicle sounds so that pedestrians and cyclists can stay alert.
For the adventurer in you, the Kia EV6 is a fantastic multi-use car. Thanks to its large battery (77.4 kWh), the EV6's Vehicle-to-Drive function provides up to 3.6kW of electricity wherever you are - perfect for powering camping equipment when out and about.
If you need to get out in a hurry, the EV6's quick-charging capabilities are a fantastic tool. You can charge from 10% to 80% in just 18 minutes, and can even utilise the multi-charging system to move from 800 V to 400 V charging seamlessly.
A modern design and roomy interior is only enhanced by the knowledge that the door pockets and floor carpets are made of recycled plastics, with the option to go for recycled leather seats available too. 
If you're looking for a more premium electric car option, the Audi E-Tron is your answer. This electric car has a 95kWh battery which means the E-Tron accelerates from zero to 100 km/h in less than six seconds and can cover up to 390 kilometers on one charge!
The E-Tron has 12 colours to choose from and has a very spacious interior. The car has a very large 605-litre boot, adaptive air suspension, LED headlights, 360˚ cameras, keyless charging points on both sides of the car, and a high resolution, virtual cockpit. This is a digital screen that displays details such as speed, interior and exterior temperature, and maps.
There are optional virtual wing mirrors with the E-Tron (a small camera processes the views around the car and digitally displays them on the OLED touchscreen display on the inside of both front doors – pretty cool). The E-Tron will charge to 100% battery in just 50 minutes with a rapid charger, and four hours with a standard charger.
Do you love cars as much as we do? Then take a look at our favourite car gadgets which are a must have.
If you're ready to make the move to a hybrid or electric car and do your bit for the environment, be sure to also look after your investment. Buy Aviva electric car insurance online and we'll give you a 15% discount. Get your quote today.5