It's not quite the Leaving Cert, but there's still enough sleepless nights lost to worries about the NCT. Whether it's your first time or you're a certified veteran, one thing's for sure; you don't want to fail.
We've previously looked at preparing for the NCT, and all the steps involved in having your car get the thumbs up for another stretch – but it's also worth looking at the potential bad news. While it would take an eternity to go through every minor issue that's cropped up across the millions of tests, a handful are perennial fixtures on the ''failure'' list. That's why we've pulled together some of the main offenders – so that you can catch and fix the problems before the day arrives.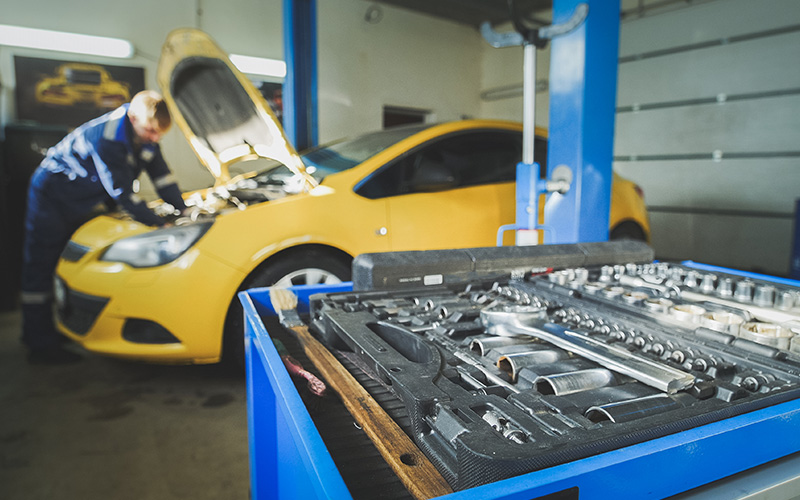 How your tyres can fail the NCT
Mismatched shapes and sizes, worn treads, and visible damage; the reasons your may fail the NCT because of the tyres are plentiful. Ensure you've got matching pairs on each axle (front and back), that there are no noticeable bulges, scratches, or cuts on the surface, and that you've inflated them to the recommended pressure set out by your manufacturer.
Keep in mind that in colder months, as the temperature drops, so does your tyre pressure so there is a chance they have less pressure than you think when it's cold.
How to check your tyres thread depth 
As for checking the treads, it'll only take €1 – literally! Take a €1 coin and insert it into a groove; if you can see the outer gold ring, it's too worn. Make sure you do that test liberally, at different points along each groove, on each tyre, as it only takes one worn patch to trip you up.
Alternatively, there is something on your tyres call the Tread Wear Indicator, (some tyres have the words TWI stamped on them to help you find it), which is a ribbed bar running across the tyre. If the tyre treads are level with the ribbed bar your tyre does need replacing.
Remember while the legal minimum tread depth in Ireland is 1.6mm, this is not recommended especially for adverse weather conditions. At Aviva we would recommend between 8mm and 4mm for maximum safety.
Common car light failures
Let's start with the basics – are all the lights there and fully functional with no cracks or damage and are all the lights working? It sounds elementary, but NCT failures as a result of issues with headlamps and brake lights are far more common than you'd think.
The alignment of your headlights is another area of attention; essentially, that they're matched up evenly and aimed at the right height. One of the main problems with headlights often occurs when you replace a bulb so it's best to get the alignment checked to ensure it is positioned correctly. As with any of the points on this list – go to a mechanic, who'll have it sorted in no time.
Don't forget to check your brake lights
Before your test check that all your brake lights are working.  A handy way to check them is to reverse up to a reflective surface, (most petrol stations have mirrors at the service area), press the brakes and look in your rear-view mirror.
Car suspension failures
An imbalance of 30% or more between the suspension on the left and right side of your car will result in an automatic failure; so too will evidence of wear, leaking, cracking, corrosion, or other significant damage. Your suspension is critical to your car's handling and braking, so it's a real point of focus for the testers.
It's also, unfortunately, not something you can easily test or fix; you'll have to turn to a professional. It's certainly something you can look out for, though; quite often, issues will be accompanied by clunking or creaking as you drive.
Brake lines & pads issues
It goes without saying that any inkling that there might be an issue with your brakes is something that should be dealt with immediately – whether you're due an NCT or not. It's worth noting, though, that you might not notice problems that could see your car fail; the rubber hose carrying brake fluid can crack and leak over time, while there's inevitable wear and tear on your brake pads that could see them fall below standard.
You will need to turn to the experts; and best practice is to have the brakes tested twice a year.
How low visibility can fail your cars NCT
Anything that impacts your ability to see the road is grounds for failure in the NCT – and that can include something as simple as damaged wiper blades. Anything that may limit or hinder your view is under the microscope, so survey from the driver's seat to see if anything is within your eyeline; damage to your windscreen is an obvious example, as is the condition of your wing mirrors.
For a forensic overview of what you should be on top of, the NCT website has thorough checklists to help you on your way.
Once your car has passed the test, make sure you protect it with Aviva car insurance. Get 15% off when you buy online. Get your quote today.1
We encourage our customers, where possible, to make use of our online options to access any help you need. If you have a query, you can reach us via our contact forms. MyAviva is an online self-service portal available to all our home and car insurance customers.
For car insurance, it takes Aviva.