If you're anything like us, you probably find yourself looking longingly at your car, daydreaming about daydreaming about taking your next big road trip again! However, driving your car for shorter distances doesn't mean you have to take less pride in it. It's actually the perfect time to keep yourself busy and get your car sparkling inside and out by cleaning your car at home.
We've got some tips and tricks on how to wash a car that will leave it sparkling. What's more, you won't need to go further than your own home for the required products.
Sanitise surfaces
Now more than ever we need to get into the habit of cleaning down the surfaces in our car with a small amount of car-specific cleaner. Don't forget the smaller surfaces too, like the gearstick, handbrake, steering wheel, buttons, indicator and windshield wiper sticks, seatbelts, and door handles.
Wax over polish
Aviva's Motor Underwriting Manager, Michael Bannon, recommends wax over polish to make your car shine. Polish helps get rid of surface scratches, swirls, dirt, and other small imperfections by removing a very fine layer of the paint work, so the appearance of scratches is lessened. Unless you know what you're doing, polish could do more harm than good.
Car wax on the other hand, will protect and enhance your car's paint job and is a good idea for a beginner. The best time to wax your car is after cleaning with soapy water to make it really shine. Wax smooths out the painted surface by filling swirls and scratches with a protective coating. It also protects your car from all sorts of contaminants and from UV ray damage caused by the sun.
If you don't have any car wax at home at the moment, a bit of hair conditioner and warm water will do the trick! Wash over and rinse off until dry with a clean cloth and watch your car shine.
Crystal clear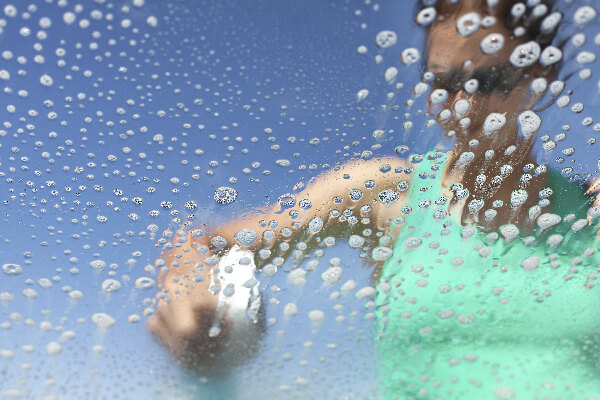 If you want the most effective way to clean your car windows, use a sponge (with distilled water if possible) and a microfibre cloth. A microfibre cloth is brilliant to get those pretty, streak free windows, but if you don't have one at home try good quality kitchen paper towels for similar results.
Don't forget the wiper blades! Simply use some window cleaner or glass cleaner to break up the dirt on the wipers and wipe them dry..
Wheely easy
Once you've hosed down and cleaned your wheels (a pressure washer can be a great tool to do this quickly and easily), dry them with a microfibre cloth or terry cloth. Make sure not to use the same towel or cloth on your car's body/windows after drying your wheels, as this could lead to scratching your car's body paint.
Once they're looking good, protect them with proper products that help keep them looking like new. They'll need a high-quality wax or glaze. Keep in mind this is not the same as car body wax. Wheel-specific wax will keep the surface shining as well as protect against future corrosion.
A good quality product will provide your wheels with a UV blocker that prevents cracking as well as repelling dust and staining. Leave the wax on for 20 minutes and then wipe off any excess from the surface so it's dry.
Don't have wheel wax at home? Just give your wheels a good clean with baking soda and a small bit of water, to make a paste. Scrub your wheels with this and rinse down with warm water. This will keep your wheels spotless until you can get your hands on some wheel wax.

Get crafty
Cars are full of areas that feel next to impossible to clean. Air vents, buttons, cup holders, and carpeted mats are some of these pesky places that tend to collect dirt.
To sort this problem out, use a large crafts/paint brush or cotton tips to get into those hard to reach places. Do this before you do any hoovering. Brush out all the dirt and hoover it up off the floor mats for a thorough interior clean.
A breath of fresh air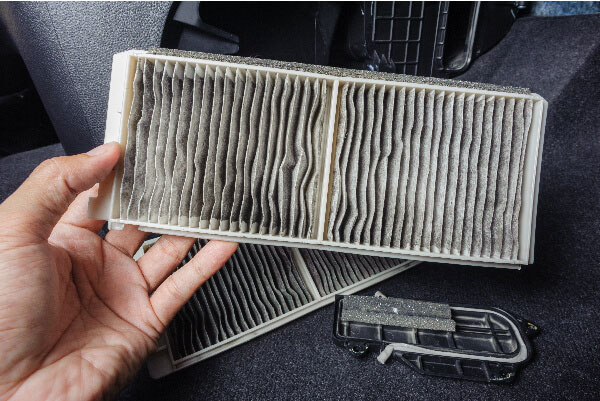 So, this step won't make your car sparkle exactly, but it will definitely add to the overall condition and feel of your car. It's important to change your cabin filter once a year.
Not only will this improve the air flow and quality of air in your car (this is especially important if anyone in your family has hay fever), but it will keep odours at bay too and contribute to a clean car interior. You can easily change the filter yourself, just check your manufacturer's manual if you aren't sure where it's located in your car.
A good test to check whether your cabin filter needs to be changed or not is to shine a flashlight behind it—if the light doesn't come through, you need a new filter.
Don't worry if you don't have any spare filters at home, we have two alternatives to keep you going until the Covid-19 outbreak is over. For now, give your air filter a quick brush down with a spare toothbrush, or hoover it gently.
Otherwise, cut a lemon in half and leave one piece in the front of your car and the other in the back, for 24 hours.

Now that your pride and joy is spotless, why not have a look at some car organisation hacks?
You keep your car looking its best, and we'll take care of giving it the best protection. Buy car insurance online, and get 15% off.1 Get your quote today.