The NCT is part and parcel of owning a car in Ireland. However, with an annual failure rate of around 50%1 it's also a source of significant stress for drivers – but it doesn't have to be. The good news is you can save yourself a lot of hassle by being ready for what's ahead. That's why we've compiled a comprehensive list of everything you need to know about the NCT; from booking dates to the necessary documents, you'll be ready for your next appointment.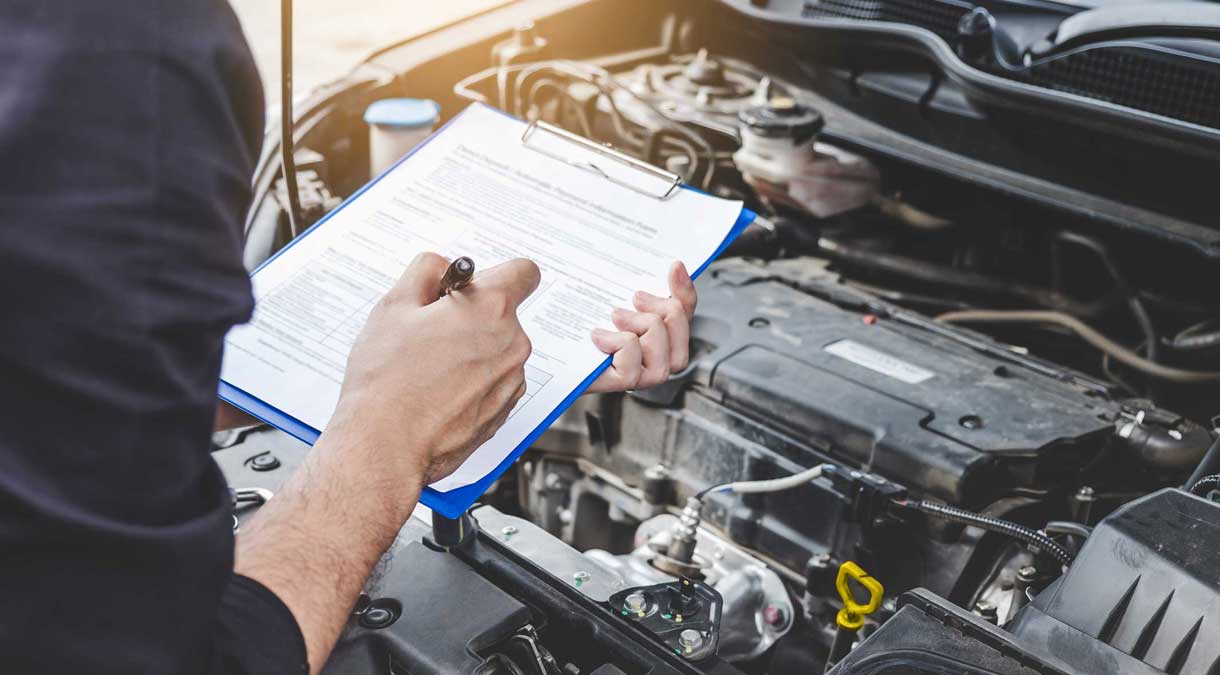 What is the NCT?
The National Car Test is a compulsory standardised test to ensure that cars on the road are in satisfactory condition. As well as helping to keep our roads safe, it also safeguards against everything from excess emissions to noise pollution. It's an offence in Ireland to drive your car without displaying a valid NCT disk.
How do I know when my NCT test is due?
If you're not sure when your car's next NCT is due, then don't worry; simply visit the NCT website, input your registration number, and it will tell you when you need to have your next NCT.
How do I book my NCT test?
There are three ways to book your NCT test; by phoning 014135992, emailing bookings@ncts.ie, or via www.ncts.ie/booking . It's worth noting that to book your NCT you'll need a credit/debit card.
How often should my car be tested?
Even if you believe age is just a number, it matters when it comes to the NCT. Cars up to three years old don't need to be tested, but any car between four and nine years old will need to be tested every two years. If it's more than ten years old, it'll need to be tested annually. If you're keeping it really old-school, there's good news; a car aged between 30-39 means a test every two years, while personal cars aged 40 and over are considered vintage and so are exempt from testing.
How do I prepare my car for the NCT?
Needless to say, your job will be a lot easier if you take regular care of your car. Our video series with motoring expert Bob Flavin is packed with top tips on how to maintain your car.
If your car needs some last-minute fixes, garages and mechanics offer pre-NCT servicing to make sure everything is in good shape; it's recommended that you have your lights set and checked, and that the engine is in a fit state to be tested.
There's plenty of simple things you can do yourself to make sure your test can be carried out. These include making sure the boot is empty and the car is clear of your belongings, the car is reasonably clean, and that the seat belts and clips are fully visible. You'll find more suggestions on the NCT website. We've compiled a list of the most common reasons for NCT failure so that you can fix any problems before the arise. 
What documents do I need to bring?
The last thing you want to do is arrive at the test centre with your car in perfect shape – and realise you've forgotten your paperwork. It's essential to bring three things with you:
Your vehicle registration book, registration certificate, or licensing certificate.
Your identification in the form of Driving Licence or Public Services Card.
Your test fee, including any applicable cancellation fee; it's payable by cash or card.
What will happen during the test?
Even if you're watching through a window, it can be hard to tell exactly what's happening during the NCT. In essence, it can be broken down into three stages:
Once you arrive at the test centre, you'll be required to present your registration details and hand over the keys to the technicians. They'll inspect the emissions from the exhaust, engine oil levels, engine coolant, windscreen wash, brake fluid, power steering fluid, the tyre pressure, and the beam setting on your car lights.
Your car will then be put on vibrating plates, and later on rollers fitted in the ground. During this section the technicians will run a sideslip and suspension test, examine the brake rollers and check the parking brake performance. This is followed by testing the steering wheel, rear-view mirror, door operation, safety belts, and the fuel filler cap.
The final stage will see the technicians raise the car to check that the steering linkage suspension system, brake lines and hoses, brake components, fuel lines, exhaust system, and body work are all in good working order. After lowering the car, they'll have a look at the clutch, brake, and acceleration pedal, steering joints, tyres, wheel nuts and bearings, as well as the front and back wheel suspension components.

At that point, the car is lowered fully, and the inspector will register their findings – and hopefully give you the good news!
What happens if I need a re-test?
It's far from uncommon that a car will need a re-test, so don't panic. There are three possible outcomes on your NCT Vehicle Inspection Report that will lead to a re-inspection; a minor, major, or dangerous result. Let's have a look at what you need to do for each of these results before your re-test:
Minor result
The good news is that your car has passed the test; the bad news is that some small faults have been spotted. Once you get those issues fixed, present your car to the test centre again, and if everything is in order your NCT Certificate will be issued.
Major result
A major result means that, unfortunately, your car has failed the test. You will need to have the faults repaired and return to the centre for re-inspection.
Dangerous result
If your car has received a dangerous result it is considered a direct and immediate risk to road safety. It's illegal to drive on the road, under any circumstance, and you may incur penalty points and a court appearance if you do so. You can present your car for re-inspection if the issues are resolved.
It's important to note that if you need a re-test, it must be booked within 21 days, and carried out within 30 days, of the initial test. Otherwise, a full test will need to be carried out and you'll be charged accordingly.
What happens if I have to cancel?
When life gets in the way, you might need to cancel your NCT appointment. If this happens, you must cancel with notice of at least five working days to avoid a surcharge. Once you've cancelled the appointment, you'll have to rebook your test by contacting the NCT centre in writing – either by email or post.
NCT Disclaimer
At the test centre you may be asked to sign a disclaimer that confirms that your cars engine is in a fit state to be tested (e.g. the cam belt / timing belt).  The main role of a cam belt or timing belt is to control the timing of your vehicle's engine. It controls the timing and sequence of when the valves to the cylinders open and close.  It is very important that you check your cars manufactures guidelines about the recommended intervals for changing the timing belt/chain and or consult your garage when getting the car serviced.  It is important that it is replaced within the timeframe specified by the vehicle manufacturer to prevent damage to your engine. Typically they will need to be changed between every 60,000km and 90,000km depending on the car but it is best to consult with your garage so they can do a visual inspection of the belt to understand if it needs to be changed.
How you might be able to notice if there is an issue with the timing belt/chain;
When the timing belt starts to wear out, it may create a ticking or a rubbing sound inside the engine. You should always check out any unusual noises from the engine straight away as this might be a sign that the timing belt needs to be replaced.  We always advise that if you hear unusual noise from the engine or any other part of the car that you should switch the engine off and call a mechanic to check;
If the car won't start
If the engine misfires
At Aviva, we believe that 2021 is the year where good things should happen - get 15% off car insurance when you buy online. Get your quote today.2
We encourage our customers, where possible, to make use of our online options to access any help you need. If you have a query you can reach us via our contact forms. MyAviva is an online self-service portal available to all our home and car insurance customers.