Every driver knows to stay within the speed limit – but doing so requires knowing what the speed limit is. With five different types of speed limit in effect across Ireland, even a short journey could mean dealing with several different rules, so it's important to have your wits about you when getting behind the wheel.
While your sat-nav or maps app might lend a hand, road signage is the best way of knowing you're within speed limits, as well as knowing when and where the different limits take effect. With that in mind, we've laid out a guide to help you remember the speed limits on Irish roads. Speed limits are the maximum you can drive when it's safe to do so and remember to drive responsibly.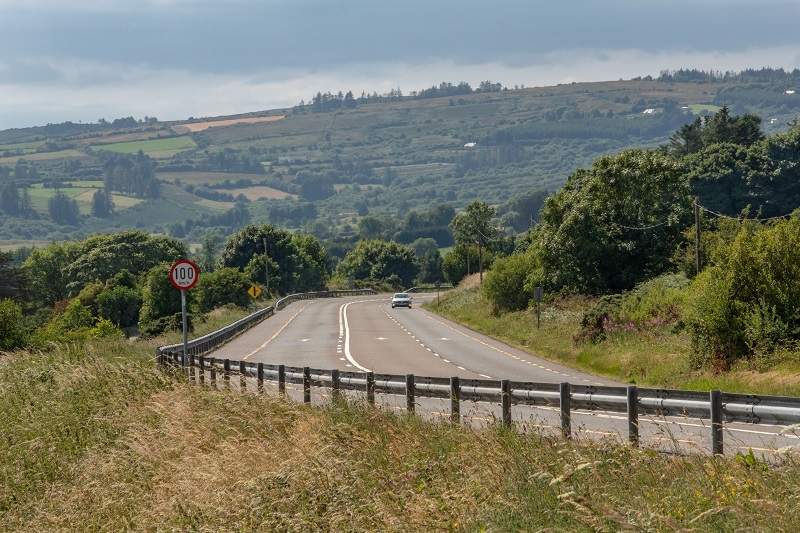 Before we jump into the types of speed limits in Ireland do remember speed limits are exactly what they say they are maximum limits, not targets. Your speed should be adjusted depending on:
Weather conditions
Visibility
Traffic
Type of vehicle you are driving
Driving experience
Changing condition of the road
Types of speed limits in Ireland
There are five broad categories of speed limit in Ireland:
Town and city speed limits apply in built-up areas where there is not a motorway or a special speed limit. The town and city speed limit is 50 km/h.
National speed limits in Ireland are in place on all national roads, including dual carriageways, and limit maximum speed to 100 km/h.
Regional and local speed limits affect all regional and local roads – what some might refer to as non-national roads. This means a limit of 80 km/h.
Motorway speed limits in Ireland can reach 120 km/h.
Special speed limits are especially important to look out for; they're applied to designated roads and zones; outside schools, for example, or in specific built-up areas. Generally, special speed limits will be set at 30 km/h or 60 km/h; it's important you pay special attention when these limits are in place.
On top of these, a variable speed limit is currently being introduced to the M50.1 Digital signs over the roadway will allow operators to change the speed limits in the event of accidents on the road or adverse weather conditions, allowing for better and safer traffic management. The phased rollout has already begun from Junction 4 Ballymun to Junction 6 Castleknock, and the system will be in effect along the whole M50 by early 2023.
It's another reminder that, no matter how well you think you know the rules of the road, keeping an eye out for signage is the very best way to ensure that you stay within the legal speed limit on any Irish road.
Different speed limits
For vehicles that are adapted or intended for the carriage of people, greater than a certain weight or drawing a trailer different speed limits apply.2
Buses and coaches single and double deck (carrying standing passengers) - 65 km/h
Buses and coaches single and double deck (with accommodation for more than 8 passengers but does not carry standing passengers) - Motorways and dual carriageways 100 km/h, other roads - 80 km/h
Towing Vehicles - 80 km/h
Trucks (with a design gross weight of more than 3,500kg) - Motorways - 90 km/h, Other roads - 80 km/h
Speeding fines and penalties
If you're caught speeding on Irish roads, here is some information you need to know about speeding fines in Ireland. You'll be hit with a fixed charge fine of €80, as well as an automatic addition of three penalty points to your licence. There's 28 days to pay the fine from the date of issue; failure to do so will see the fine rise to €120 and leave you open to incurring as many as five penalty points, so it's in your interest to handle the issue promptly. If you weren't behind the wheel at the time, there's a section on the notice that you'll need to fill out explaining as much – again, within 28 days. Everything you need to know about penalty points.
Now that you've refreshed your memory on the speed limits that apply on Irish roads, you're already on the way to safer driving. Why not save 15% on your car insurance by getting a quote with Aviva.3
We encourage our customers, where possible, to make use of our online options to access any help you need. If you have a query you can reach us via our contact forms. MyAviva is an online self-service portal available to all our home and car insurance customers.