There's nothing quite like the freedom of hitting the open road. However, the last thing you want is your dashboard warning lights flashing as your car tries to tell you something is up! Even if you've been driving for years there's no harm in giving yourself a little refresher course on exactly what's going on under the bonnet of your car.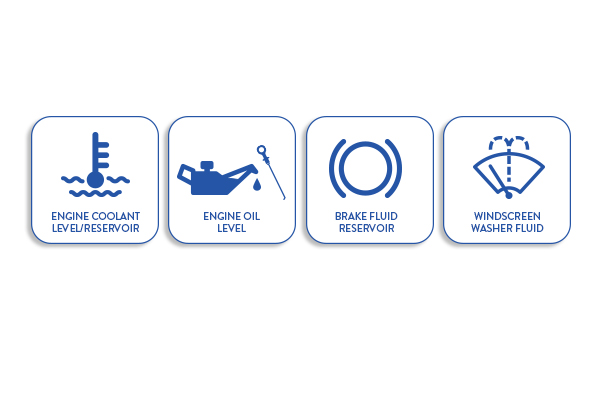 If you're preparing to take the driving test, it's equally as important! The driving test now includes a 'show me or tell me' section where the examiner will question the you on what's under the bonnet and ask some other technical questions.
Take a look as we break down what you need to know:
Please note: Check your car manual or ask your mechanic to show you where the following items are located under the bonnet of your car as each car model can differ.
The main aspects you'll need to check under the bonnet include the engine coolant reservoir, the engine oil level, the brake fluid reservoir and the windscreen washer fluid level.
Engine coolant level/reservoir
Point to the coolant reservoir and tell your examiner you would check the levels are between the maximum and minimum marks on the tank, or if there's only one mark, then up to that mark. 
Top tip: Mention you would always make sure the engine has cooled down first if performing a check, to avoid getting burned. You would then carefully unscrew the tank lid to allow any pressure to escape slowly.
Engine oil level
Indicate the dipstick and oil cap. To check the levels, you will pull out the dipstick and dry it off, then put it back in for a moment and pull out to check where the oil mark sits between the minimum and maximum marks. 
Top tip: Explain that engine oil levels need to be checked every month and will be refilled via the filler cap. Be sure to mention you would have the car parked on a level surface to give an accurate reading.
Brake fluid level
Point to the brake fluid reservoir and tell your examiner you would check the level is between the minimum and maximum level. It is vital to keep an eye on hygiene in the brake fluid reservoir, so no dirt enters and affects brake performance.
Top tip: Brake fluid is toxic, so when filling this you must be careful to avoid any contact with your skin, and also the paintwork on your car.
Windscreen washer fluid
The windscreen reservoir does not have any minimum and maximum external marking, so you will need to remove the cap and have a visual check of the level.
Top tip: This will need to be checked regularly, especially before embarking on a long journey.
Tyre check
Your tyres should not have any cuts or bulges and it's recommended they should each have a minimum tread depth of between 3-6mm. Tell your examiner that the recommended tyre pressure can be found in your manufacturer's guide and a certified pressure gauge should be used at all times. Be sure to check out our article on everything else you need to know about tyre safety.
With Aviva car insurance, breakdown rescue cover comes as standard in your policy so we've got your back 24/7 should it happen to you. Plus, we offer a 15% discount simply for buying online. Get a quote today.1
We encourage our customers, where possible, to make use of our online options to access any help you need. If you have a query you can reach us via our contact forms. MyAviva is an online self-service portal available to all our home and car insurance customers.