Sadly, the days are now getting colder and the nights longer but there's nothing we love more than coming back to a cosy home in the evening. Whether you've finished up work for the day and want to chill or spending time with family, it's always nice to keep your home feeling comfy and snug. To help you bring a sense of warmth to your home, without adding to your energy bills, we've put together our top five favourite ways to keep your home feeling cosy this winter.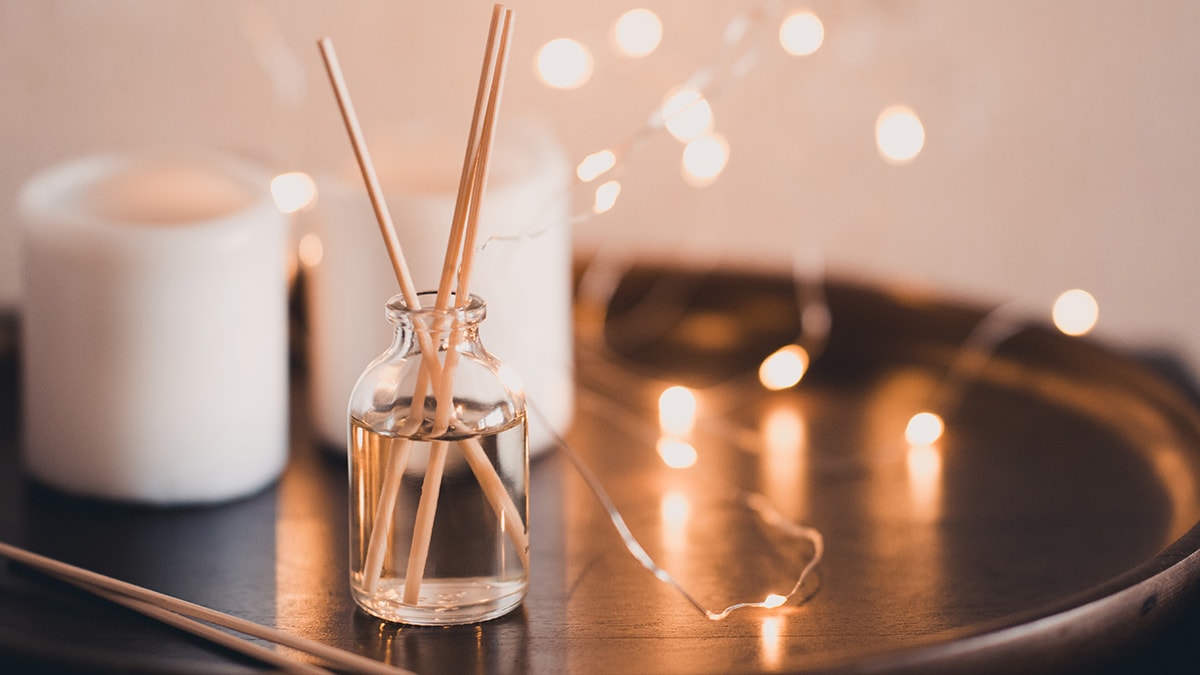 Infuse your home with warm fragrances
Our sense of smell is closely linked with memory and can be highly emotive.1 Whether it's freshly cut grass, old books or a home cooked meal, smell can transport us back to a certain time or place. This season using rich, warming scents like bergamot, amber, orange and sandalwood can instantly make your home feel cosy.
Cosy up with soft furnishings
Can you ever really have too many fluffy blankets? Oversized cushions, soft knits and faux-fur throws can make any room feel cosy, and nothing beats wrapping yourself up on the couch as the evenings get colder. You don't even have to break the bank, simply changing the covers of your existing cushions can completely change the dynamic of a room, giving it more warmth and texture. Breaking out your blanket stash will also help you save you on the heating bill.
Boost your insulation, not your thermostat
While we're quick to turn up the heating once the colder months set in, we often forget just how easy it is for that heat to escape! To save money on your next heating bill and conserve heat in your home, check common areas for heat loss such as windows, chimneys, doors and walls.  Around 30% of heat is lost through the roof and 25% through windows and doors, so consider insulating these and using draught-proofing strips.2 Insulating your home can be pricey, but it'll save you a lot of money in the long run. There are also government grants available from the Sustainable Energy Authority of Ireland (SEAI) to help make your home more energy efficient. Check out our full guide to SEAI grants for the home.
Create that cosy glow
A key factor when creating a sense of cosiness in any home is the right lighting. Aim to incorporate three types of lighting in each room; overhead lighting, task lighting (like a reading lamp) and accent or table lighting.

Switching to LED lighting can also open up a whole range of colour temperatures and can save money on your electricity bills, you can read up on all our energy saving tips. For a cosy feel, steer clear of too much cool light, which is best kept for work spaces and instead opt for warm light which gives off a relaxing glow.
Turn down the dial
Turning down the dial in the depths of cold weather may sound like madness, but the SEAI state that turning down your thermostat by just 1 degree can help you cut heating costs by up to 10%!3

You can go one step further and put your heating on a timer, so it comes on before you wake up and before you come home at night. This will use less energy and reduce your heating costs compared to keeping the heat on low throughout the day and night.
Whether you're having some quality alone time or entertaining guests, use these tips to make your home welcoming on these cold evenings. We've even got some tips on how to quickly freshen up your home for those unexpected guests.
Want to save on your home insurance? Buy online and get 15% off. Get your quote today.4