A lot of us are now working from home because of COVID-19. Whether you already had a home office, or you've improvised and created one in your spare room, kitchen or bedroom, working from home is the new norm for many of us.
Anyone who works at a desk all day knows that dreaded knotted shoulder ache, or lower back pain that often creeps in by lunch time!
We've got some simple stretches to try while working at home, to help alleviate aches or pains.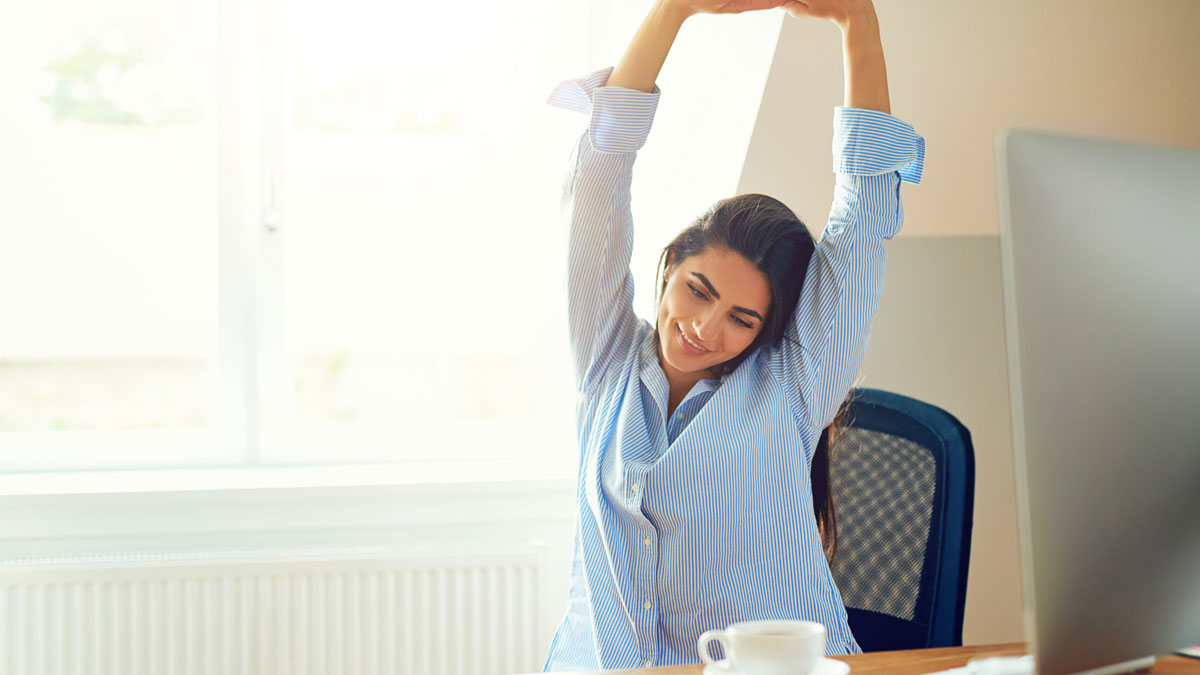 Overhead reach:
Sit up straight and extend one arm up above your head. 
Reach over your head to the opposite side, crunching your opposite side to achieve this
Hold this for 10 to 20 seconds 
Repeat on the other side
Shoulder stretch:
Hold one arm across your chest 
Pull the elbow of the arm across your chest towards you
You should feel a good stretch in your shoulder 
Repeat the same move with the opposite arm
Neck rotations:
Place your chin down towards your chest
Slowly roll your head from side to side in this downwards fashion
You should feel a stretch on either side of your neck. Repeat 3 times 
Hamstring stretch:
While still seated, extend one leg outward
Reach toward your toes 
Hold this position for 10 to 20 seconds
Repeat on the other side
Check your desk posture:
The top of your computer or laptop screen should be somewhat level with your eyes
Both feet should be fully on the floor
Your hips should be above your knees
Sit back fully in your seat so your back is achieving maximum support 
Keep your shoulders relaxed, many of us tend to sit with our shoulders hunched when in concentration
Ensure your chair is close to your desk so you aren't leaning forward
Apart from needing our homes to double up as office space at the moment, many of us also need our homes to substitute gyms, yoga centres, libraries, classrooms and playgrounds! These home goals for 2020 incorporate tips to make your home a one-stop shop for all the things we can't go outdoors for at the moment.
While you're taking care of your family's every need at home, we'll take care of your home with reliable home insurance. Buy online and get 15% off1. Get your quote today.