We all want nothing more than to make sure our kids are happy and healthy in life. The Covid-19 outbreak has been a worrisome and confusing time for us all, and it's important that we consider how this could be magnified for our children. They feel unsure about when they'll be back at school and if it'll be different when they do go back, amongst lots of other things.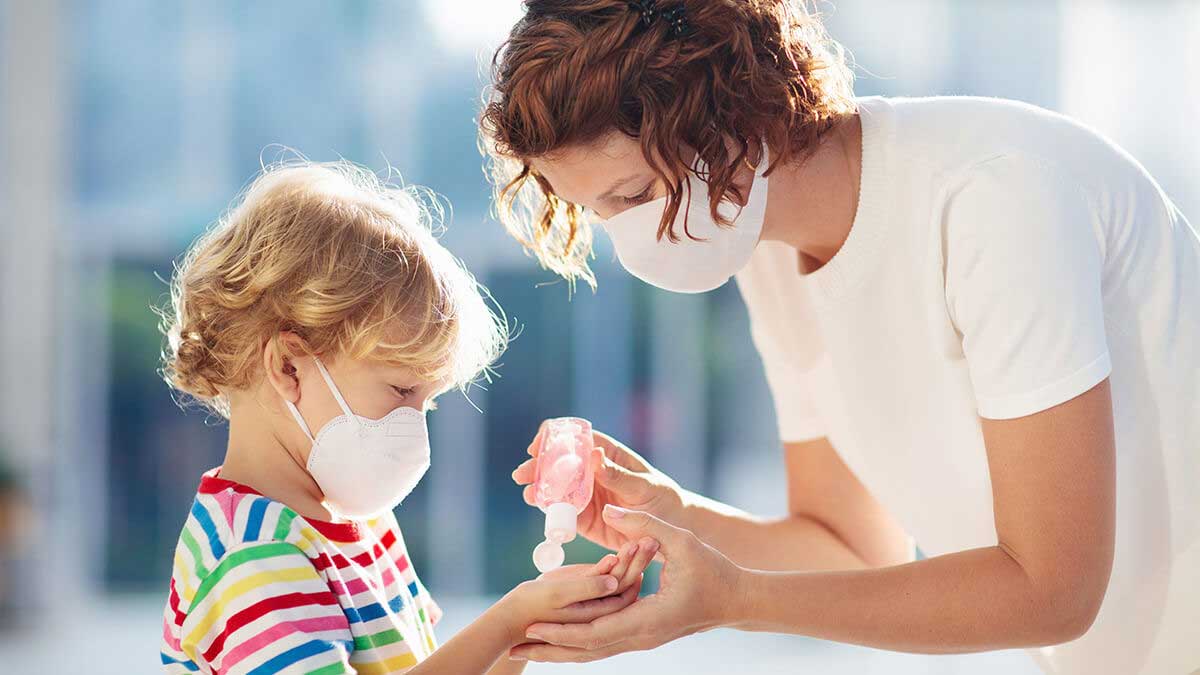 We spoke to the experts at Ireland's leading, most successful youth organisation, Foróige, as well as everymum to learn about how the Covid-19 pandemic is affecting our young people, and what us parents can do to help them through this experience.
Concerns young people have
Foróige is currently working with 50,000 youths between the ages of 10 and 18. Foróige hosted a digital focus group with youths from all over the country to find out what aspects of isolation and lockdown they're struggling with most.
Kids often don't want to voice their concerns to their parents for numerous reasons—they don't want to worry us, they might feel we have bigger things to fret about, or they could just feel a bit embarrassed or uncomfortable discussing their concerns. So, it's important that parents open the conversation and ask questions about how our kids are feeling with everything going on.
Foróige discovered the biggest concerns youths have are around education, access to technology, missing their friends, their mental health, and worrying about their family staying safe—so these are good areas to start with.
Mental health
Foróige found that young people in Ireland struggled with anxiety and worry more when they're not as active as usual, and a lack of clarity only increases these feelings.
What you can do to help: Firstly, be sure your child gets some exercise and time outdoors every day. Children are used to routines and structures from school, so it's a good idea to create an exercise routine for the family. This could be an evening walk or following a yoga or exercise class online. Joe Wicks, known as 'the body coach', teaches PE lessons every weekday on his YouTube channel. These are hugely popular and incorporate lots of fun ways to get younger kids up and about.
We've got five fun boredom busters that can get the whole family involved…guaranteed entertainment for a couple of hours!
When it comes to communicating about Covid-19 and the knock-on effects to everyday life, it's important to let your child know that they can come to you at any time, to ask about anything. Reassure them that there are plans in place, and that Ireland is doing well in the fight against the virus. If you have a teenager, remind them to only believe what they see on the reputable news channels, and to ignore news stories they see or hear on social media.
Education
Kids and teens find it more difficult to learn at home, without the help of their teachers and friends. They also fret about the effect being out of school for this long will have on their future and career.
What you can do to help: Take guidance from your child's teachers in terms of schoolwork. Remember that you aren't expected to educate your child as well as their teacher would, nor are children expected to learn or study as efficiently as they would in the classroom. Reach out to your child's teachers if you think they need more support with their schoolwork.
If your children are struggling to concentrate, break up their school time into the 45-15 method; 45 minutes of concentration followed by 15 minutes of break. Breaking down your child's schedule like this helps them to really apply themselves for those 45 minutes and clear their heads to re-set during the break. Kids are used to their school routine, so this routine at home could really help with concentration levels.
The Educational Company of Ireland (Edco) have made all their online education resources and books free of charge for all parents and students in primary and secondary school to access.
Remind your child that every kid and teen in the country is in the same boat as them. Nobody will be left behind in this situation, and their future college and career options will not be damaged because of it.
Access to technology
Not every child has a smartphone, laptop or unlimited access to the family computer. This is especially true for those sharing with other family members who are now working from home.
What you can do to help: If there is just one laptop or computer in your home and you need it to work from home, try to create a daily schedule where everyone gets some time to use it. You could try starting work an hour earlier in the morning and allocating an hour or two for the kids in the evening. You can only do the best with what you have, and what's possible for your family.
Missing their friends
It's a huge adjustment for kids and teens to not be able to see their friends in the same ways as before, especially school friends that they're used to seeing nearly every day. And it's very tiring for you to try and entertain your kids to attempt to fill the void.
What you can do to help: Get in contact with other parents and organise Skype or Zoom calls throughout the week so the kids can catch up and play games. A fun game is virtual Pictionary—take turns drawing an object or person and showing it on camera while the others try to guess what it is. Another option is online charades using the timer on your phone.
If you have a printer at home, Treasure.run is a great website that creates virtual treasure hunt clues for your kids to follow around your home. You can even choose the theme of the treasure hunt from fairies, to dinosaurs to pirates. You can select level of difficulty based on your kid's age too.
A fun game that requires no apps or websites is the guessing game—write various animals, people, places or things on pieces of paper and put them into a bowl. Each kid picks one from their bowl and the other kid has 10 guesses to figure out what they pulled out of the hat.
Health and safety of family
Naturally, children are worried about the health and safety of their family.
What you can do to help: everymum advise that we reassure our kids that following the government's guidelines is the best thing we can all do to keep ourselves and our family safe. Remind them that top scientists and medical staff all over the world are working full-time to find a vaccine, and once we stick to the government's advice, we're doing our very best for our families.
Helpful support
If you have an Aviva home or car policy, you have access to our legal expenses cover. This is a standard benefit of your policy giving you access to a legal advice service, health & medical information service and counselling. Contact us directly if you need more information.
There are lots of other great supports available for your children all year round, which might be especially helpful at the moment. Foróige has some fun resources for young people to feel more connected, including Zoom tutorials, reading lists, music playlists and mindfulness colouring printables. The HSE also has a list of supports and services to avail of during the pandemic.
It's important now, more than ever, to make our homes a safe space. Increase your peace of mind with Aviva home insurance. Buy online and get a 15% discount. Get a quote today.1
We encourage our customers, where possible, to make use of our online options to access any help you need. If you have a query you can reach us via our contact forms here.
MyAviva is an online self-service portal available to all our home and car insurance customers.