Ireland is known worldwide as a sociable nation. We love nothing more than sharing stories, chatting, and having 'the craic' with friends and family. It's safe to say the isolation and social distancing rules and regulations in place for the Covid-19 outbreak are far from in our nature!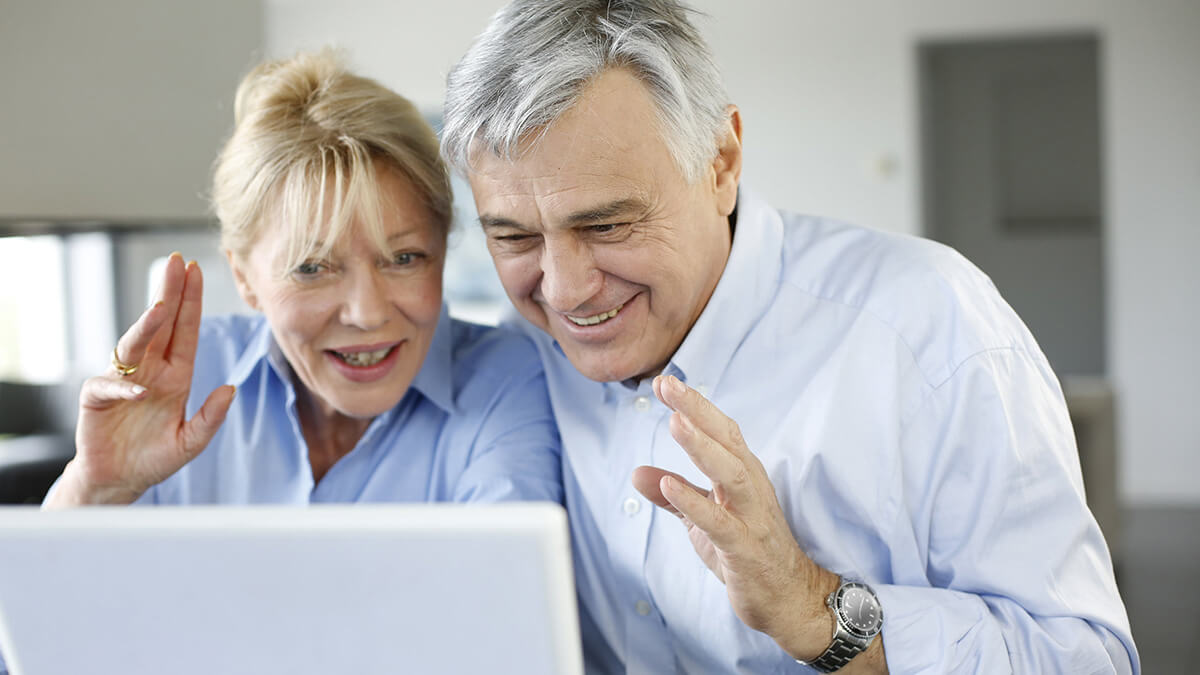 It's really difficult having to keep our distance from friends and family, especially our children and grandkids, but for everyone's safety - it has to be done. There's still plenty of ways to stay connected with loved ones during this time; here's our six tips.
Please note that all of our recommendations are in keeping with the Government's regulations and health advice during the Covid-19 outbreak at the time of publication.
Get familiar with the best apps
Technology is our saving grace during isolation and is the quickest way for us to stay in touch with friends and family. Some of the best apps you can use on your mobile, iPad, laptop or computer include:
If you have an Apple product like an iPhone, iPad or Mac, you'll have Facetime built-in already. Simply open the app and choose any of your contacts to video call. If you want to do a group call, just click the + in the top right-hand corner. You can add up to 32 people to your video call!
Zoom was first and foremost made for business conferencing calls and video chats, but since the Covid-19 outbreak, people have been using it at home to chat to friends and family. Zoom is free to use for 40 minutes, at which point you can pay a fee to have limitless calls, or simply end that video call and start another one.
Up to 100 people can join a video chat at any one time…you could have your whole housing estate involved if you wanted! Open the app on your mobile, desktop or iPad, create your account, and click on 'contacts'. Here you can add people by their email address. You can either 'join a meeting' or 'host a meeting' with anyone in your contacts. You can 'share screen' when on a video call so everyone can see your screen if you want to watch a video on YouTube together, or look at the same webpage for instance.
Skype is just as easy to use as Facetime and is also free. This is a great option if you don't have an Apple product to access Facetime. 50 people can join at any time, and Skype is very user-friendly. You can share photos and videos instantly with those you're chatting with too. Creating your account only takes a couple of minutes, and you can easily add contacts with their Skype account name, email address, or real name.
Create a social calendar
This won't be as exciting as a traditional social calendar but as they say, when life gives you lemons! Use a calendar to plan out your calls with your friends and family for the week or month ahead. If you haven't spoken to an old friend in a while, contact them and set a date for a video or voice call. Having calls set up for every other day will help you to structure your days and look forward to catching up with the people you can't meet in person.
Take your hobbies online
Social distancing doesn't mean you have to give up on your hobbies—it just means you need to be creative in how you do some of them. If you're a member of a book club, host your monthly meeting via video chat. If you're a bingo fan, get a group together to host an online bingo game.
Create new traditions
Not being able to see our friends and family has really reminded us all what a hugely important part they play in our lives, and how much we value the traditions we share with them. Take this time apart to create new traditions with those you love. You could set up a movie night—decide on a film to watch at the same time from each of your homes and then call each other afterward to discuss it.
For those with grandkids, you could try playing games on video chat such as guess the drawing or reading bedtime stories in the evening.
Write letters
If you want a break from all the screen time, get back to basics with letter writing. Writing down how you feel is a great stress reliever. If you'd like to make your letters more personal, consider adding newspaper cut outs you found interesting, pressed flowers from your garden or writing down your favourite recipes for your loved ones to try.
If you're cocooning and can't leave your home at all, you could ask a neighbour or family member to pick up your letter from your porch and deliver it for you.
Keeping a diary is a nice way of processing how you feel during the Covid-19 outbreak. Not to mention it would be interesting for your grandkids or future great-grandkids to read a first-hand account of life during a pandemic when they're inevitably learning about it in school!
Stay in touch and stay active
If you don't have to cocoon, getting out of the house and exercising within 2km of your home is a great way to stay fit and active. It's also a great opportunity to make it social by co-ordinating your exercise with your friends and family to stay connected. Organise to go for a walk at the same time as a loved one and call them. You can both describe the scenery around you or just have a relaxing catch up.
Whether you're using this time to get started on some DIY projects or decluttering your home, at Aviva we know how important your home is to you. That's why we offer 15% off home insurance when you buy online.1 Get your quote today.
We encourage our customers, where possible, to make use of our online options to access any help you need. Home insurance, car insurance and travel insurance can all be purchased online. MyAviva is an online self-service portal available to all our existing home and car insurance customers. If you have a query you can reach us via our contact forms here.