Christmas and New Years have passed us by for another year, and if your homes are anything like ours, some remnants of the festive season can still be seen. This is especially likely if you hosted family over the Christmas period – children and grandkids in particular know how to leave their stamp on a home! If you find your home has some merry food and drink stains, then we've got the advice you need.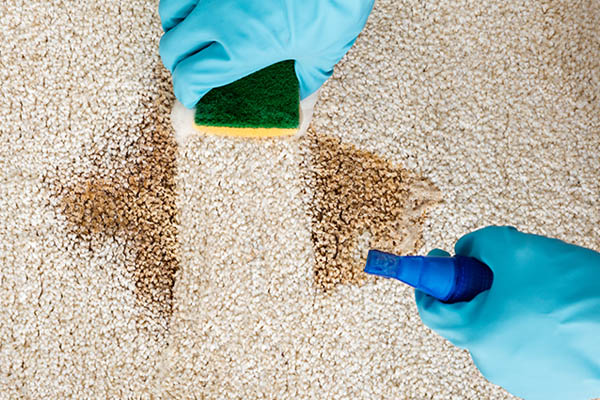 We've put together nine stain removal tips for your home. Our parenting experts at Everymum.ie have vast experience in stain removal for just about any stain you can think of left behind by mischievous little hands. Get those rubber gloves at the ready!
Note: Always test any of the below methods on an inconspicuous section of the material or area you are trying to clean. Different fabrics react in varying ways to cleaning products and you don't want to cause any unwanted damage.
Coffee and tea stains
If you find a tea or coffee stain on your carpet, mix a few drops of washing up liquid, one-part white wine vinegar and two-parts warm water. Sponge the stain. When the stain is gone, blot a couple of more times with cold water to help the carpet fibers keep shape.

Why not read up on our full list of living room cleaning hacks?
Red wine
Blot rather than rub, even older red wine stains can spread if you rub them. Use two-parts hydrogen peroxide (you can purchase this from most pharmacies) and one-part washing up liquid and warm water to dab on the stain.
Chocolate
Gently scrape off any hard chocolate with a butter knife or piece of card. Use cold water and a couple of drops of washing up liquid to dab on the stain. If the stain is still there, add some corn maize or polenta to the damp stain and leave for 10 minutes then wipe away with a dry cloth. 
Gravy
It wouldn't be a family dinner without some gravy getting spilled onto the tablecloth! If the stain doesn't come out in the wash, combine equal parts white wine vinegar and baking soda to make a paste and gently buff this into the stain before washing again.
Cranberry sauce
Add one-part washing up liquid to three-parts cold water and work into the stain. If the stain is stubborn, apply a couple of drops of hydrogen peroxide to a warm cloth. Let the cloth sit until the stain lifts then blot or rinse with water.
Food stains
Most food stains can be combated with white wine vinegar and some warm water. If some Christmas cake ends up stood on or sat on, treat the area with one-part vinegar and three-parts warm water. Be sure not to scrub, and blot instead.
Muddy footprints
Thanks to the wintry Irish weather, you might find some muddy footsteps dragged through your home over Christmas! Mix one-part washing up liquid and three-parts warm water. Use a clean white cloth to sponge the area. Repeat this until the stain disappears. Sponge with cold water and blot dry. If the stain persists you may need to purchase a heavy-duty carpet cleaning product.
Grease stains
Battling some seriously stubborn grease stains on your baking trays? Sprinkle some baking soda over it, and then add white wine vinegar over this. Let it sizzle away and then wash with warm water. 
Crayon or pencil on walls
As much as we're sure you appreciate any 'artwork' made by youngsters with their new Christmas presents, they might not work best on your lovely cream walls! To remove crayon or pencil from walls, make a solution of baking soda and warm water and wipe over. If the stains prove hard to shift, sprinkle dry baking soda on a damp cloth or sponge and scour gently.
Christmas tree sap
If you're a fan of real Christmas trees, there's a chance your carpet or wood floor won't be a fan of tree sap! Use a cloth and some hand sanitizer, and dab to make the sap less sticky, stiffer and easier to wash off. With a carpet, you might need to gently pull the hardened sap from the fibres.
Here are some more expert tips on all-natural cleaning solutions you can create at home.
Now that your home is spick and span and free from Christmas stains, make sure to get your home's protection in tip-top shape too. Learn about the benefits of Aviva home insurance. Get 15% off your home insurance when you buy online. Get your quote now.1