The festive season is finally here, which means it's time to transform our homes into winter wonderlands — more or less!
If you want to take a more sustainable approach to the art of Christmas decorating, then we've got you covered. We've put together some fuss-free festive activities, which make the most of household items, spare pieces of fabric, and recycled materials.
Christmas tealight holders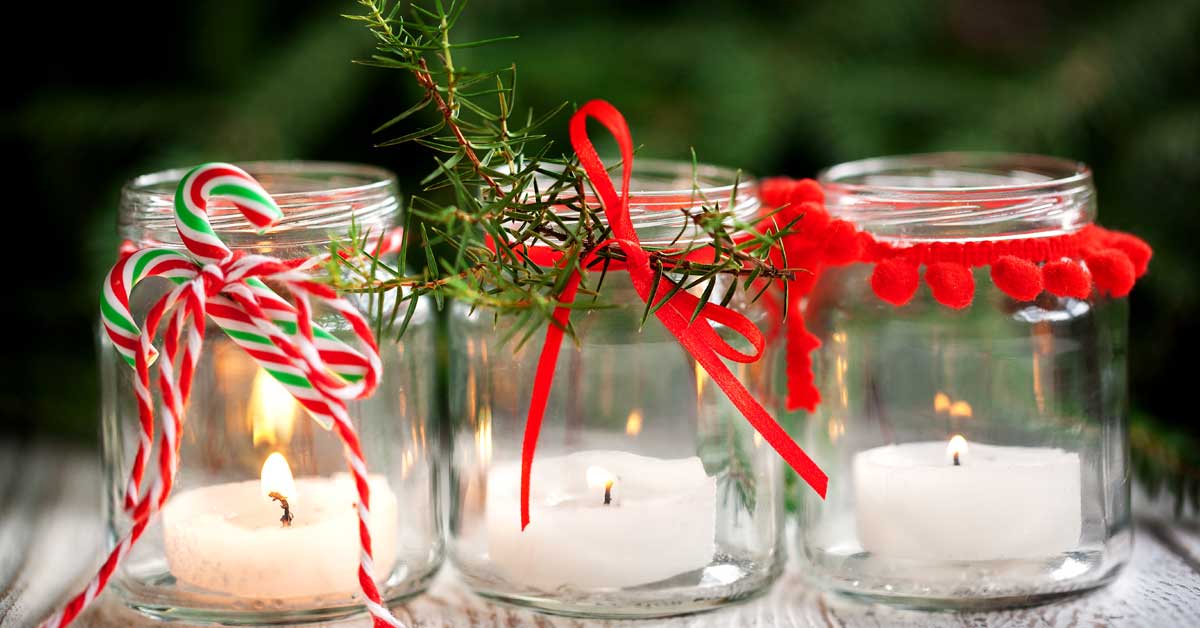 This simple craft is the perfect way to use up leftover jam jars — plus, it will save you a trip to the bottle bank!
What you'll need:
Glass jars
Christmas ribbons
Mini candy canes (optional)
Sprigs of holly (optional)
Tea lights
Method:
Keeping it quick and easy, all you need to do is wrap your Christmas ribbon around the outside rim of the glass jar, tying the two ends together into a bow.
For added pizzazz, you can slide mini candy canes or sprigs of holly into the bow.
To finish, pop in either a real or battery-powered tea light, for a fuss-free festive glow.
Pinecone Christmas elf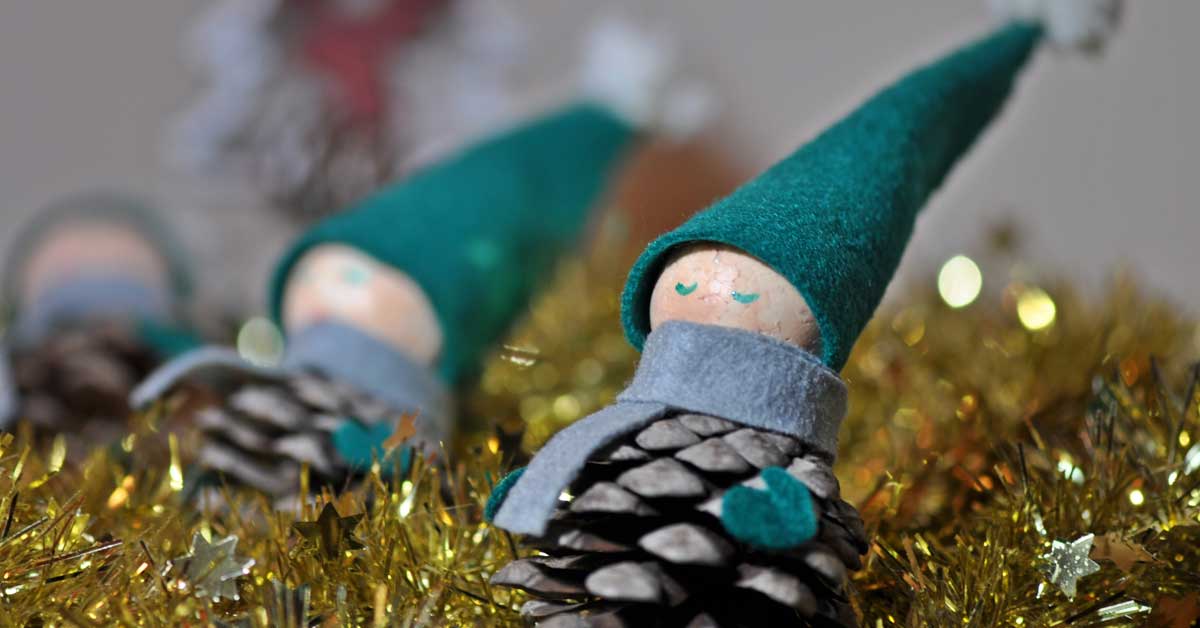 Move over Elf on the Shelf — Santa's got a new little helper in town! If you're going on a frosty family walk this festive season, don't forget to put the little ones to good use, by collecting an array of pinecones. They make the perfect base for this Christmas craft!
What you'll need:
Pinecones,
Small wooden balls or moth balls
Colourful pieces of fabric (old pillowcases, blankets or bits of fabric are perfect!)
Glue
Black marker
Method:
To start, simply glue small wooden balls or moth balls to the bottom of your pinecone.
Next, you'll make your elf's pointy hat by cutting a triangle shape out of the fabric. Join the two long sides together with some glue. Add a few dots of glue to the inside bottom rim of the hat and attach it to the elf's head.
Use another piece of fabric to cut out a thin strip, which will act as a scarf, along with two small heart shapes, which will act as the elf's gloves.
Wrap the scarf around the base of the pinecone, underneath the elf's head and attach with a dot of glue, before gluing the gloves to the middle sides of the pinecone.
Finish by drawing a sweet little face onto the elf's head.
Recycled bottle cap snowmen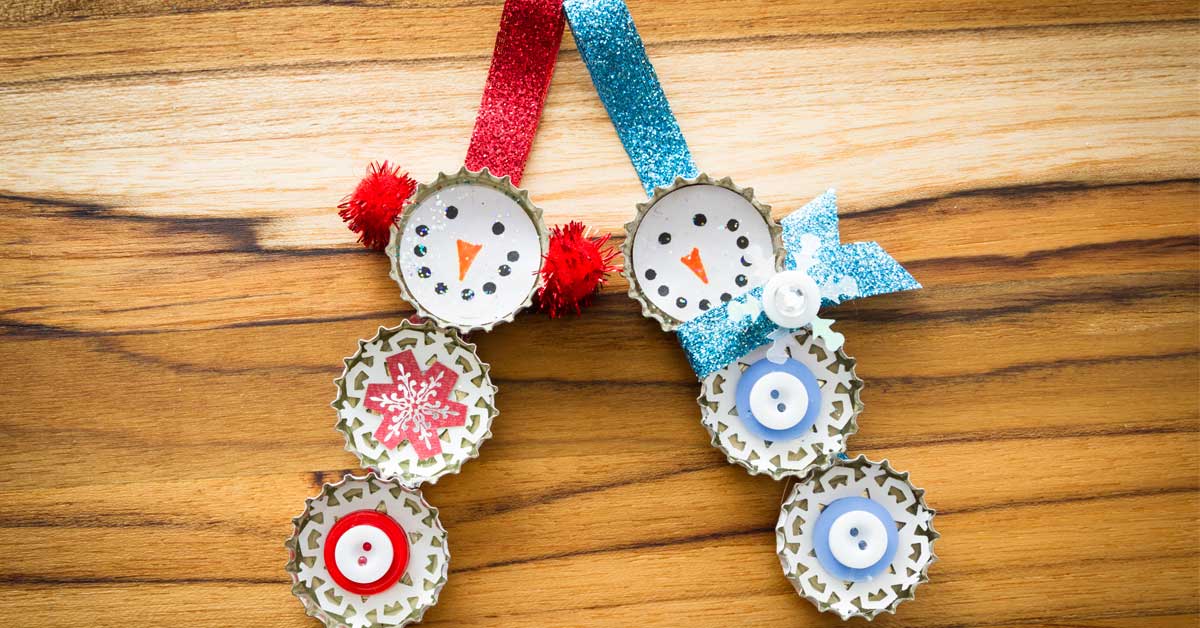 Make sure to hang onto used bottle caps for a fun, festive activity to enjoy with the whole family this Christmas.
What you'll need:
Three bottle caps per snowman
Glue
White paper
Buttons
Coloured pens
Ribbon, cut into 4-inch lengths
Method:
To start off, add a dot of superglue to the side of two bottle caps, joining the two with a third to form the body of your snowman.
Cut out three circles of white paper, roughly the same size as the inside of each bottle cap. For a more festive look, you could cut out a mini snowflake design. Glue the circles inside the bottle caps.
Next, glue two buttons to the bottom two bottle caps and draw the snowman's face inside the top bottle cap. Don't forget to add the carrot nose!
To finish, loop a ribbon at the top of the snowman, gluing the two ends to the back so that it can hang from your Christmas tree.
Wine cork reindeer
To help introduce a woodland theme into your home this Christmas, without splashing out on some brand-new decorations, why not try your hand at these adorable wine cork reindeers? A lovely activity to be enjoyed by adults and kids alike!
What you'll need:
Two wine corks per reindeer
Fine twigs
Cranberries
Black marker
Glue
Ribbon
Method:
To create these sweet forest friends, simply stick five fine twigs into one wine cork, to resemble the reindeer's body, legs and tail.
Next, attach your second cork using a twig that will act as the reindeer's neck. Then you'll add two more small twigs to the top of this wine cork for the reindeer's antlers.
Draw two eyes on the second wine cork, and glue a cranberry onto the end, to resemble Rudolf's nose.
To finish, tie your ribbon into a tiny bow and glue to the front of the reindeer's body.
Get set for the cold spell with our winter checklist for your home, so you can weather proof your property with ease. Gift yourself some peace of mind this Christmas, by making sure your home is protected. Buy home insurance online with us and get 15% off! Get your quote today.1