Fog reduces visibility and can make driving both difficult and dangerous. You should avoid driving in heavy fog if possible. But we understand that sometimes you need to drive, no matter the weather. And that's why it's important to know what precautions to take to make sure you can stay safe on the road at all times.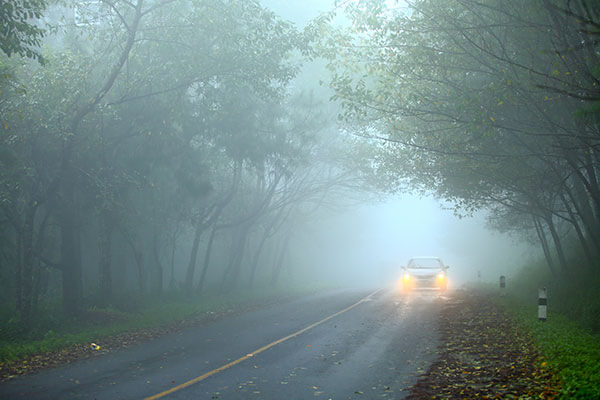 What should a driver do when driving in dense fog?
SWITCH ON YOUR LIGHTS

You should always switch on your fog lights when driving in foggy conditions. If your car doesn't have fog lights, keep your lights on low. Don't use your high beams. Fog is made up of tiny water droplets, so a brighter light can be reflected back at you, making it even more difficult to see.
REDUCE YOUR SPEED
It's always more difficult to see when driving in foggy conditions. But reducing your speed will give you more time to stop and react. If you need to pull over, do so carefully. Switch off your engine and use your handbrake rather than the brake pedal. Your brake light may confuse other drivers travelling behind you. They might think you're still on the road and could attempt to follow you.
INCREASE DISTANCE
Increase the distance you leave between your car and the car in front. This way you'll have more time to stop in case of an emergency. On a motorway, the stopping distance when travelling 120km/h is 78 metres on a dry road. This will increase to 145 metres if the surface is wet. 
FOCUS
You need to give your full attention to the road when driving in hazardous conditions. Turn the radio down, switch your mobile phone to silent and keep chatting to a minimum. If the fog is thick, roll down your window and pay attention to the sounds on the road.
BE PREPARED
You should also make sure your car is kitted out with an emergency kit, in case you get into difficulty. Here's a checklist of the items you should include to make sure you stay as safe as possible on the road.
Winter Driving Emergency toolkit
High-vis vests
Reflective warning triangles
Cones
Ice scraper
Small shovel
Jump leads
Flashlight
AA Batteries
First-aid kit
Multi-tool and window breaker
Antifreeze
Cloth
High energy snacks
Fog is just one harsh weather condition that winter can bring.
What lights should a driver use when driving in dense fog?
It's recommended to use dipped headlights and fog lights when driving in fog. This will make you more visible to other road users and allow you to see the road ahead more clearly.
Don't forget to ensure your car insurance policy is up to date before heading out in foggy weather. The risk of accidents is more common in harsh weather conditions so it's better to be safe than sorry.