What to do if you're involved in an accident with uninsured driver
In Ireland, it's against the law to drive a car without insurance.
The Motor Insurance Bureau of Ireland has estimated that one in every 12 private vehicles in the country is uninsured.1
There are many consequences for driving without having your car insured in Ireland, but how does this impact drivers who are insured? We've enlisted the help of our in-house expert, Alan Behan – Motor Product Manager, to answer all our questions.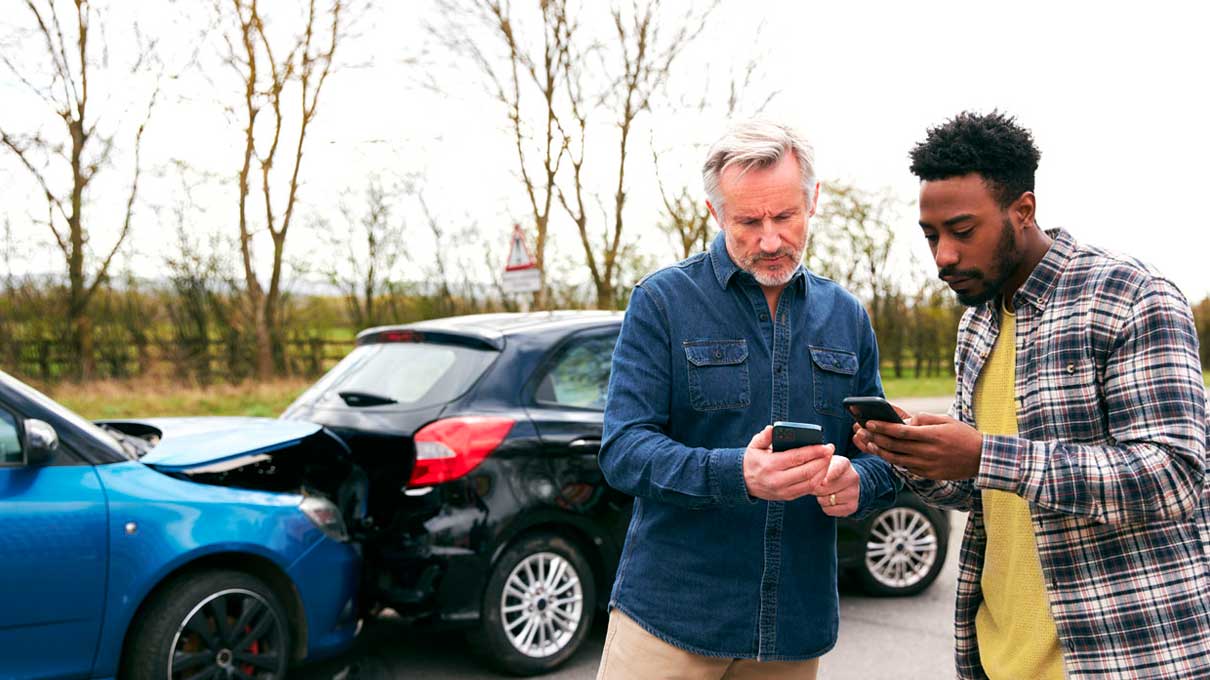 What should you do if you're involved in a car accident with an uninsured driver?
Call the Gardaí
It's important to contact the authorities in the event of an accident; this will create an official record of the incident's occurrence. Gardaí may decide not to attend the incident depending on the severity of the accident, however it's vital you request their presence if the driver is unable to provide their insurance details.
Collect as much information as you can.
We know any incident can be a very stressful time for our customers, but the most important thing is to remain calm. Collecting information will be a vital element when making a claim.
Details such as:
The make, model, and registration number of the other car. The registration is particularly important so be sure to capture this information.
The other driver's name and address.
Contact details of any witnesses.
Photos and information on any of the damage. 
The time, date, and place where the accident happened.
Some of these are easily recorded in photographs – so if you've got your phone handy, take photos from multiple angles that show the cars involved, and any damage.
Contact your insurer
It is crucial that you contact Aviva as soon as possible by phoning 1800 147 147. Our staff are there to help you through this difficult time ensuring the incident is managed appropriately and provide you with advice. We will look for the following information
Your policy number
Your name and address
Your car registration number
The registration(s) of the other car(s) involved
The name and contact details of the other driver(s) and passengers or witnesses
Any photos you took at the scene
Who will pay for the damage to your car if you're hit by an uninsured driver?
Where the vehicle that caused your damage has been identified as an uninsured vehicle, and you have comprehensive cover, Aviva will pay for the repairs to your car.  We will handle your claim in the same professional manner as we would any other claim and we won't deduct your policy excess from any settlement payment we make. If your vehicle is insured under a Third-Party Fire and theft policy, then any claim relating to an uninsured driver will be dealt with directly by the Motor Insurers' Bureau of Ireland. All information on how to claim can be found on their website.
What will happen to my No Claims Discount if I make a claim because of an uninsured driver?
You are protected by the Motor Insurers' Bureau of Ireland No Claims Discount Protocol that all insurers in Ireland abide by, which means that you won't lose your No Claims Discount if your claim was caused by an uninsured driver.
What is the Motor Insurers' Bureau of Ireland?
The Motor Insurers' Bureau of Ireland (MIBI) is a non-profit-making organisation registered in Ireland. Their principal role is to compensate victims of road traffic accidents caused by uninsured and unidentified vehicles which is regulated by the MIBI Agreement 2009.
How are the Motor Insurers' Bureau of Ireland funded?
All companies underwriting motor insurance in Ireland must be members of the MIBI, as provided for under Section 78 Road Traffic Act, 1961 and fund the MIBI by means of payment of an annual levy contribution, the cost of which is passed on to our motor policy customers.
If you know someone driving an uninsured vehicle, what should you do?
Our advice is to always contact your local Gardai to report an uninsured driver.
Uninsured drivers have a direct impact on the cost of motor insurance in Ireland. Essentially all Irish insured motorists pay for the claims of the uninsured drivers through a levy on their insurance premiums.
Actions by the Gardai to curb uninsured driving in Ireland will have a positive impact on road safety for all. Key legislative changes in the Road Traffic and Roads Bill (2021) will support this, with more detailed information becoming available to the Gardai to identify and remove uninsured drivers from our roads.