Getting a flat tyre can be a real pain, but it doesn't have to be a big ordeal. Breakdown assistance comes as standard with our car insurance, but it's important (and very handy) to be able to change a flat tyre yourself. We've explained the process in 12 simple steps below. Follow these and changing your tyre should only take around 20-30 minutes.
Note: Only attempt this if you are confident in doing so. Never change a flat tyre on a motorway or dual carriageway. If you experience car trouble when on a motorway, park as far left on the hard shoulder as possible and call the Gardaí or your breakdown assistance provider.
What you'll need in your car to change your tyre:
A car jack
A wheel wrench
A spare tyre
Wheel nut removal tool (if fitted)
Pair of gloves
A reflective jacket
Wheel chocks/bricks to stop your car from rolling when it's on the car jack
Your car manufacturer's manual
Depending on your location and weather conditions these items may be useful too:
A flashlight
A warning triangle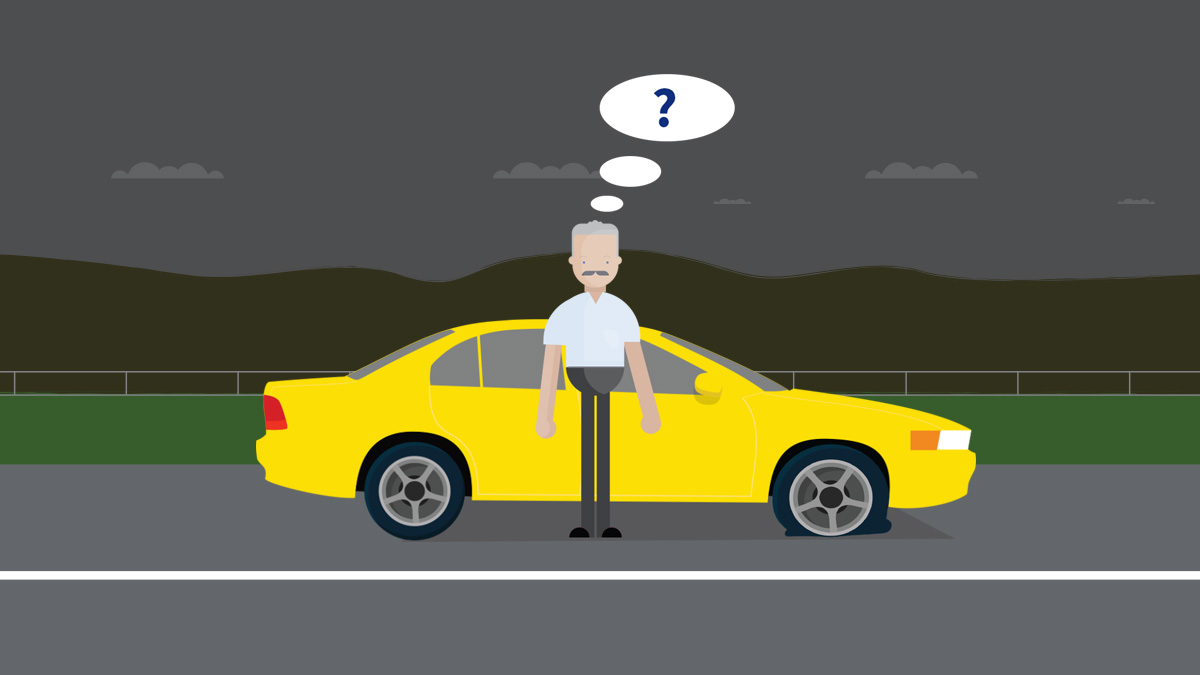 Step 1 – Stop at a safe location
Find a safe place with a hard, flat surface to change your tyre, do not attempt to jack your car up on a grass or soft surface. Park your car as far from the road as you can and keep your hazard lights on.
Step 2 – Warn other drivers
First things first, don't assume everyone else on the road knows you've a flat tyre. Putting on your hazard lights will let others know you've a problem and your car is parked. Once you've parked and are happy with your location, place your warning triangle approximately two to three car lengths behind you.
If you're changing your tyre beside moving traffic, make sure you're facing the direction of the oncoming vehicles.
Step 3 - Secure your car's position
Make sure your cars engines switched off, handbrake on and in gear or park (it's also a good idea to keep your car keys in your pocket). Place your wheel chocks or bricks under the wheel to ensure your car doesn't roll.
Step 4 - Position your jack
Once you're happy your car is in a stable position put the jack under the car. The jack should be at an angle of 90° to the road's surface. Your car manufacturer's manual should instruct where exactly you should place the jack. It's really important you check this because you don't want to damage any of the moulded plastic along the bottom of your car. Raise the jack enough so that it's supporting the car, but not actually lifting it up yet because you'll need to loosen the wheel nuts first.
Step 5 - Remove the hubcap and loosen wheel nuts
Use your wrench to remove the hubcap first (if you have one). Then, turn the wheel nuts anticlockwise a few times until you can start to turn them with your hands.
Step 6 - Raise your car
Raise your car about 10cm off the ground.
Step 7 - Remove your tyre
Fully loosen the wheel nuts while keeping the tyre in position. Remove the top wheel nut last so you can easily use both hands to lift away the tyre.
Step 8 – Put your spare tyre on
Make sure no debris (e.g. rust) is on your tyre and hub surfaces before attempting to refit your spare wheel. Make sure to align the rim of the tyre with the wheel bolts.
Step 9 - Apply wheel nuts
Once the tyre is positioned correctly begin by hand tightening the wheel nuts.
Step 10 - Lower the car and finish tightening the nuts
Lower your car until the tyre just about touches the ground. Now you can tighten the wheel nuts with your wheel wrench.
Step 11 - Lower the car completely and remove the jack
When the wheel is secure and the car is stable, you can remove the jack.
Step 12 - Take the tyre to your mechanic
Get to your mechanic as soon as you can and have the pressure in your spare tyre checked. Have them check the wheel nuts are tight enough too. You can then get your damaged tyre replaced or repaired.
Final tips:
You shouldn't drive any faster than 80 km/h on a spare tyre.
Make sure to check your tyre pressure regularly.
Ensure your tyres are kept in a good condition with the help of our tyre maintenance guide.
Now that you're a pro at changing tyres, why not go that extra mile and learn what to do if your car breaks down? 
Car trouble can happen to anyone, but with Aviva car insurance, breakdown rescue cover comes as standard. Buy your car insurance online and get 15% discount.1 Get your quote today.