Whether it's a family mid-term adventure spent exploring the great outdoors, a relaxing break with your better half, or even road-tripping along the Wild Atlantic Way, you'll be sure to find a holiday to suit all budgets and lifestyles here in Ireland.
In this second instalment of our Holidaying at home series, we've put together even more suggestions to help you plan your perfect eco-friendly escape…
Co. Cork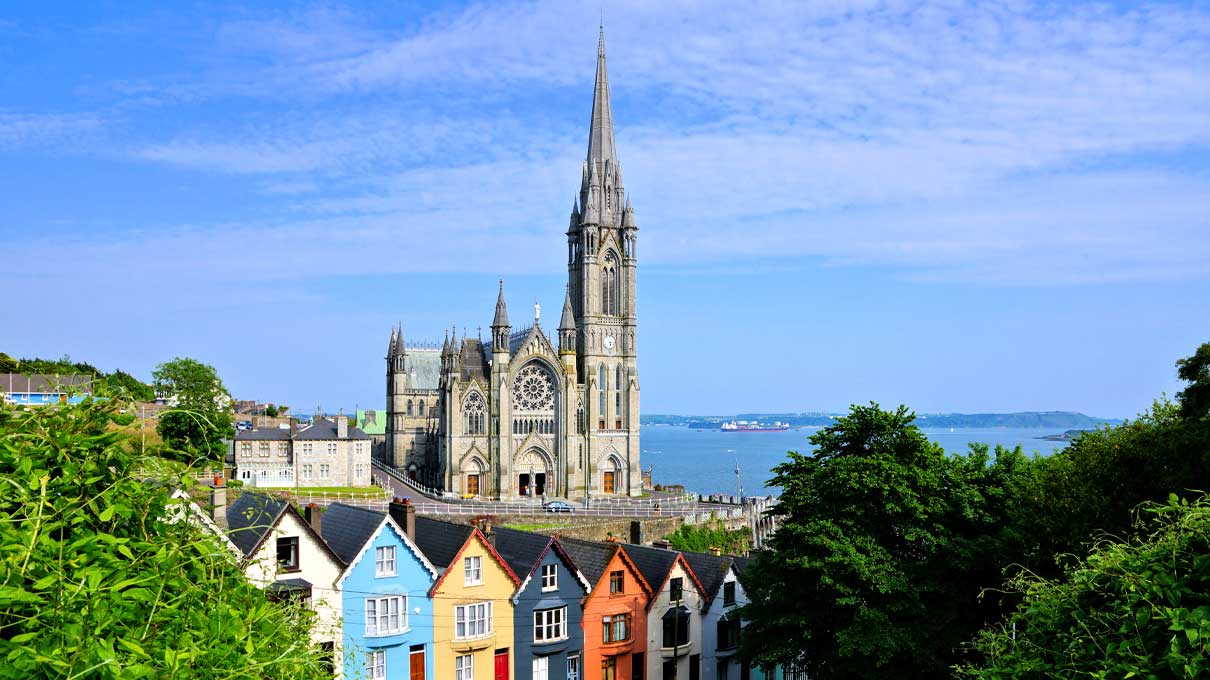 Co. Cork is a hub of activity, with its bustling city, vibrant in history and culture and quaint, scenic villages perfect for exploring, making it the ideal escape for families and solo travellers alike this autumn. Visitors can take a day-trip to the much-loved town of Kinsale, where you can meander down narrow cobbled streets and take in the rainbow-coloured buildings. Pop down to Clonakilty and take a tour of Clonakilty Distillery or catch a live music session at the famous DeBarras Folk Club. Cork is also a hotspot for foodies, with plenty of plant-based options and fine-dining eateries to choose from – no matter your taste buds!
For an eco-friendly stay, Ballymaloe House is the place to visit – sustainability is built into their ethos! This family-owned country house hotel and restaurant is nestled in the leafy countryside of East Cork. A tranquil countryside retreat with luxurious accommodation, a celebrated farm-to-fork dining experience and 300-acres of land at your fingertips. An award winner for its sustainable practices, Ballymaloe House Hotel offers a blend of historic charm and luxury.
For those looking to connect with nature within a truly cosy environment, be sure to check out Gougane Barra Hotel which is nestled near the Cork and Kerry border. As an Eco-label certified hotel, they pride themselves on serving the best of local produce, with all food sourced within a radius of just 50km! This family-run business has been welcoming visitors to the area for five generations now, making Gougane Barra Hotel a real home-from-home.
Those travelling in an electric car will be pleased to know there are over 70 EV charging points across Co. Cork, with many charging points found in Cork City.
Co. Donegal
Bask in the sheer beauty of Donegal this autumn and take a trip around Ireland's stunning northern coast. Some of the stand-out attractions include mountain hikes and walking trails along Slieve League, Ards Forest Park and Errigal Mountain. Meanwhile, history buffs might be eager to check out the distinctive megalithic site, the stone ringfort of Grianán of Aileach which  dates back to 1700 BC. Step back in time by visiting the amazingly preserved Doagh Famine Village and get a real sense of what life was like in Donegal from the famine up until a couple of generations ago.
Adventure-seekers can enjoy breath-taking cliff-side views by taking part in rock-climbing activities in Inishowen, Co. Donegal where packages are tailor-made for families and friends, no matter your experience or skill level.
After a day of exploring, kick back and relax in the luxury accommodation found at Harvey's Point – the recipient of the TripAdvisor Travellers Choice Number One Hotel in Ireland for 2023. Here, visitors can truly unwind in a place which puts sustainability at the heart of everything they do, earning them a Gold Award for their efforts. With a terrace which opens out to panoramic mountain and lake views, this truly is a slice of heaven in Donegal.
With over 30 EV charging points found throughout the county, you'll have plenty of places to give your electric car a boost, before heading off on your next excursion!
Co. Meath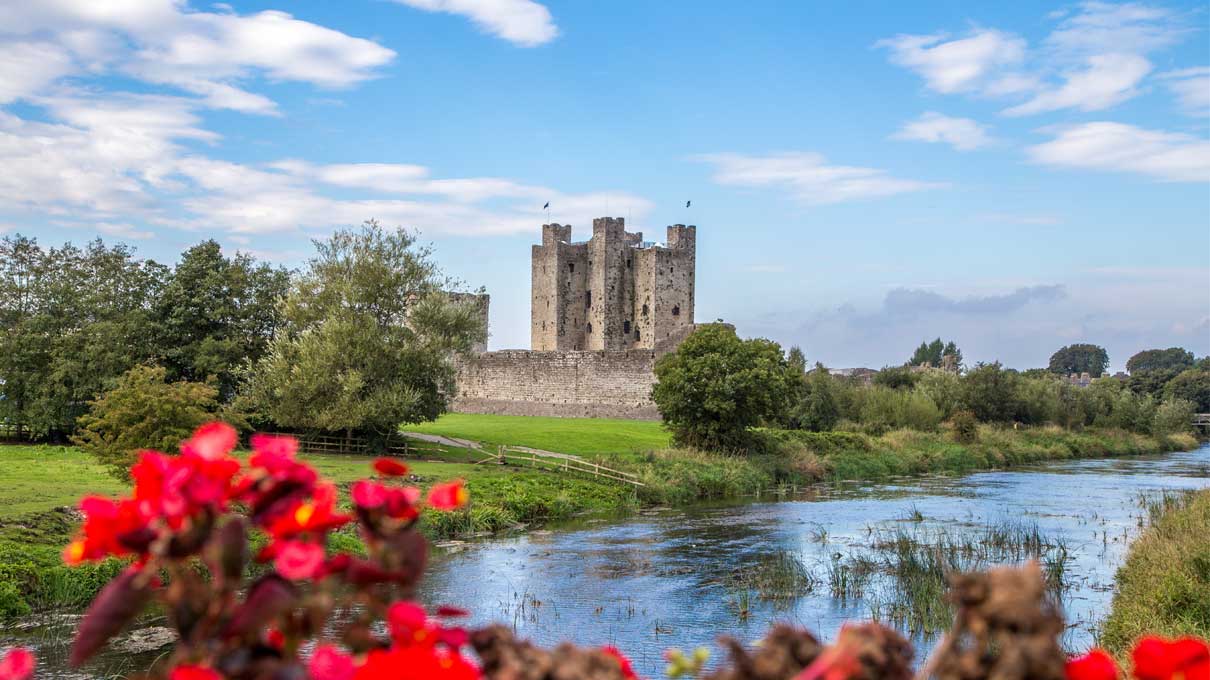 Explore all that Co. Meath has to offer and visit sites such as Newgrange, Slane Castle, the Hill of Tara and the Kells Round Tower. If you fancy a laid-back ramble in nature, don your walking shoes or welly boots and check out the Girley Bog Walk, near Drewstown. For more of an educational tour, head on over to the Battle of the Boyne Visitor Centre located in the recently restored 18th century Oldbridge House in Meath.
The glamping yurts at Rock Farm Slane are a wonderful option for families and couples looking to embrace the great outdoors before the winter draws in. There, you can avail of the outdoor hot tub, wood-fired pizza ovens, campfires for cosy nights in and farm tours. Plus, they're pet-friendly – so your furry friends can join in on the fun too!
Meanwhile, the Station House Hotel in Kilmessan, Co. Meath might appeal to those looking to treat themselves to more of a lavish experience. The family-run hotel sits on 12-acres of beautifully manicured gardens and woodlands, perfect for a tranquil getaway away from the hustle and bustle. Adjacent to the Station House Hotel lies a 750-acre nature reserve, owned and run by naturalist and film-maker Randal Plunkett, 21st Baron of Dunsany.
For the ultimate, indulgent brunch, The Donkey Shed Restaurant nestled just outside of Ashbourne, Co. Meath is a must! Showcasing the best of local farmers and artisan food producers, this popular eatery takes pride in using fresh, locally sourced ingredients, many of which are harvested on site, taken directly from the fields of Newbarn Farm.
Plus, you won't be stuck looking for an EV charging point with 25 stations scattered across the county, helping you get to your next destination.
In case you missed the first instalment of our holidaying at home series, be sure to check out Part One for even more staycation inspiration and eco-friendly travel tips.
Once you head off on your getaway, you'll want to know your car is protected. Buy your car insurance online with Aviva and get a 15% discount. Get your quote today1.