Getting a little restless being isolated at home? Why not roll up your sleeves and deep clean your house? We've compiled a list of our general top tips for cleaning, plus some specific tips for those rooms that always seem to get the dirtiest—the bathroom, living room and kitchen!
General tips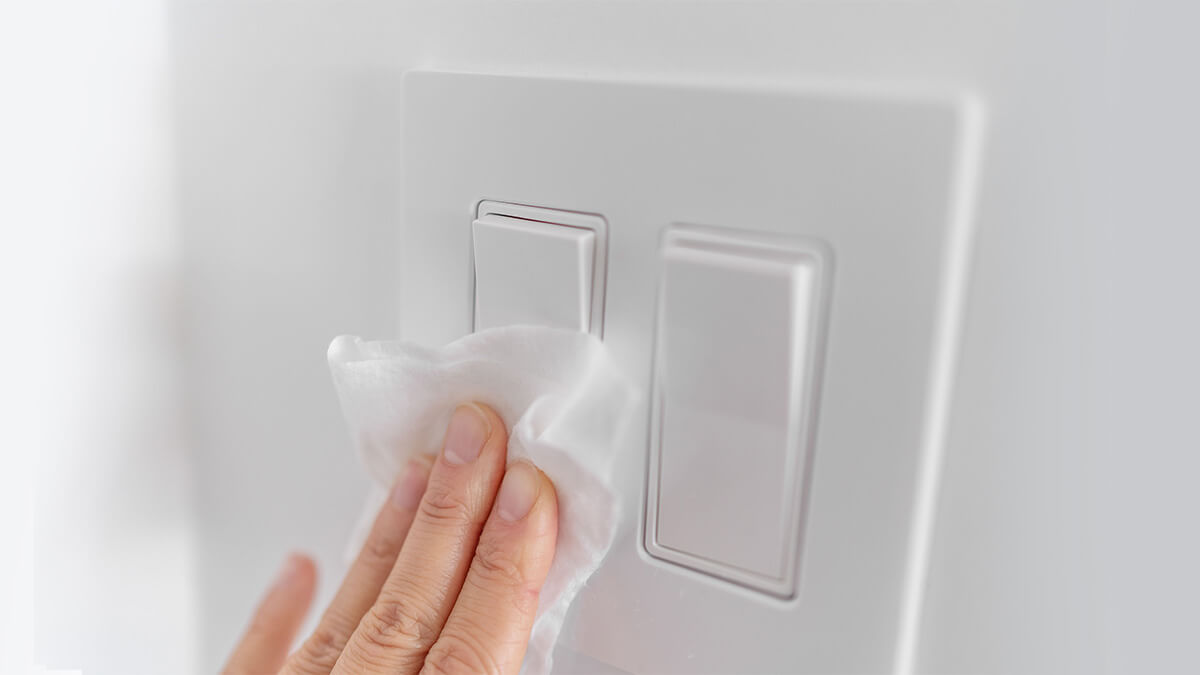 Declutter
It's important to declutter your home before you start cleaning. If you haven't used an item in over six months, then consider recycling it or putting it aside for donation when shops are open again. The less you have in your home the bigger it'll feel—not to mention how much easier it'll be to clean.
Hidden dirt
When doing a deep clean, it's important not to forget about the surfaces you don't always see, such as the underside of objects, or behind furniture. This is where the phrase 'sweeping it under the rug' came from! Move things around to get into all the nooks and crannies and really achieve a deep clean.
Disinfect
Don't forget to clean the things that aren't so obvious, like the handles of doors, fridges or cabinets, and appliances such as remote controls and the computer mouse. These surfaces are some of the most frequently touched and can harbour grime and bacteria—an absolute no-go now more than ever!
Clean these surfaces with a disinfectant spray and dry with a microfibre towel. If you're cleaning electronic appliances, make sure you use the product sparingly as it may interfere with the electronics.
Keep on top of it
A deep clean can take a lot of time and energy so try and tackle a different area every few days. Once your home is sparkling and fresh, try and put aside a few hours a week to keep up your good work. This way, it won't become overwhelming. If you have kids and depending on their age, this weekly up-keep could be a good way for them to earn some pocket money!
The kitchen
Oven
Make a paste using some baking soda, water and washing up liquid. Coat the inside of your oven with it and let it soak for at least 15 minutes. Wipe off the residue, then wipe over once more with a clean cloth. For really stubborn oven stains, cover them in the paste and then scrub with an old toothbrush covered in tin foil instead of a cloth.
Microwave
Pour some water and one tablespoon of vinegar, or a few slices of lemon, into a microwaveable glass jug. Microwave on high for five minutes and voila! The stains in your microwave will wipe off no problem.
Scorched pans
We all know the nightmare of trying to scrub pans scorched with oil and food! To make the job easier, fill the bottom of your pan with a cup of white vinegar and water. Simmer it for a few minutes on a low heat, then remove from heat and add two tablespoons of baking soda. This should dislodge some of the grease and make the clean-up much easier.
Looking for squeaky clean cookware? Rub half a lemon around your stainless steel cookware to add an extra shine before rinsing and allowing to air dry.
The bathroom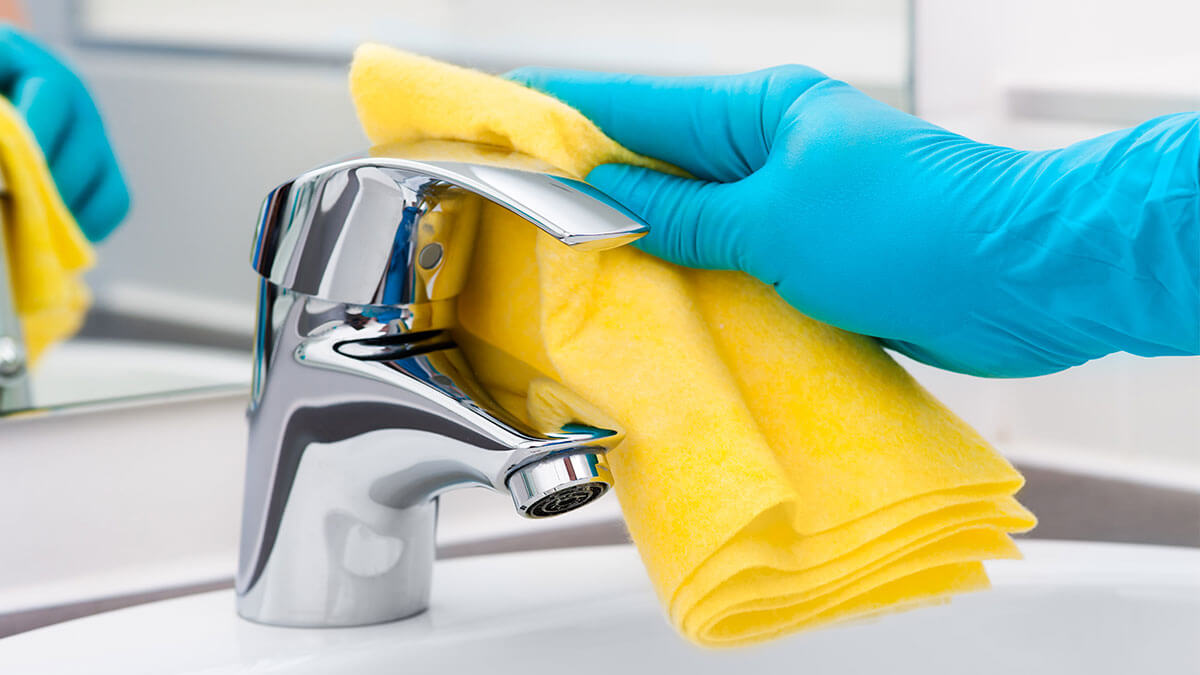 Bathtub
One way to ruin the ambience of a nice bath is noticing grubby stains peeping out from behind the bubbles! To remove stains from your tub, take half a grapefruit, apply salt to the fruit, and use the fruit to scrub the stains. Rinse with warm water and your bathtub will be restored to its original, gleaming condition.
Taps and fixtures
To make your taps and fixtures shiny, clean them as normal and rise. Then, apply baby oil to a soft cloth and polish them up. If you find rust rings on any porcelain, this can be remedied by scrubbing away the rusty residue and applying clear nail polish to the affected fixtures. The coating should stop it from rusting further or getting any new rust rings.
Shower doors and curtains
Grimy looking soap residue on shower doors is such an eye-sore! To get rid of it, fill a spray bottle with vinegar and spray it on glass doors after showering. After leaving it to soak for about 30 seconds, scrub it with a sponge. Alternatively, furniture polish can remove the soap residue and will also create a protective layer against future build-ups.
If you have a shower curtain, get rid of mildew by mixing two tablespoons of washing-up liquid with household bleach and spraying it on the affected areas.
Tiles & Grouting
Over time, a shower's tiles and grouting are likely to build up a layer of stubborn grime. To ensure clean and shiny shower tiles, mix two-parts baking soda and one to two parts water into a fine paste. Then grab a toothbrush or stiff-wired brush. Scrub the tiles and grouting with the solution and your shower will shine in no time!
If you don't have the above ingredients, try using whitening toothpaste. You'll discover that it cleans tiles and sinks just as well as it cleans teeth!
Living room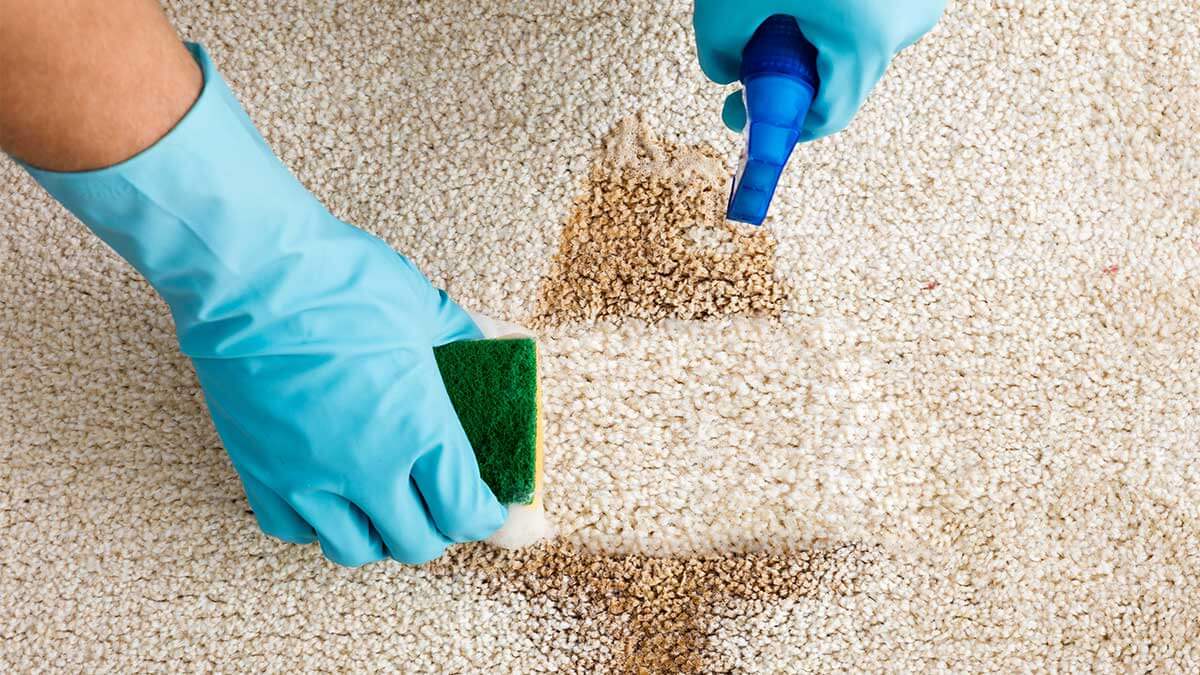 Carpets
If you have pets at home, a rubber dishwashing glove is about to become your saviour! Just rub over the surface of your carpets and furniture and the fur will collect on the glove. To freshen up your carpet and remove any pet smells, throw some baking soda down and leave for it for 30-60 minutes before hoovering up.
If you have children it's highly likely you often come across mysterious stains on your carpets! For this, mix three-parts water, one-part white vinegar and a couple of drops of washing up liquid and dampen a tea towel or old t-shirt in the mixture. Place the tea towel or t-shirt over the stain and run a medium-heat iron over it. The heat should transfer the stain from the carpet to the tea towel or t-shirt. Magic!
Housekeeping top tip: If you have plastic blinds put your hand into a sock, and run your hand over your blind slants to clean and remove dust.
Couch
If you have a fabric sofa, sprinkle some baking soda over it and leave for 20 minutes. Then, hoover it off to remove odours and freshen the sofa up. Be sure to check the manufacturer's label to check whether removable covers or sofa material can be washed or not.
If your sofa has a stain, mix one-part washing up liquid, one-part white vinegar and three-parts warm water. Always test the mixture on a hidden part of the sofa to ensure no discolouring takes place. Be sure to use a white cloth any time you touch a light-coloured sofa, to avoid any colour transfer.
If you have a leather couch, it's best to use commercial leather cleaner or else two-parts water, one-part white vinegar and gently buff the leather. Again, always test any cleaning products on a hidden part of the item you're cleaning.
We have plenty more tips to freshen up your home during lockdown…and speaking of clean living rooms; can you and the kids spot the difference between these two? Anything to help with lockdown boredom!
At Aviva, we know how important your home is. That's why we're committed to protecting it. Buy home insurance online and get 15% off.1 Get your quote today.
We encourage our customers, where possible, to make use of our online options to access any help you need. Home insurance, car insurance and travel insurance can all be purchased online. MyAviva is an online self-service portal available to all our existing home and car insurance customers. If you have a query you can reach us via our contact forms here.