So, you feel the time has come for you to leave your current home. Maybe your family has outgrown it, your work commute has changed, or you simply want something different. Plenty of us have been there and understand that while it's an exciting time, it comes hand-in-hand with some stress. It's important to think about the practical steps involved, including your mortgage, mortgage protection, deposit rules and some other considerations.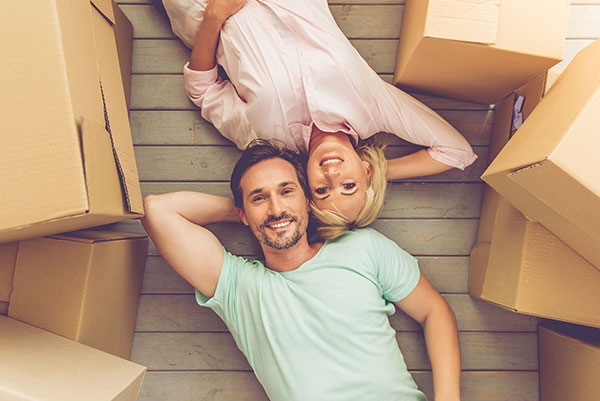 Before you start holding your head in your hands with dread, don't worry, we've spoken to our expert team about some of the main things you need to keep in mind. Being prepared will make the process much less stressful, so you can concentrate on finding the perfect home for you and your family.
To help you along the way, bear the following in mind:
Loan-to-value limit (LTV): The deposit rules may have changed since you first bought a home. Since January 1st, 2017, as a non-first-time buyer you have a limit of 80% LTV on a mortgage, so you will need a deposit of 20% of the total purchase price. For properties other than principal dwelling homes (a home you won't be living in yourself), including buy-to-let properties, a limit of 70% LTV applies; so, you'll need at least a 30% deposit.1
Loan-to-income limit (LTI): In general, the limit is 3.5 times the gross annual income of the buyer(s) for all new mortgages. However, there is some flexibility, including lending to people in negative equity, but this should be discussed with your mortgage lender. This limit does not apply to buy-to-let mortgages.2
Plan ahead
Moving to a new home is a big step for you and your family. The process can feel like a mixture of periods of waiting, followed by lots of activity; so, planning ahead can help you feel a little more in control.
Get mortgage 'approval in principle' before you start house-hunting for your new home in earnest. This means the lender calculates the set amount they would offer you, without the loan actually taking place. This helps you work out what you can and can't afford.
Other Costs
When working out your budget for your new home, remember there are some specific costs involved. For example, solicitors' fees, estate agent fees, removal company fees, rental costs or storage unit costs if your next home is still being built, the cost of renovations, or new furniture if you aren't bringing everything from your last home. But don't worry, it's not all bad news. When moving to your next home, there are some ways you can save money.
Mortgage Protection
Mortgage Protection Insurance is a compulsory policy, for all homeowners. A mortgage is a huge debt so Mortgage Protection is there as added protection, to ensure your family can stay in their home in the event of your death. Like choosing a new home and choosing a mortgage; it's very important to shop around for the policy most suited to you – You don't have to take mortgage protection with your mortgage lender, even if they recommend their policy.
Mortgage Protection premiums depend on the features of the mortgage, as well as your health, age and gender. So even if you have a mortgage and mortgage protection for your current home, it is still important to shop around to find the right deal for your new home. After all, changes in health and age may affect your mortgage protection cost, and which policy is most suitable. 
For instance, if you were a smoker when taking out your first policy, but have now quit for more than 12 months, you might find that your premium can be reduced. Other changes in health or circumstance, such as a growing family or change in career, might mean that you want to take out Income Protection or Specific Illness Cover, for greater peace of mind.
To find out more about your Mortgage Protection Insurance options, you can click here. Or for our quick and easy 'Mortgage Protection 101' guide, click here.
Aviva Life & Pensions UK Limited, trading as Aviva Life & Pensions Ireland, is authorised by the Prudential Regulation Authority in the UK and is regulated by the Central Bank of Ireland.