So, you've found the perfect property. Your deposit is saved up and ready, the mortgage has been arranged, your offer's been accepted, and right there in black and white is confirmation: sale agreed. All done, right? Well, not quite.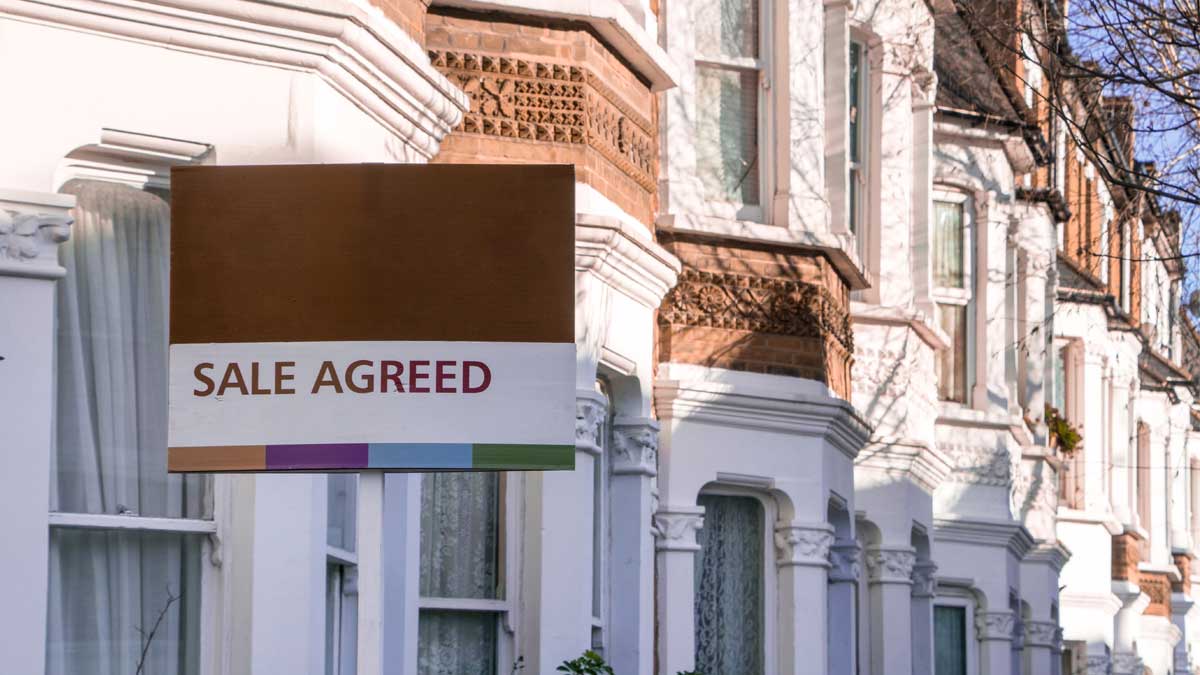 Befitting what may well be the biggest investment you make in your life, the process of buying a property is a long and complicated one – and going 'sale agreed' is just one step along the way. In this article we've broken down what it really means to be sale agreed, and what you need to do next, and how far you are from the finish line of moving into your brand-new home.
What does sale agreed mean?
In simple terms, 'sale agreed' means there's an acceptance of a deal in principle. It's not legally binding, for either side, and still heavily depends on everything going smoothly from that point onwards. Frightening as it might sound if you've spent months searching for the right place, it's really the first step when it comes to buying the property…
What is next after a House Sale is Agreed?
Solicitor
The most important thing to understand about going 'sale agreed' is that, from that point onwards, your solicitor will be playing a key role. It's wise to line up representation early on – while you're still in the house hunting process but if you've come this far without doing so, now's the time to act. As soon as your offer is accepted, the estate agent needs to notify both your solicitor and the seller's solicitor with the details of the offer.
How much you'll pay the solicitor can vary significantly – especially if it's calculated as a percentage of the value – and don't forget to factor in any land registry fees that may be payable. Some solicitors will offer fixed rates as low as €800, but it's advisable to budget at least €1,500 – though it never hurts to shop around. The important thing is that you find someone with experience in conveyancing, who'll make the process as seamless as possible.
Booking Deposit
You'll also likely be asked to pay a booking deposit by the seller's agent. Usually coming in at 2-4% of the total house price, it's a fully refundable payment to serve as proof you're serious about the deal; you'll get it back in its entirety if the sale isn't completed.
Think about it
Sounds obvious, right? But now that things are getting serious, it's time to really make sure you're making the right call. Is it the right house for you, in the right location? Can you afford the stamp duty, solicitor fees, registration fees, upkeep, and everything else? It's not uncommon to get caught up in the excitement of it all when you're exploring the market, but this is the time to take a step back and evaluate your decision carefully – while it's not too late to back out. Waiting any longer could be a costly call...
Surveys
If you're getting a mortgage, the property will need to be surveyed by your lender – but this is only for the purposes of valuation. Hire your own surveyor, and you'll get the full lowdown; from damp or vermin to potential structural problems, they'll run the rule on surprises that may be hiding out of plain sight. If you're eyeing up extensions and redevelopments, this is especially important; you don't want to go ahead with a purchase only to later discover your grand plans were never a runner in the first place.
There are different grades of surveys you can get – set out by the Society of Chartered Surveyors Ireland (SCSI) – and while basic walk-throughs (Type 1) might be enough with a new build, it's wise to opt for a more thorough inspection (Type 2 or Type 3) for older properties. €500 - €1,000 is a reasonable expectation of the cost, and again it might help to shop around. Beware of 'bargains' though; a lower fee often indicates a lower level of detail.
Brass tacks
The findings of the survey may well throw up issues with required repairs, future costs, or snags you hadn't foreseen; while you can walk away, you can also negotiate with the seller on how to proceed. Sometimes, this means addressing issues before the sale is complete; alternatively, it may mean angling to reduce the agreed price.
If you haven't done so already, this is also the time to go through the terms of the deal with a fine-tooth comb. Will some fittings be removed before you move in? Do you get to keep the kitchen appliances? It's important to know exactly where you stand, so even if it takes a little back and forth it's worth getting everything crystal clear.
Keep in touch with your bank
It may be months since you originally spoke with the bank to secure provisional approval for a mortgage – and things can change. The last thing you want is to go through every hoop of finding a home, only to find out that the offer you thought was on the table no longer applies. Keep them updated throughout the process, and it'll save you from any nasty surprises when it comes time to draw down…
Mortgage protection is a form of life cover that will help pay your outstanding mortgage balance if the worst were to happen. Mortgage Protection is a requirement when taking out a mortgage in Ireland – so save yourself a little bit of hassle and don't' leave it until the last minute. Get a quote well in advance, and ensure you're well placed to finalise the arrangement when the time comes.
The final hurdles
If everything above is taken care of, then it's go time. Throughout the 'sale agreed' period, the solicitors will have been drafting a deed, talking closing dates, reviewing the documents, and generally getting everything in order. Your bank will make a formal offer on your mortgage – complete with the schedule of repayments and terms and conditions, and you're basically a few signatures away from crossing the finish line. Consider one final walk through of your new home – it's your last chance before the funds transfer and there's no turning back.
All good? Then it's time to visit your solicitor and sign on the dotted line; you'll pay the balance of your deposit, the mortgage cheque will land with your solicitor, and the seller will be transferred their payment. They'll countersign the contract, and then it's official! Don't forget your bank will require you to hold home insurance prior to releasing all final payment.
Congratulations!
The closing date your solicitors agree on is the day you'll get the keys, and you'll be the owner of your new home.
How long does this whole process take? It moves quicker than you might think, with four-to-six weeks the average time from 'sale agreed' to getting the keys. That's why it's so important to get as much done in advance as you can – because it can be a whirlwind once things get going.
Buying a home is a big moment in anyone's life, and if you're a first time buyer make sure to check out our 21 top tips for first-time buyers.
Aviva is there to help you on your home buying journey. Get your quote for mortgage protection today.
Whether you're buying soon or staying put, you'll want to know your home is protected. That's where Aviva home insurance can help. Buy home insurance online and get 15% off. Get your quote today.1